Recent + Upcoming Events
>
>

Aliens Beyond Paradise / Alienígenas más allá del paraíso
September 2019
Edited by Christopher Rey Pérez
Languages: English/Spanish
79 p, 8 x 10 in, color ill.
ISBN: 978-1-7327086-6-2
Riso-printed at the Queens Museum
Bound at Small Editions
Edition of 200
15 USD
Aliens Beyond Paradise / Alienígenas más allá del paraíso is a bilingual English-Spanish publication edited by Christopher Rey Pérez, following a collective editorial and publishing workshop organized by Beta-Local (San Juan, Puerto Rico) at the Queens Museum on July 21, 2019, in conjunction with the exhibition Mundos Alternos: Art and Science Fiction in the Americas. Exploring the ambiguous concept of the alien, Pérez invited contributors in Mexico and Puerto Rico to consider what it means to extract a textual excerpt, fragment, annotation, or image from its context, and send it across a border. How might we think of exchange beyond the regulating binary of inside and outside?
Co-published with the Queens Museum. All sales proceeds will be donated to RAICES - The Refugee and Immigrant Center for Education and Legal Services, a nonprofit agency founded in 1986, which promotes justice by providing free and low-cost legal services to underserved immigrant children, families, and refugees. Learn more about RAICES here: raicestexas.org
Contributors: Aravind Adyanthaya, Andrés Monzón-Aguirre, Ramiro Chaves & MANIMAS, Colectivo Se habla español, Nicole Delgado, Amara Abdal Figueroa, Lucía Hinojosa Gaxiola, Diego Gerard, Amanda Hernández, Mauricio Marcin, Jason Mena, Andrés Paniagua, Iberia Pérez, Mariana Rodríguez, Luis Othoniel Rosa, Jorge Sánchez, and Dmitri Zurita.
Editor: Christopher Rey Pérez is a poet working from within a matrix of opaque folklore, violence, and language in order to incorporate the liminality of a type of "border thinking" into his writing. He is the author of Gauguin's Notebook, along with a number of other works that have been published in Lebanon, Cyprus, Mexico, and Brazil. Since 2012, he has edited a nomadic publication in, of, and around Latin America, called Dolce Stil Criollo.
http://www.wendyssubway.com/
>
>
>
>

MACRO Asilo
Curated by Giorgio de Finis
October 1, 2018 - December 31, 2019
Museo d'Arte Contemporanea Roma MACRO
Rome
250 national and international artists will participate in this 15-month event, including Michelangelo Pistoletto, Daniel Buren, Dora Garcia, Antonio Muntadas, Orlan, Santiago Sierra, Regina Jose Galindo, Adrian Paci, and Andrea Fraser, and will host a series of lectures by distinguished historians, philosophers, and critics such as Claire Bishop, Jacques Rancière and Nicolas Bourriaud./>
Relational multidisciplinary device, "common" space, MACRO Asilo rethinks the museum as an institution, taking its cue from its constituent criteria [from ABC], offering itself as the venue in which to forge a new encounter between artists and the city, between art and society.
In this project, the very idea of the museum seeks to renew itself with the intention of forging a new and prolific relationship between art and the city. The experiment, in that sense, concerns precisely the city's museum of contemporary art, exploring its civic function as an institution operating in the present on the production of skills, sense and knowledge, an institution that uses art to place itself at people's disposal. Macro Asilo is the first piece in the Contemporary and Future Cluster set to become a complementary presence compared to other institutions such as the MAXXI or the Galleria Nazionale, so as to offer the city's residents a rich spectrum of viewpoints and experiences.
That is the challenge from which de Finis took his cue, working in close cooperation with the Azienda Speciale Palaexpo which has been managing the museum since 1 January 2018, and with the Sovrintendenza Capitolina which, in its capacity as part of Roma Capitale, maintains responsibility for the conservation and enhancement of the museum's collection, archive and library.
On entering the museum the public will be confronted with a very different space and will be able to freely and casually walk through many different thematic environments, including the forum hall where the wall with a huge picture gallery will be hosting a selection of works from the collection, a kind of "visual" invitation to collaborate and to be together; the center of this hall will contain the Table of Tables," a live-in work specially produced by Michelangelo Pistoletto.
The new rooms will include one devoted to Romes (the city's name in the plural), the word room (devoted to the vocabulary of contemporary art), the reading room, the media and radio room and the workshop rooms (four twin spaces designed for artists producing a work inside the museum). There will also be three artists "environments", workrooms hosting participatory projects, installations, and performances, adding another 50 thematic environments over time in addition to those already offered by the museum.
The museum will be open from 10 am to 8 pm Tuesday to Sunday with late evening opening until 10 pm on Saturdays. The program will not include a traditional schedule of exhibitions but a daily palimpsest of events, encounters, workshops, installations, and performances, and on a broader level, it will host every other form or practice that the artists working in the museum develop and are thus able to offer visitors.
Video art screenings will be held daily on a huge screen specially installed for the purpose, along with encounters, "self-portraits", seminars, launches and retrospectives in the auditorium and cinema theatre. Also, a cycle of lectiones magistrales is planned at weekly intervals, in addition to a series of staged events held on a stage erected in the foyer, hosting music, dance, and theatre, particularly on Saturday evenings.
The search for artists in recent months has been a crucial part of the comprehensive rethink of the museum mechanism described hitherto and has led, to date, to the preparation of a programme that includes: 250 artists who will be producing a work of art in the museum's workshop, 400 words of video art (1 video per day), 50 artists' rooms, 100 words x 10 encounters = 1,000 lectures (dictionary of contemporary art), 60 Saturday evening concerts, 180 lectiones magistrales and 900 self-portraits.
The artists on the slate of the project include: Michelangelo Pistoletto, Daniel Buren, Dora Garcia, Krysztof Bednarski, Pietro Gilardi, Alberto Garutti, Antonio Muntadas, Marzia Migliora, Liliana Moro, Pablo Echaurren, Gianni Pettena, Orlan, Melania Mazzucco, Santiago Sierra, Elina Chauvet, Wim Wenders, Alfredo Pirri, Gianni Asdrubali, Giovanni Albanese, Gianfranco Notargiacomo, Ria Lussi, Piero Mottola, Giuseppe Stampone, Regina Jose Galindo, Adrian Paci, Andrea Fraser, Fabrizio Crisafulli and the Stalker collective, among others.
Each one of these artists will leave the mark of his or her work on the Macro, a multitude of acts, practices and forms of research which, through gradual accumulation, will go to fuel a fully-fledge material archive of this experience – an archive which, in addition to having its own physical space within the museum, will also have a constant echo on the web and in the social media to testify and to illustrate the work performed inside the museum in a continuous and in some ways even a reproducible manner.
In addition to the above, there are those who will be offering their testimony in the shape of a lectio magistralis including, to date, Nicolas Bourriaud, Claire Bishop, Jacques Rancière, Paul Preciado, Mary Ann Caws, Don Thompson, Calum Storrie, Sally Price, Juan Josè Lahuerta, Paul Werner, Peter Weibel, Michel Maffesoli, Massimo Cacciari, Giacomo Marramao, Carlo Ratti, Alessandro Dal Lago and Serena Giordano.
Thus the museum is opening up to the city as a whole, also taking its cue from its relationship with the neighbourhood in which it is situated, which is why its space will be constantly open and every section can be crossed from the traditional entrance on Via Reggio Emilia to the new wing in Via Nizza, also enhancing the quality and habitability of its large volumes, from the piazza to the gallery and the foyer. A museum is opening up to the city, to the neighborhood and becoming even more of a community experience.
https://www.museomacro.it/
>
>
>
>

Alternatives & Futures: Beta-Local, Guadalupe Maravilla, Black Quantum Futurism
Mundos Alternos: Art and Science Fiction in the Americas
Jul 21, 2019 from 1:00pm–6:00pm
Queens Museum
New York
Join us for the third in a series of dynamic public programs that delve deeper into the themes, contexts, and aesthetics that have informed Queens Museum's Spring 2019 Exhibitions. July 21 programs will feature artist interventions organized by Beta-Local and performances by Guadalupe Maravilla and Black Quantum Futurism.
Gallery hours will be extended until 6pm on the occasion of Alternatives & Futures Public Programs.
Overview:
Beta-Local Presents:
11am-1pm: Pop-up Exhibit: Satellite calling control, no answer
1-4pm: Alien Publication and Workshop with Christopher Rey Pérez, presented with the Robert Blackburn Printmaking Workshop Program and Endless Editions
2-3pm: Listening Session with Rebecca Adorno
3-4pm: Guadalupe Maravilla performance Walk on Water
4:15-5:30pm: Performance and Interactive Activity Project: Time Capsule by Black Quantum Futurism
Detailed Schedule of Events:
Lots of Flying Objects with Beta-Local
Beta-Local is an artist-run organization based in San Juan, Puerto Rico, dedicated to fostering knowledge exchange and transdisciplinary collaboration. Puerto Rico is an archipelago that has been defined by the US Supreme Court as an unincorporated territory "inhabited by alien races."[1] As part of Mundos Alternos: Art and Science Fiction in the Americas, Beta-Local will transport its operations to Queens for a full day of programming led by aliens, alongside New York-based collaborators. Beta-Local collaborator bios can be found here.
11am-1pm: Satellite calling control, no answer [2]
Collaborators of Beta-Local are invited to mail unidentified flying objects into outer space/outer lands with no clear hope of a response or return, similar to NASA's 1977 Golden Record, which famed astronomer Carl Sagan suggested was akin to launching a message in a bottle into the "cosmic ocean."[3] Packages arrive at the Queens Museum from April to July and be opened in the museum on July 21st and displayed as traces of the organization's work and ideas.[4]
Contributors: Amara Abdal Figueroa, ACirc, Aravind Adyanthaya, Juan Antonio Arroyo, Juan Bautista Climént, David Berge, Beta-Local, Ricardo Cabret, Matthieu Cartal, Ramiro Chaves, Céline Condorelli, Mike Cooter, Tony Cruz Pabón, Néstor Delgado Morales, Mary Ebeling, Cristian Forte, Javier Fresneda, Frances Gallardo, Carrie Hott, Andrés Jurado, Miatta Kawinzi, Karen Langevin, Lazum, Sofía Maldonado & Abdul Vas, Gilda Mantilla & Raimond Chaves, Noelia Medina, Alicia Milne, José Ortíz Pagán, Santiago Pinyol, Lydia Platón, Kathryn Ramey, Mariola Rosario, Lynne Sachs, Sagrada Mercancía (Adolfo Bimer, Santiago Cancino, Víctor Flores. Sofía de Grenade, Alejandro Leonhardt, Adolfo Martínez, César Vargas), Kristine Servia, TEOR/éTica, The Franklin, Salvi Vivancos, Susanne Winterling
1-4pm: Alien Publication and Workshop
Christopher Rey Pérez will edit a collective project investigating the ambiguous concept of 'alien', both as extraterrestrial and foreigner with a group of New York-based and foreign collaborators. The publication will explore processes of extraction, and ways in which foreigners and extraterrestrials are always extracted from their context. The resulting publication will be printed in risograph and presented with the Robert Blackburn Printmaking Workshop Program and Endless Editions as a number of unique editions for readers to continue extracting and publishing.
Contributors: Amara Abdal Figueroa, Aravind Adyanthaya, Ramiro Chaves y MANIMAS, Colectivo Se Habla Español, Nicole Delgado, Gabriela Galván, Diego Gerard, Amanda Hernández, Lucía Hinojosa, Mauricio Marcin, Jason Mena, Andrés Monzón-Aguirre, Andrés Paniagua, Iberia Pérez, Mariana Rodríguez, Luis Othoniel Rosa, Jorge Sánchez, Dmitri Zurita
(Atrium, 1st Floor)
2-3pm: Listening Session
As part of a series of conversations with musicians and sound artists about influences, interests and drifts, Beta-Local invites Rebecca Adorno to share her on-going research regarding mysterious unidentified audio frequencies and underwater sounds.
(QM Theater, 2nd Floor)
[1] Downes v. Bidwell, US Supreme Court, 1901.
[2] Satélite llamando a control, no responde – sung by Ismael Rivera, written by J. Marrero, 1974.
[3] Carl Sagan's description of the NASA's Golden Record, produced in 1977.
[4] A similar gesture was part of the project Estación Espacial by Guillermo Rodríguez (La Práctica 2015-2016), in the exhibition PANDORA curated by Paula Borghi.
Guadalupe Maravilla
3-4pm: Performance
Walk on Water is a new mythology by Guadalupe Maravilla which will be performed on the Queens Museum's Panorama of the City of New York. Walk on Water will incorporate autobiographical storytelling and choreographed rituals to create new visual memories for the entangled genealogy of border crossing stories. Maravilla will perform on the rivers of the Panorama along with a futuristic border crossing Coyote, La Momia songstress and the Alien Abductor. A gong sound bath will be administered by a team of healers to transform the Panorama into a giant vibrational healing instrument intended to cleanse political phobias and blockages of New Yorkers.
Walk on Water is the second part of a performance trilogy based on Maravilla's autobiography. The first part, titled The OG of Undocumented Children (performed at the Whitney Museum, 2018) told the story of how Maravilla became an unaccompanied child immigrant and his experience crossing the border into the US.. The second part for the Queens Museum focuses on Maravilla's past as an undocumented immigrant, the deportations his family endured, and what methods can be found for healing. The final performance of the trilogy, Disease Thrower, will center on how the trauma of Maravilla's border crossing manifested into cancer and the ways he overcame the disease.
Artist bio can be found here.
(Panorama of the City of New York)
Black Quantum Futurism
4:15-5:30pm: Performance and Interactive Activity
Project: Time Capsule by Black Quantum Futurism
Beneath several affordable housing projects and housing estates across America and Europe, mysterious time capsules have been unearthed. These time capsules appear to be quantum in nature, displaying the features of retrocausality and entanglement, opening up the capsule contents to influences from the present, the future(s) and the past(s). Project: Time Capsule is an interactive, performative lecture that explores the contents of the time capsules, as well as the topics of gentrification, temporal-spatial oppression, and Black communal hacking with readings, video, and live sound experimentation.
Project: Time Capsule is inspired by true events – a mysterious safe with time capsule-like contents was found beneath the grounds of a public housing complex in Macon, Georgia in 2017, while others have been discovered under several other affordable housing projects in recent years. In Project: Time Capsule Black Quantum Futurism (BQF) speculates on the discovery of these time capsules as activation events that occur in several different housing projects in America and Europe simultaneously. The unearthing of the time capsules, both real and mythological, touches upon many facets of BQF's praxis, including their use of "quantum time capsules" and several projects exploring communal temporalities, sites of memory, and access to affordable housing.
Artist bio can be found here.
(Atrium, 1st Floor)
Related Programming on July 26
Catch the three co-directors of Beta-Local in conversation at the Whitney Museum of American Art on Friday, July 26 at 6.30 pm. Sofía Gallisá Muriente, Pablo Guardiola, and Michael Linares present the programs and day-to-day operations of the artist-run non-profit through the many forms of collaboration put into practice over the last ten years.
Click here to learn more. Tickets are required ($10 adults; $8 members, students, seniors, and visitors with a disability).
Images: Courtesy of Guadalupe Maravilla, Black Quantum Futurism, and Beta-Local.
Credits (third image): Dr. Yajaira Sierra-Sastre in Hawaii during the simulated mission to the Red Planet. Photo: Sian Proctor
Public programs for Spring 2019 exhibitions at Queens Museum are made possible by the Rockefeller Brothers Fund and the National Endowment for the Arts.
Special thanks to Paper Outlet for their in-kind donation to the Alien Publication and Workshop.
https://queensmuseum.org/
>
>
>
>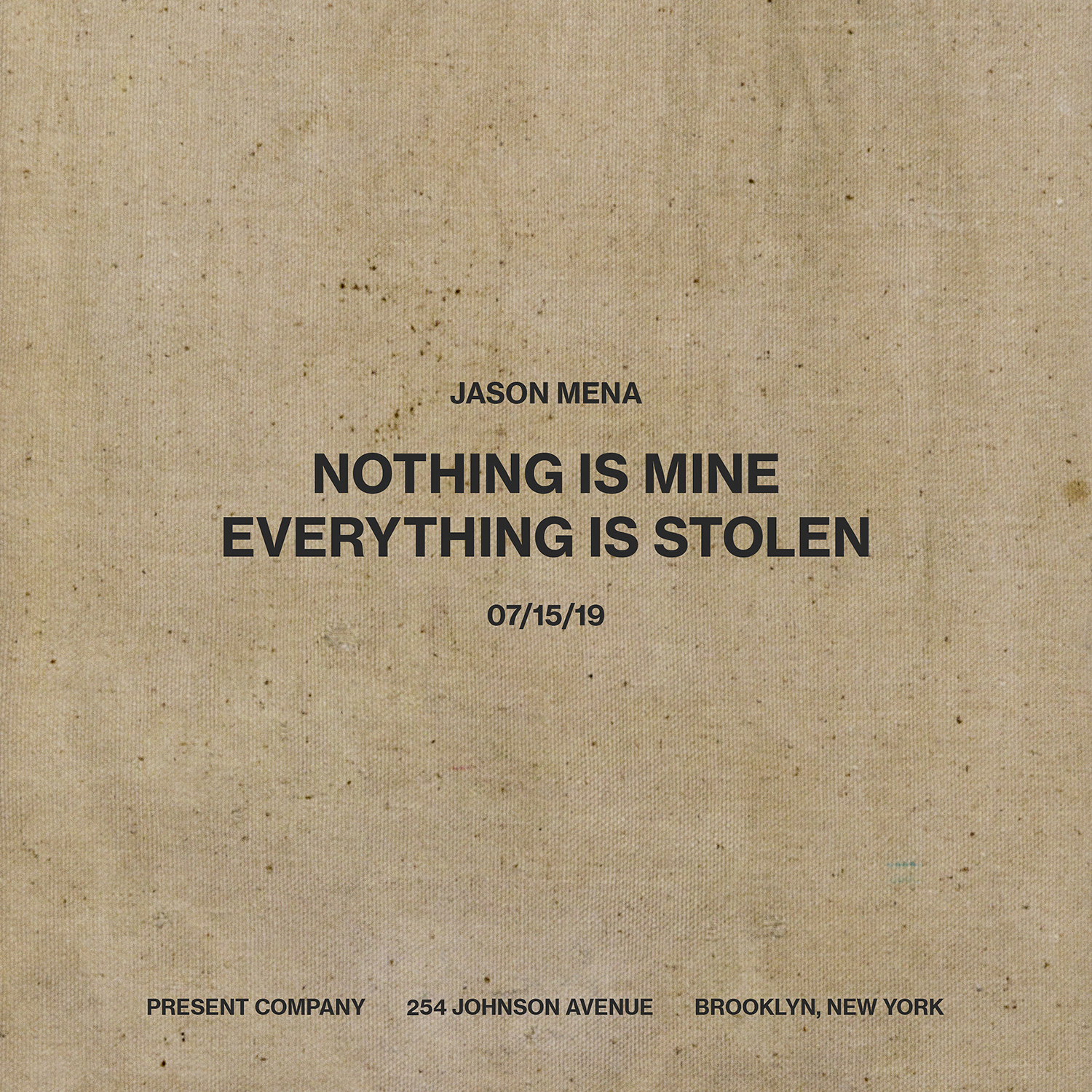 Nothing is Mine Everything is Stolen
Curated by Luis Camnitzer
Opening Reception: 7:00 PM - 8:00 PM, Monday, July 15, 2019
Closing Reception: 8:00 PM - 9:00 PM, Saturday, July 20, 2019
Gallery Hours: Tuesday - Friday, by appointment.
Present Company
New York
Concerned with ideas of monetary transaction and value creation, subsequent in both their symbolic and practical condition "Nothing is Mine Everything is Stolen" challenges preconceived notions of what precisely is it that we value in art, or for that matter, in money.
Focusing on economic issues emerging from colonial, capitalist and imperialist forces, Jason Mena (Puerto Rico) considers informal modes of production and exchange, paying particular attention to the nature of these practices and their possible impact on the social, political, and cultural domain.
https://present-co.com/
>
>
>
>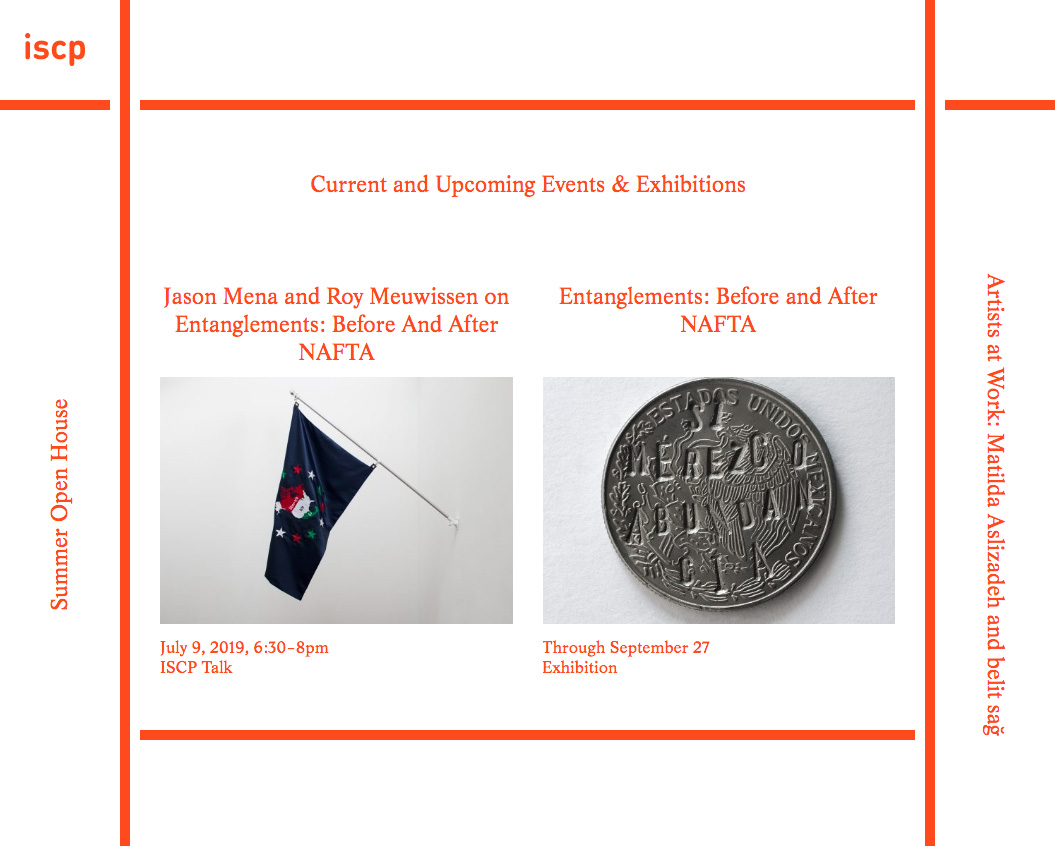 ISCP Talk
Entanglements: Before And After NAFTA
Moderatd by Bárbara Perea Legorreta
July 9, 2019, 6:30 – 8:00 pm
International Studio & Curatorial Program (ISCP)
New York
In the context of the current ISCP exhibition Entanglements: Before And After NAFTA, curated by Bárbara Perea Legorreta, ISCP Jane Farver Curatorial Resident, two of the participating artists will offer insights into their research and recent work developed for this project.
Jason Mena will discuss his interest in economic trends, commodities, currency and value by establishing a comparison between the abandonment of the gold standard and the adoption of free-floating exchange rates.
Roy Meuwissen will briefly outline and situate Allan Sekula's Geography Lesson: Canadian Notes within his ongoing research project, which takes up Sekula's investigation into economic histories by tracing connections between all three NAFTA trading partners. Sekula's text will serve as a starting point to explore the virtual disappearance of vocabularies of industrialization and class distinction from much contemporary discourse—and their paradoxical resurrection in recent political arenas, in favor of post-Fordist approaches.
This program is supported, in part, by Greenwich Collection Ltd.; Hartfield Foundation; Jane Farver Memorial Fund; Lambent Foundation Fund of Tides Foundation; New York City Department of Cultural Affairs, in partnership with the City Council; New York State Council on the Arts with the support of Governor Andrew M. Cuomo and the New York State Legislature; and Stavros Niarchos Foundation (SNF).
http://www.iscp-nyc.org/
>
>
>
>


Relational Undercurrents: Contemporary Art of the Caribbean Archipelago
Curated by Tatiana Flores
From 22 Jun 2019 – 08 Sep 2019
Delaware Art Museum
Delaware
Curated by Tatiana Flores and organized by the Museum of Latin American Art(MOLAA), in Long Beach, California, Relational Undercurrents: Contemporary Art of the Caribbean Archipelago presents 21st-century art by artists with roots in Haiti, the Dominican Republic, Cuba, Puerto Rico, Curaçao, Aruba, St. Maarten, St. Martin, Martinique, Guadeloupe, Trinidad, Jamaica, The Bahamas, Barbados, and St. Vincent. Acknowledging the great diversity represented by these various countries, the exhibition explores thematic continuities found among the region. Relational Undercurrents features contemporary painting, installation art, sculpture, photography, video, and performance by over 50 artists from the islands of the Caribbean.
This exhibition has been organized by the Museum of Latin American Art (MOLAA), Long Beach, California for the Getty Foundation's Pacific Standard Time: LA/LA initiative. This exhibition is made possible in Delaware by the Emily du Pont Memorial Exhibition Fund. Additional support was provided, in part, by a grant from the Delaware Division of the Arts, a state agency in partnership with the Delaware Division of the Arts, a state agency, in partnership with the National Endowment for the Arts. The Division promotes Delaware arts events on www.DelawareScene.com.
https://www.delart.org/
>
>
>
>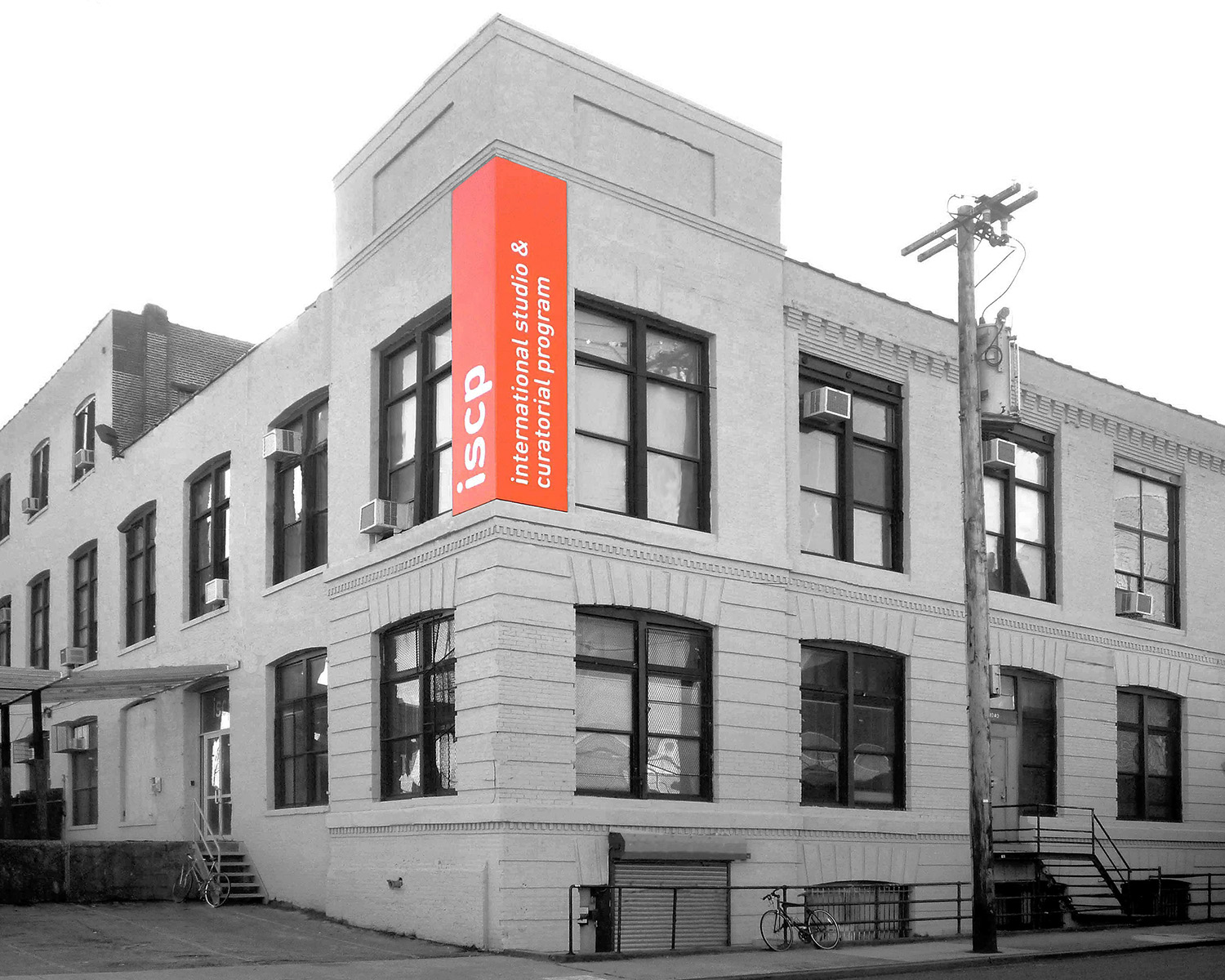 Entanglements: Before and After NAFTA
Curated by Bárbara Perea Legorreta
From June 4 – September 27, 2019
Tuesday–Friday, 12–6 pm, and by appointment
International Studio & Curatorial Program (ISCP)
New York
The International Studio & Curatorial Program announces the opening of Entanglements: Before and After NAFTA, a group exhibition organized by resident curator Bárbara Perea Legorreta, on Tuesday, June 4, from 6–8 pm.
In the wake of the recent and tense renegotiation of the three-way North American Free Trade Agreement (NAFTA) between Canada, the United States, and Mexico, the growing humanitarian immigration crisis, and new draconian United States border policies, this exhibition presents a critical and transhistorical analysis of economic exchange in North America through the lens of contemporary art practices.
The featured artists in Entanglements: Before and After NAFTA explore a range of issues including links between Canadian mining interests and organized crime, the effects of Big Sugar on the post-NAFTA diet, the necropolitical instrumentalization of populations in service to the drug trade, and other entangled undercurrents that are related to this pact. Currency and exchange value, resource extraction, oil trade, raw materials and shifts in agricultural patterns and food sources, are addressed by eleven artists in a complex interrelated multi-media installation marked by objects, symbology, appropriated imagery, and audiovisual narratives.
Artists in the exhibition are Alejandro Gómez Arias, Gina Arizpe, Patricia Carrillo Carrera, Virginia Colwell, Arcángel Constantini, Iván Edeza, Fritzia Irizar, Jason Mena, Roy Meuwissen, Yoshua Okón, and Miguel Rodríguez Sepúlveda. Of the eleven artists, eight are from Mexico, two from the United States, and one from Canada.
The press release is available for download here.
http://www.iscp-nyc.org/
>
>
>
>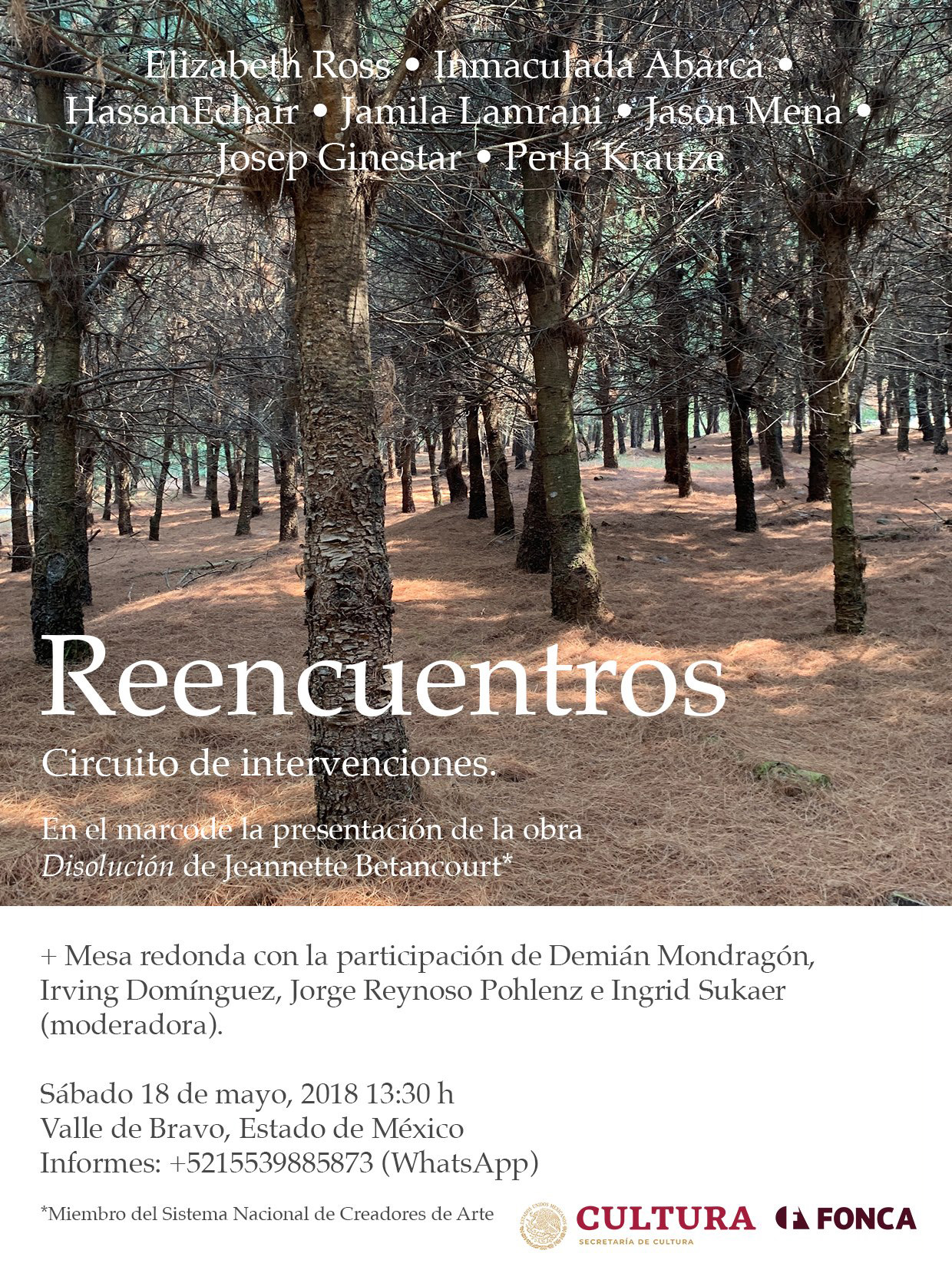 Reencuentros: Circuito de intervenciones
Sabado 18 de mayo de 13:30 - 17:30 hrs.
Valle de Bravo
Mexico
Presentacion de la Intervencion Disolución de Jeanette Betancourt
Mesa redonda integrada por Demían Mondragón, Irving Domínguez, Jorge Reynoso Pohlenz y Ingrid Suker (Moderadora).
Recorrido por el cicuito de intervenciones Reencuentros con la participación de Elizabeth Ross, Inmaculada Abarca, Hassan Echair, Jamila Lamrani, Jason Mena, Josep Ginester y Perla Krauze.
https://fonca.cultura.gob.mx/
>
>
>
>

You Made What They Wanted to See: Images for People in Solitary Confinement
April 20 - July 1, 2019
Central Library
Brooklyn Public Library
New York
Photo Requests from Solitary (PRFS) is a participatory project that invites men and women held in long-term solitary confinement in U.S. prisons to request a photograph of anything at all, real or imagined, and then finds a volunteer to make the image. The astonishing range of requests, taken together, provide an archive of the hopes, memories, and interests of people who live in extreme isolation.
On any given day, at least 80,000 people are held in solitary in the United States, most placed there not by a judge or jury, but by prison staff. Some will remain for months, years, or even decades in conditions that have been shown to cause deep and lasting psychological and physiological harm.
The goal of PFRS is to fulfill each request to exact specifications for the person who requested it, with images that—through some combination of form, content, composition, design, and/or sheer commitment—are compelling enough that someone would want to return to them for repeated viewing. (People in solitary are sharply limited in the numbers of photographs they can have, so every image is important.)
In addition to sending completed photographs to the people in prison, PRFS uses the project to provide public education about solitary confinement and support campaigns to limit its use. Working in partnership with local advocates, we tour exhibitions of the request forms and photographs, hold events and discussions, and encourage media coverage on the subject of solitary confinement.
PRFS offers audiences a direct and powerful connection to people in solitary confinement, either by contributing photographs or by simply reading their requests and visualizing the images they have described. Making these often elaborate descriptions into images, which can then be sent back to the people who conceived of them, completes an artistic collaboration that acknowledges the shared creativity and humanity of individuals on both sides of the prison walls.
http://photorequestsfromsolitary.org/
>
>
>
>

Art is Money - Money is Art
Curated by Edoardo Marcenaro
April 26 - May 11, 2019
The East Village Art View
New York
The East Village Art View is pleased to announce the upcoming show, Art is Money - Money is Art.
Edoardo Marcenaro curated an exhibition of artworks made on actual $1 bills. This exhibition includes works by Banksy, Andy Warhol, Keith Haring, Obey and more than 100 local artists.
Artists show how fluid the nature of money is, as its very transformation demonstrates a change in its value when rebuilt as art.
Artists do so as a method to ironize, undermine, sabotage and subvert the power of money.
Though these re-designed banknotes are mischievous in nature, many pieces offer distinctive and provocative social criticisms.
This unique exhibition explores concepts of wealth, power, equity, justice and creativity.
Details:
Location: 111 3rd Avenue, #15 H, New York, NY 10003
Opening reception: Friday, April 26, 2019, 6:00-8:00 PM
On view: April 26 - May 11, 2019
Hours: Thursdays and Fridays by appointment
For more info: juliart5@hotmail.com / (917) 859-9026
https://www.facebook.com/EastVillageArtView/
>
>
>
>

Frames+Pedestals
Curated by FOLD
March 8, 2019
Architecture Hall
University of Nebraska-Lincoln
https://www.unl.edu/
>
>
>
>

XVIII Bienal de Pintura Rufino Tamayo
Del 22 de febrero del 2019 hasta el 19 de mayo de 2019
Museo de Arte Octavio Ocampo
México
La Secretaría de Cultura, el Instituto Nacional de Bellas Artes, la Secretaría de las Culturas y las Artes de Oaxaca, a través del Museo de Arte Contemporáneo Internacional Rufino Tamayo, el Museo de Arte Contemporáneo de Oaxaca y la Fundación Olga y Rufino Tamayo, A.C., le invitan a la XVIII Bienal de Pintura Rufino Tamayo.
Artistas:
Jason Mena
Octavio Rangel Ramirez
Marita Guadalupe Terríquez Oliva
Gerardo Monsiváis Flores
Raul Aguilar Canela
Virginia Ledesma Martinez
Rolando Gómez Sosa
Charles Glaubitz Gonzalez
Paul Muguet Maubert
Allan Hernández Villavicencio
Jorge Juan Moyano Gómez
Jerónimo Rüedi Alvarez
Francisco Muñoz Pérez
Juan Carlos Caloca Carbajal
Catalina Salcedo Ortiz
Ángela Leyva Gómez
Silvia Mayoral Molina
Luis Miguel Amador Moreno
Paulina Jaimes Padilla
Yutsil Cruz Hernández
Carlos Enrique Pérez Bucio
Veronica Baltadano Perez
Cecilia Barreto Aguilar
David Alejandro Meraz Valdez
Saúl Gómez Jiménez
María Concepción Guadalupe Sada Villarreal
Armando de la Garza Garza
Tania Esponda Aja
Rafael Rodríguez Cruz
Cristopher Contel Lima
Cristobal Gracia Garrido
Luis Enrique Ramírez
Hampshire Santibáñez
Victor Del Castillo Mier y Teran
Javier Areán Álvarez
Renata Leticia Gerlero Estrada
Jorge Andrés Palos Ramírez
Emilia María Díaz Vega
Francisco Javier Jimenez Hernandez
Omar Miguel Mañueco Cuevas
Sandra Del Pilar
Mauricio Gómez Vélez
Sinohe Sidharta Figueroa Rojas
Philip Edward Nevin Bordes
Bouchan Castro José Rigoberto
Patricia Maria Henriquez Bremer
http://bienaltamayo.org/
>
>
>
>

Relational Undercurrents: Contemporary Art of the Caribbean Archipelago
Curated by Tatiana Flores
February 01 to May 05, 2019
Portland Museum of Art
Oregon
Relational Undercurrents: Contemporary Art of the Caribbean Archipelago calls attention to a region of the Americas that is difficult to categorize and often overlooked: the island nations of the Caribbean. The exhibition proposes an "archipelagic model"—defining the Caribbean from the perspective of its archipelago of islands, as distinct from the continental experience—to study issues around race, history, the legacy of colonialism, and the environment. The exhibition features artists from the Hispanophone, Anglophone, Francophone, and Dutch Caribbean. Relational Undercurrents will emphasize the thematic continuities of art made throughout the archipelago and its diasporas, challenging conventional geographic and conceptual boundaries of Latin America. This approach draws particular attention to issues arising from the colonial legacy that are relevant to Latin America as a whole, but which emerge as central to the work of 21st-century Caribbean artists.
This exhibition has been organized by the Museum of Latin American Art (MOLAA), Long Beach, California, a project of the Getty Foundation's Pacific Standard Time: LA/LA Initiative.
This exhibition is part of Art for All, an initiative that supports the Portland Museum of Art dedication to being an open, accessible, inclusive, and welcoming museum for all, through exhibitions and programs that reflect our community and create experiences with art that strengthen our bonds and bring us together.
Catalog available at Duke Press
https://www.portlandmuseum.org/
>
>
>
>
>
>
>
>
>
>
>
>
>
>
>
>
>
>
>
>