Entre Islas
Festival Internacional de Videoarte
AD Universidade da Madeira, Portugal
25 de junio de 2016
El Festival Internacional de Videoarte Entre Islas surge como iniciativa para conectar internacionalmente a través del lenguaje del videoarte los valores artísticos de diferentes zonas geográficas diferenciadas culturalmente. La soldadura artística viene ligada mediante la temática común de la insularidad y el cuestionamiento sobre el territorio. La riqueza que ofrece el intercambio social y cultural se dispone abrumadora, pudiéndose encontrar discursos que abordan temáticas como la emigración, la frontera, la identidad, la patria o el concepto de región.
Se ha invitado a diversos comisarios procedentes de diferentes frentes espaciales, quienes han seleccionado una pieza realizada por un artista insular. A través del festival se genera un diálogo internacional que busca una mirada crítica del concepto de emplazamiento Entre Islas.
Participantes:
NUEVA ZELANDA:
Rob Garrett (Comisario)
Bronwyn Holloway-Smith and Simon Ward (Artistas)
SICILIA:
Serena Ribaudo (Comisaria)
canecapovolto (Artistas)
MADEIRA:
Vítor Magalhães (Comisario)
Martinho Mendes (Artista)
PUERTO RICO:
Sofia Shaula (Comisaria)
Jason Mena (Artista)
ISLA MARGARITA:
Leyla Dunia (Comisaria)
Luis Mata y Juan Carlos Portillo (Artistas)
ISLAS CANARIAS:
Adonay Bermúdez (Comisario)
Moneiba Lemes (Artista)
http://www.festivalentreislas.com/
>
>
>
>

The Existential Crisis
Saturday June 4, 2016 at 4:00PM
Group exhibition at Intelligentsia Gallery with works by Li Zhengde, Li Tingwei, Jeff Miller & Drew Milligan, Camille Ayme and Jason Mena.
Born as a bourgeoisie response to a century of decadent and self-indulging optimism, existentialism reflected on the detrimental processes of capitalist society. A century later, this philosophical question possesses the capability to address a systemic stronghold over the means, systems and networks of knowledge, production and consumption; or in other words: contemporary life.
The art project with its distinctive tasks, acts both as mirror and amplifier of life's disjunctions and challenges. Meanwhile, the existential crisis makes us wonder with both, excruciating seriousness and lighthearted humour: what does it mean to ask an existential question today?
Borrowing its title from Jeff Miller and Drew Milligan's humorous reflection on a heavy night of drinking, the exhibition rethinks the core values of existence, with life and art exchanging places as excess, boredom, consumerism, class, hedonism and self-consciousness expose the tendencies of today's societies. By means of photographic documentation, sound and light installations and moving images, the exhibition immerses in a self-perpetuating paradox of depth and superficiality, simultaneously scratching the surface while digging deep on the core of a never ending existential crisis.
http://intelligentsiagallery.com/
>
>
>
>

Hypertext
Opening April 24, 2016
1st The Door Art 798 Space in collaboration with Intelligentsia Gallery. With works by Ma Yongfeng, Deng Dafei, Song Xi, Ren Zhitian, Wu Ding, Yu Bogong, Jeff Miller and Drew Milligan, William Lee, Aoto Oouchi, OOCH, Alessandro Rolandi, Camille Ayme, Elsie Yi Shen, Li Tingwei, Yang Yuanyuan, Florian Kuhlmann, Jason Mena, Christopher Rey Perez, Yu Ying, Garcia Frankowski
Hypertext is coding-speak for telescopic links, images, icons and words that interlace with other references, instances, concepts. Hypertext connects via networks and associative trails parallel conceptual universes, hidden theories and potential stories.
Hypertext explores the symbolic, etymologic, philological, semiotic, ideological, and political imperatives of diverse forms of language in an era of hypercommunication. The exhibition presents works employing textuality, both as medium and end, whether through scripts or images, addressing the reader in many tones: aggressively, alertly, politically, subliminally, ironically, humorously, authoritatively, cynically.
Challenging the exhibition format as a space for passive contemplation, Hypertext instead invites the audience to engage in the act of reading. The exhibition space becomes an open book as works function like chapters of an unravelling novel or like components of a cadaver exquis.
Hypertext is both curatorial experiment and literary adventure, looking for Barthes' pleasure of the text while exploring the endless connections of its hyper-activity.
http://intelligentsiagallery.com/
>
>
>
>

Failed States (Estados Fallidos) 2011, serie de 7 fotografías a color que documentan una acción donde el cuerpo se emplea como metáfora geopolítica, ha sido incluida en la publicación Casa del Lago Juan José Arreola UNAM Memoria 2013-2015acompañado por el ensayo Ay, felicidad suprema, suprema felicidad, p. 58-65 por Brenda J. Caro Cocotle.
La Casa del Lago Juan José Arreola Arte + Medio Ambiente estimula y difunde la creación artística y la generación de conocimiento vinculados al medio ambiente, como interacción entre agentes sociales, culturales, naturales y artificiales que condicionan la forma de vida de la sociedad. Sus programas privilegian la atención al público universitario y al que asiste al Bosque de Chapultepec y promueven el trabajo interdisciplinario y las prácticas en red, con dependencias universitarias, instituciones y personas afines.
Casa del Lago Juan José Arreola UNAM Memoria 2013-2015
Ensayo por Brenda J. Caro Cocotle, P.58-65
Ay, felicidad suprema, suprema felicidad
Primera Edición, Mexico, Octubre 2015
Casa del Lago Juan José Arreola Arte + Medio Ambiente
Centro Cultural Universitario
Universidad Nacional Autónoma de México UNAM
ISBN 78-607-02-7376-6
http://www.casadellago.unam.mx/
>
>
>
>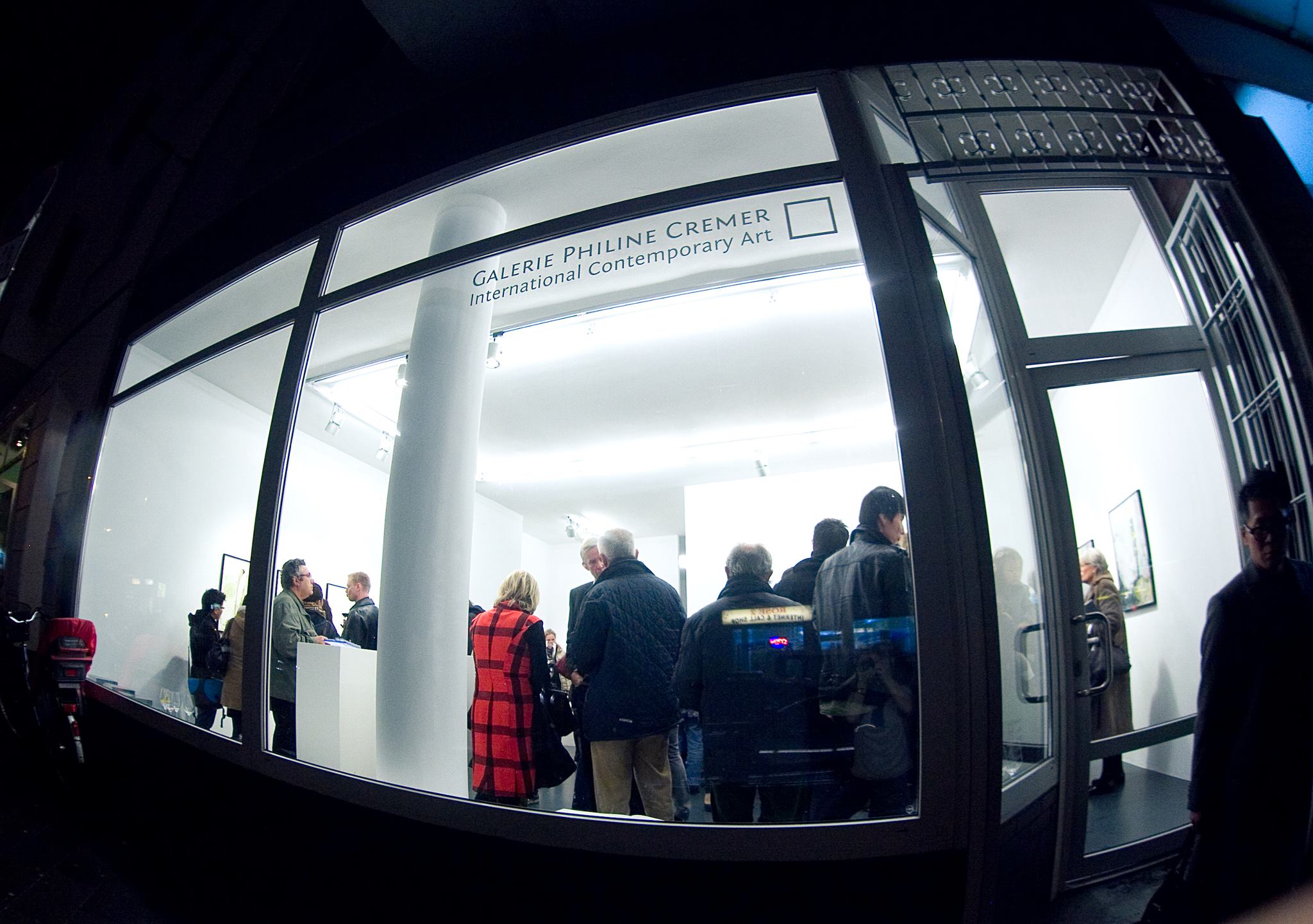 The Materialist Postscript
Galerie Philine Cremer GmbH
Saturday, January 15, 2016 to March 15, 2016
Part of the fifth edition of the Duesseldorf Photo Weekend, February 12-14, 2016
Düsseldorf, Germany
Galerie Philine Cremer (Düsseldorf) in collaboration with Intelligentsia Gallery (Beijing) is thrilled to present The Materialist Postscript, a group exhibition with works by Jason Mena (1974, lives and works in Mexico City), Ju Anqi (1975 Urumqi), Ren Zhitian (1968 Xishui), Xiao Xiao (1984 Hunan), Oliver Haidutschek (1976 Vienna), William Lee (1985 Beijing), Camille Ayme (1983 St-Etienne), Garcia Frankowski (1983 San Juan & 1985 Dundee) and Lena Tsibizova (1988 Moscow), Olga Rodina (1982 Moscow) and Anastasia Soboleva (1989 Kostroma) of Troyka Union (Moscow).
With the re-appropriation by mass and social media of strategies and models previously associated with conceptual art, the perception of life has been reduced to the representational language of an artistic project. Materialism, the theory of the continuous flow and exchange of matter and its lingering ideological disputes has found a parallel allegory in the production and consumption of contemporary art. An ever expanding array of images propelled by technological and communication advancements seems poised to fulfill the philosophical promise of an aesthetic state ruled by the power of language.
The Materialist Postscript retakes Boris Groy's thesis of a regime of linguistic bonds cementing a societal union and reformulates the question from the point of view of a contemporary theory of representation as objects, signs and symbols are subjects of matter exchange.
Revolving around semiotic preoccupations, the exhibition aims to reveal latent conflicts within and against ideological models of representation. Abstract codes of signification, symbolic avatars of culture and identity, paraphernalia of the victories, downfalls and suspended projects of dialectical materialism, and the visual codes of the world as matter exchange challenge preconceptions about the fundamental principles of language engagement in networks of global visibility, creating the template of a Materialist Postscript.
The Materialist Postscript presents works that through photography, moving image, painting, and installation re-develop a theory of language and representation in a globalized world.
http://www.philinecremer.com/
>
>
>
>

A Great Event is in the Making. But No One has Noticed
Co-curated by Hao Chen
Intelligentsia Gallery
Sunday, January 10, 2016
Beijing, China
Artists: Engel Leonardo (b. 1977 Bani, Dominican Republic), Li Tingwei (b.1989 Yantai, China), Jeff Miller (b. 1987 Rhode Island, USA) and Thomas Schmidt (b. 1980 Alberta, Canada), Ada Sokó (b.1994 Wrocaw, Poland), Pussykrew, William Lee (b.1985 Beijing, China), Shao Yinong (b. 1970 Qinghai, China), Alena Olasyuk (b. 1988 Ukraine), Ju Anqi (b. 1975 Urumqi, China), Matjaž Tan (b. 1982 Ljubljana, Slovenia), Alessandro Rolandi (b. 1971 Pavia, Italy) Meng Zhigang (b. 1975 Guilin, China), Yu Bogong (b.1970 Inner Mongolia), Wu Ding (b. 1982, Shanghai), Jason Mena (1975, Lives and works in Mexico City), Lena Tsibizova (b. 1988 Moscow), Olga Rodina (b. 1982 Moscow) and Anastasia Soboleva (b. 1989 Kostroma) of Troyka Union (Moscow), Garcia Frankowski (b. 1983 San Juan, b. 1985 Dundee), Oliver Haidutschek (b. 1976, Vienna) Ophelia S. Chan (b. 1985, Hong Kong), Ren Zhitian (b. 1968, Xishui), Xiao Xiao (b. 1984 Hunan), The Collective (Beijing), Camille Ayme (b. 1983, St Etienne) and Chen Xi (b. 1985 Wuhan)
In a "room filled with the radiance of festive illumination and the assembled company", a sense of anesthetizing detachment kept the ruling class from perceiving an upcoming substantial event in Robert Musil's The Man without Qualities. With a title eponymous to the last chapter of his unfinished novel, the exhibition explores the role played by the gathering of parallel stories unfolding while the establishment overlooks a looming threat. Away from the hegemonic constructions of market-oriented, nationalistic and academic imperatives, all-encompassing narratives, and opportunistic discourses, 'A Great Event is in the Making. But No One has Noticed', reclaims the vital ethos of enthusiasm and alertness, and proposes the underground space as conceptual incubator for the gestation of positions, discourses, ideologies, projects, discrepancies, disconnections, agencies, aspirations, performances and executions.
In occasion of its second anniversary, 'A Great Event is in the Making. But No One has Noticed' features 24 artistic positions in representation of each of the months since the foundation of Intelligentsia Gallery. Co-curated by Hao Chen, the gathering of works as a total installation proposes the exacerbation of the exhibition space as both container and action, contemplating a great event in the making, while no one else notices.