>
>
>
>

The Materialist Postscript
Galerie Philine Cremer GmbH
Saturday, January 15, 2016
Düsseldorf, Germany
Galerie Philine Cremer (Düsseldorf) in collaboration with Intelligentsia Gallery (Beijing) is thrilled to present The Materialist Postscript, a group exhibition with works by Jason Mena (1974, lives and works in Mexico City), Ju Anqi (1975 Urumqi), Ren Zhitian (1968 Xishui), Xiao Xiao (1984 Hunan), Oliver Haidutschek (1976 Vienna), William Lee (1985 Beijing), Camille Ayme (1983 St-Etienne), Garcia Frankowski (1983 San Juan & 1985 Dundee) and Lena Tsibizova (1988 Moscow), Olga Rodina (1982 Moscow) and Anastasia Soboleva (1989 Kostroma) of Troyka Union (Moscow).
With the re-appropriation by mass and social media of strategies and models previously associated with conceptual art, the perception of life has been reduced to the representational language of an artistic project. Materialism, the theory of the continuous flow and exchange of matter and its lingering ideological disputes has found a parallel allegory in the production and consumption of contemporary art. An ever expanding array of images propelled by technological and communication advancements seems poised to fulfill the philosophical promise of an aesthetic state ruled by the power of language.
The Materialist Postscript retakes Boris Groy's thesis of a regime of linguistic bonds cementing a societal union and reformulates the question from the point of view of a contemporary theory of representation as objects, signs and symbols are subjects of matter exchange.
Revolving around semiotic preoccupations, the exhibition aims to reveal latent conflicts within and against ideological models of representation. Abstract codes of signification, symbolic avatars of culture and identity, paraphernalia of the victories, downfalls and suspended projects of dialectical materialism, and the visual codes of the world as matter exchange challenge preconceptions about the fundamental principles of language engagement in networks of global visibility, creating the template of a Materialist Postscript.
The Materialist Postscript presents works that through photography, moving image, painting, and installation re-develop a theory of language and representation in a globalized world.
http://www.philinecremer.com/
>
>
>
>
Embassies, Refugees, Manifestoes
December 3, 2015
Montevideo, Uruguay
Proyecto Casamario (Montevideo) in collaboration with Intelligentsia Gallery is pleased to present 'Embassies, Refugees, Manifestoes', a group exhibition with works by Oliver Haidutschek, William Lee, Ren Zhitian, Garcia Frankowski, Jason Mena, Camille Ayme.
Operating on the aftermath of a global shift of infrastructural and super structural systems of exchange and value, 'Embassies, Refugees, Manifestoes' explores the relationship between, positions, strategies and methods of representation, diffusion and discourses in an age of digital floods of information, shifting global interests and obscured dogmas. With geopolitical and ideological territories sequestered, bombarded and occupied by hegemonic influencers, Embassies, Refugees, Manifestoes portrays three critical states potentially oscillating between accepted narratives and conceptual forms of subversion.
Working on similar formats, each of the artists in the exhibition explores metaphoric roles, challenges and potentialities inherent on the dialectics of space on its physical and visual manifestations while dissecting the friction between visibility and representation, the construction of hegemonic discourses and ideology critique.
More soon!
>
>
>
>

From The Intangible To The Tangible
Curated by Anne Brand Galvez
Agency for Spiritual Guest Work
Kunstraum Walcheturm
Zurich
Artists: Mirjam Landolt (CH), Eli Stevick (US), Gregory Hayman (UK), Bjoern Drenkwitz (DE), Katerina Samara (GR), Liliane Puthod (FR), Moritz Wille (CH), Evariste Maiga (CH), Emilie McDermott (FR/US), Jonathan Ospina (CO), Fredy Solano Poker (SV), José Porras (MX), Ala Abu Asad (PS), Oscar Díaz (SV/USA), Anna Mikhailova (PL), Iris Pshedezki (IL), Mario Molina (GT), Joël Noël (CH), Michel Kessler (CH), Kleoni Manoussakis (GR), Andrea Dardón (GT), David Zender (CH), Stephan Theurich (DE), Emily, Radosavljevic (RS), Jorge Linares (GT), Roisin Beirne (IE), Louisa Zahareas (GR), Mauricio Sáenz (MX), Felipe Mujica (CL/US), Livio Baumgartner (CH), Eduardo Makoszay Mayen (MX), Paco Quijada (ES/DE), Jason Mena (MX/PR), Romeo Gongora & Rosa Berardo (GT/CA/BR), Eder Castillo (MX), Danielle, Zorbas (AU), Max Grau (DE), Monalisa Ali (JO/CA), Ernesto Bautista (SV), El?na Spura (BE), Noah Oliel (CH), Roland Farkas (SK), Veronique Simar (FR/GT), Sérgio Augusto (BS/ SE), Magdalena Cernadas AR Mauricio Kabistan (SV), Carol Neumann, Ivan Chiarelli & Victor Negri (BS), Laura Focarazzo (AR), Hanna Husberg (FI/SE), Asha Tamirisa (US), Melissa Guevara (SV), Jorge Oswald (CO), Victor Crack Rodriguez (SV), Chloé Jean Richard (CH), Ice trip & Victor Martínez (MX), Catarina Sosa (AR), Bene Andrist (CH), Tara Mahapatra (US/DE).
From The Intangible To The Tangible aims to compile visual art works in movement that evoke in their aesthetic, discurse, or technique the transitional aspects of materializing ideas from the symbolic to the real. From the wishes and desires to the corporeal, solid and concrete. From the gestural performativity to the materialized meaning. From the sensorial conscious or unconscious, perceived or imagined to the perceptible to the touch, palpable, physical and substancial.
The exhibit will take place the 27 and 28 of November 2015 at Kunstraum Walcheturm Zurich, in the context of VOLUMES 2015, The Independent Publishing Zurich Art Fair.
Agency for Spiritual Guest Work in the Service of Visualizing is a non-profit international association based in Zurich & Guatemala which aims to produce research projects oriented towards exhibitions and collaborations with cultural producers in different fields. The agency aims to involve a diversity of individuals & institutions to develop a network for sharing interests and generate a critical dialogue in different platforms and structures between the arts.?
http://agencyforspiritualguestwork.ch/
http://volumes-zurich.tumblr.com
>
>
>
>

México: Contemplación e Inconformidad
Timeline BH
Festival Internacional de Videoarte de Belo Horizonte
5, 12, 19, 26 de novembro de 2015
20:00 – Entrada Franca
Museu Mineiro
Brasil
Curtas selecionados: Pavka Segura (México), Jason Mena (Puerto Rico), Marta María Pérez Bravo (Cuba), Ilán Liberman (México), Miguel Rodríguez Sepúlveda (México), Ramiro Chaves (Argentina), Bruno Bresani (Recife), Isaac Torres (México), Andrés Felipe Castaño (Colombia), Manuel Barrero Leija (México).
Curadoria: Irving Domínguez
Festival Internacional de Vídeo de Belo Horizonte é um evento que terá sua primeira edição em novembro de 2015 na cidade de Belo Horizonte no Museu Mineiro. Pretende-se com o mesmo promover as produções videográficas de diversos artistas que abordem a relação das novas tecnologias e a arte contemporânea, com uma especial incidência no manuseio dos equipamentos de vídeo e com ênfase na vídeo arte. Serão realizadas igualmente várias mostras especiais de festivais convidados.
Museu Mineiro
Av. João Pinheiro, 342
Belo Horizonte, Brasil
http://timelinebh.blogspot.com.br/
>
>
>
>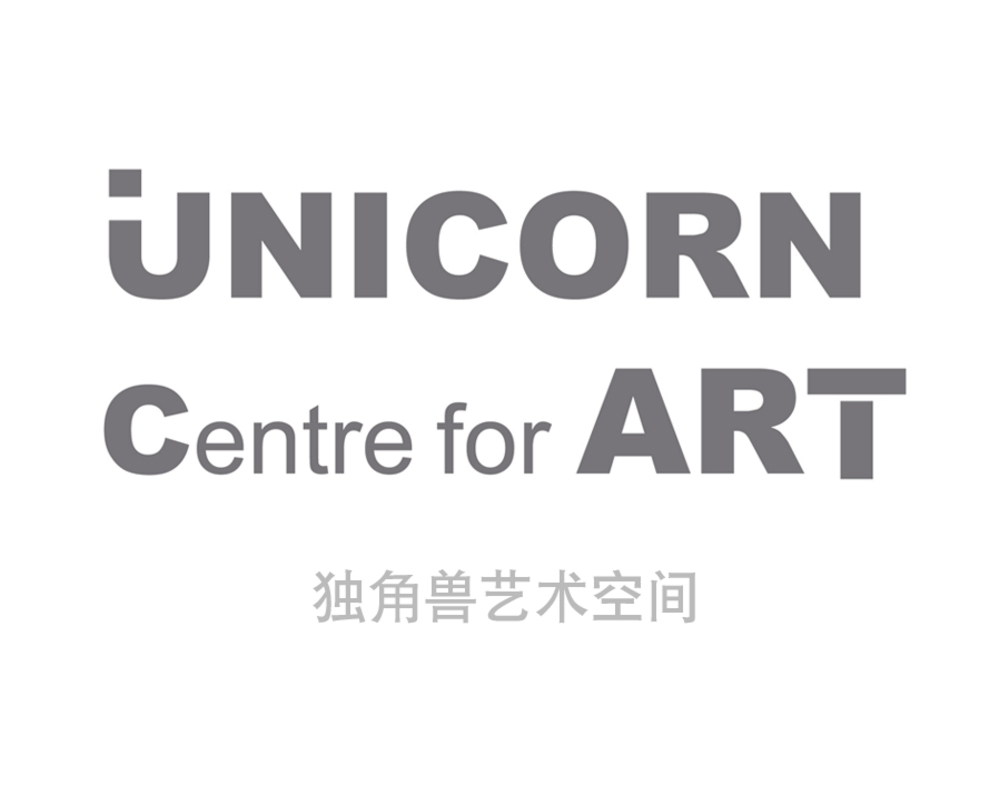 0.10
Saturday, November 14, 2015
Unicorn Centre for Art
Beijing
Unicorn Centre for Contemporary Art in collaboration with Intelligentsia Gallery is thrilled to present 0.10, a group exhibition with works by Wu Ding (b. 1982, Shanghai), Jason Mena (1975, Lives and works in Mexico City), Lena Tsibizova (b. 1988 Moscow), Olga Rodina (b. 1982 Moscow) and Anastasia Soboleva (b. 1989 Kostroma) of Troyka Union (Moscow), Yu Bogong (b.1970 Inner Mongolia), Garcia Frankowski (b. 1983 San Juan, b. 1985 Dundee), Oliver Haidutschek (b. 1976, Vienna) Ophelia S. Chan (b. 1985, Hong Kong), Ren Zhitian (b. 1968, Xishui), Xiao Xiao (b. 1984 Hunan), The Collective (Beijing), Camille Ayme (b. 1983, St Etienne) and Chen Xi (b. 1985 Wuhan).
0.10 changed the history of art. In 1915, ten artists were selected to portray a new beginning. After the zero, a new society would emerge. A hundred years after, we are left amidst the promises of that new beginning.
0.10 reformulates the possibility of futurism today through images of anti-climax and anti-narrative. In a world in constant flux, with the endless crises of media, materialism, the end of history, the death and rebirth of god, the erosion of humanism, the collapse and consolidation of hegemonic systems, with the constant questioning of our existence and its deepest and most profound philosophical foundations, we are left wondering if a 0.10 is not only possible, but a human necessity.
Presenting installation, video, painting, and photography and mix media, 0.10 launches the works of international and local artists contemplating abandoned, failed and triumphant goals in the search of a new futurism.
Unicorn Art is a non-profit art organization set to open officially in January 2015 in Caochangdi, Beijing. In extensive collaboration with both established and up-and-coming Chinese and international artists, Unicorn Art will organize academic exhibitions and public programs, and commit itself to the dialogue of contemporary and international art, providing visitors with expositions of pioneering art and art professionals with a solid platform for interaction.
http://www.unicornart.cn/
>
>
>
>

Turn on the bright lights
Curated by Carla Acevedo-Yates
Kresge and Pascal Galleries
Ramapo College
New Jersey
The Ramapo Curatorial Prize exhibition Turn on the bright lights opens in the Kresge and Pascal Galleries at Ramapo College on Wednesday, November 4 with an opening reception from 5 to 7 p.m. There will be a curator and artist's talk at 6 p.m. The exhibition continues on view through December 11.
The Ramapo Curatorial Prize is presented each year to a second-year graduate student at the Center for Curatorial Studies at Bard College. The 2014 winner was Carla Acevedo-Yates. Artists featured in the exhibition include Damien Catera, Kajsa Dahlberg, Felix Gonzalez-Torres, Jason Mena, Trevor Paglen and Adán Vallecillo.
"Abstraction in the visual arts has often been misunderstood through the lens of the historical avant-garde and high modernism, whose utopian ideals of universality and humanism were intertwined with the totalizing ambitions of the social and political projects of Western modernity," said curator Acevedo-Yates. "In contrast, the artists in the exhibition deploy abstractions – indeterminate geographies, image negation, abstracted soundscapes, and the monochrome – as a formal strategy and conceptual device to map and represent that which remains invisible."
Exhibiting Artists
Damien Catera (b. Utica, New York, 1964)
Damien Catera is an interdisciplinary sound and media artist, and an electro-acoustic composer and improviser. Catera's work reflects interests in critical analysis, experimental composition/improvisation, and transmission. The MYSTIC Way (2015) is an automated surveillance system, which continuously transforms captured audio into a constantly evolving, abstract soundscape. A reflection on bulk intelligence data collection and the blurring of boundaries between public and private communication, this installation system is always listening to and reshaping the space that it operates in, whether the listener notices or not.
Kajsa Dahlberg (b. Gothenberg, Sweden, 1973)
Working both individually and collaboratively, Kajsa Dahlberg is an artist whose work spans film, installation, and performance within the sphere of political representation and labor. In the video Female Fist (2006) Dhalberg researched how activist groups work politically while attempting to stay outside of already-existing political frameworks. The video features an interview with a queer activist from Copenhagen filmed with the lens cap on the camera.
Felix Gonzalez-Torres (Guálmaro, Cuba, 1957-1996)
Felix Gonzalez-Torres is one of the most important artists of the twentieth century. Using found objects and materials, he created sculptures and installations that deal with space, time, and affect in a personal and yet political way. In "Untitled" (North) (1993) the mythical North of immigration and longing is represented as a metaphor through light bulb strings that can be configured to form an abstract representation.
Jason Mena (b. San Juan, Puerto Rico, 1974)
Jason Mena's work explores the contradictions that exist within social formations, their visible and latent tendencies in both everyday life and the broader economic structure. His investigation has focused mainly on the Shadow Market, its relationship with state politics, global finance, and the impact these forces have on art production. The installation El Universal (2013) is part of the artist's broader investigation into the black market in Mexico and its relationship with state politics and global finance.
Trevor Paglen (b. Maryland, U.S.A., 1974)
Trevor Paglen is an artist and experimental geographer whose work spans image-making, sculpture, investigative journalism, writing, engineering, and numerous other disciplines. In The Fence (Lake Kickapoo, Texas) (2010) Paglen worked with a radio astronomer to map a vast and extremely powerful radar system surrounding the United States used to detect ballistic missiles, and made of electromagnetic waves invisible to the naked eye. In this work, the light from "the fence" was shifted into a visible spectrum.
Adán Vallecillo (b. Danli, Honduras, 1977)
Adán Vallecillo's artistic practice directly intersects with the context of its production, blurring the boundaries between the artistic, the personal, and the political. Whether participating in actions or collecting materials on-site to make artwork, Vallecillo's work critically engages with the realities of the historical moment while addressing the art historical legacy of abstraction, object making, and found materials. In the action Pintura politica (Political painting) (2013), Vallecillo references and makes manifest the political aspirations of the historical avant-garde by inserting an abstract painting into a political protest.
About the curator
Carla Acevedo-Yates (b. San Juan, Puerto Rico, 1978) is a curator, researcher, and art critic based in San Juan, Puerto Rico. She earned a Master of Arts in Curatorial Studies and Contemporary Art at CCS Bard College, and a B.A. in Spanish and Latin American Cultures from Barnard College, Columbia University. Recent projects include Turn on the bright lights at the Hessel Museum of Art, Soy Isla at Artists Space Books and Talks, The Dialectic City: Document / Context at Laboratorio de Artes Binarios, and OB-R at ARTLAB753, a project that experimented with exhibition formats and collaborative production models. Her writing has appeared in Art Agenda, Artpulse, Mousse, La Tempestad, and South as a State of Mind.
This project is funded in part by the New Jersey State Council on the Arts/Department of State, a Partner Agency of the National Endowment for the Arts. The Kresge and Pascal Galleries are located in the Berrie Center for Performing and Visual Arts. Gallery hours are Tuesday, Thursday and Friday 1 to 5 p.m. and Wednesday 1 to 7 p.m. For more information, call 201-684-7147.
Ranked by U.S. News & World Report as fifth in the Best Regional Public Universities North category, Ramapo College of New Jersey is sometimes mistaken for a private college. This is, in part, due to its unique interdisciplinary academic structure, its size of approximately 6,000 students and its pastoral setting in the foothills of the Ramapo Mountains on the New Jersey/New York border.
Established in 1969, Ramapo College offers bachelor's degrees in the arts, business, humanities, social sciences and the sciences, as well as in professional studies, which include nursing and social work. In addition, Ramapo College offers courses leading to teacher certification at the elementary and secondary levels. The College also offers eight graduate programs as well as articulated programs with Rutgers, The State University of New Jersey, New York Chiropractic College, New York University College of Dentistry, SUNY State College of Optometry and New York College of Podiatric Medicine.
https://www.ramapo.edu/
>
>
>
>

Rastreadas
Jueves 22 de octubre de 7:00 pm - 11:00 pm
Puerto Rico
En saludo a la 4ta Trienal Poli/Grafica de San Juan, América Latina y el Caribe, REM Projects estará inaugurando Rastreadas" en su nuevo espacio en Santurce Puerto Rico.
Artistas: Alexis Diaz "La Pandilla", Bik-ISMO, Chemi Rosado Seijo, Edgardo Larregui, Bubu Negrón, Jason Mena, Jorge "Rito" Cordero, Melvin Martínez, Omar Velázquez, Radames "Juni" Figueroa, Quintín Rivera Toro, Zilia Sánchez
REM Project
Calle Canals
Callejon Cultural #204
Santurce, PR
939-338-3118
http://www.remproject.gallery/
>
>
>
>

Huella o Desgaste
Jueves 22 de octubre
7:00pm - 10:00pm
2BLEÓ
Puerto Rico
En saludo a la 4ta Trienal Poli/Grafica de San Juan, América Latina y el Caribe
Artistas: Carlos Rodriguez, Rosell Meseguer, Bridget Quigley, Nora Maite Nieves, Kristine Serviá, Adán Vallecillo, Jorge Díaz Torres, Rafael Vargas Bernard, Marco Trevisani, Jason Mena
La esta muestra invita a reflexionar sobre la huella y/o desgaste como un grabado o grabación del tiempo. Como un mapa marcado por los procesos de vida. La huella y/o desgaste son elementos de estudio antropológico. En ocasiones la antropología puede presentarnos algo de ficción. El planteamiento es un juego libre entre los conceptos antropológicos, reales o ficticios.
2BLEÓ se fundó el 20 de febrero de 2013 como un lugar de taller y producción artística. También como espacio de exposición para muestras colectivas. El lugar tiene un área designada para realizar cortes de cabello nombrada La Silla "Barbería Ilícita". En este espacio se han mostrado obras de importantes artistas locales, extranjeros y de boricuas que viven en la diáspora.
En el 2015 2BLEÓ recibió el premio como mejor espacio alternativo otorgado por la AICA (Asociación Internacional de Críticos de Arte).
http://2bleoespacio.wix.com/2bleo
>
>
>
>

Periferico Espectacular
Espacio PROA
Calle Saturnino Tejera 4
Metro Carabanchel, linea 5
Carabanchel, Madrid
Artistas: Jason Mena (Puerto Rico), Eder Castillo (Mexico), Karmelo Bermejo (España), Habacuc Guillermo Vargas (Costa Rica), Nadia Granados (Colombia), Victor Hugo Rodriguez "Crack" (El Salvador), Andrea Marmol (Guatemala), Jorge Linares (Guatemala), Miguel Rodriguez Sepulveda (Mexico), Donna Conlon & Jonathan Harker (Panama)
"Periférico Espectacular" consta de una selección de videos de Iberoamérica (10 en total) y que se presentan en formato de proyección urbana que busca interactuar con el transeúnte y los públicos que circulen por la zona donde es proyectada.
Cada video es un registro audiovisual de una serie de acciones llevadas a cabo en distintos espacios de ciudades de estas regiones y que se desdoblan como una obra, ya sea en video o no, y que ha participado en exposiciones diversas en espacios públicos o institucionales en países como Guatemala, Colombia y Ecuador.
"Periférico Espectacular" es una propuesta de video que busca generar un momento de dialogo con la ciudad como un mecanismo de reflexión visual entorno a las problemáticas de actualidad y que se manifiesta como intervención en el espacio Público.
>
>
>
>

Naturaleza Inconciliable
Exposición Colectiva
Del 25 de septiembre hasta el 16 de octubre, 2015
Espacio Arterial
Querétaro 99, Col. Roma
Mexico D.F.
¿Puede haber algo más violento que la gran explosión del universo?
¿Hay algo que podemos considerar violencia antes de la humanidad?
¿Es posible que mediante la expresión artística generemos un esclarecimiento que nos haga mejores humanos a partir de autoreflexión?
Los alumnos de la Licenciatura en Comunicación y Gestión de la Cultura y Artes, en colaboración con Espacio Arterial y la Universidad de la Comunicación, tienen el agrado de invitarles a la exposición colectiva en torno al tema de la violencia "Naturaleza Inconciliable"
Naturaleza Inconciliable presenta la obra de nueve artistas visuales: Ornella Delfino, Nelly Ruzic, Marie - Christine Camus, Adela Goldbard, Iván Trueta, Moris, Renato Garza Cervera, Andrés Orjuela y Jason Mena.
La inauguración se llevará a cabo el 25 se septiembre del 2015 dentro de las instalaciones del Centro Cultural Espacio Arterial ofreciendo un coctel de 20:00 a 23:00 hrs.
http://www.espacioarterial.mx/
http://www.uc.edu.mx/
>
>
>
>

Paper Manifestoes
September 23 - October 3, 2015
Exhibition and Symposium
The Factory, Dawailangying Hutong 8, Dashilan
Curated by WAI Think Tank and Geisel Cabrera, Paper Manifestoes will be presented on a site-specific installation on the factory at the centre of historical Dashilar District in Beijing. Forum with authors Yuanyuan Yang and Matjaz Tancic, moderated by Geisel Cabrera and WAI Think Tank.
For the second year, Paper Manifestoes will present a selection of artists', and architects' books, journals, zines and photobooks during the 2015 Edition of Beijing Design Week. The exhibition will be on view until October 7.
The Second edition of Paper Manifestoes explores space in its multiple dimensions (architectural, geopolitical, domestic, utopian, urban, rural, peripheral), and reflects how it affects, influences, and informs artist's practices around the world. Ranging from comic strips, to collaborative editorial efforts, ethnographic research and monographic surveys, the exhibition presents publications produced for and as exhibitions, but also as mediums and as ends in themselves.
A digital catalogue will be published on the occasion of the exhibition together with a symposium with artists, authors and publishers on the exhibition.The publications presented in Paper Manifestoes will be included as public resource in the collection of Condenser, an experimental space for architecture, art and spatial investigations based in Beijing.
Featured Publications:
ARKANUM (Berlin)
Aras Göktem
BOREDOM 2000 (Paris)
Camille Ayme
COMMON PLAN: PUBLIC-PRIVATE (Santiago de Chile)
Plan Común (Felipe De Ferrari, Diego Grass, Marcelo Cox y Thomas Batzschenslager)
CONCRETE FLUX (Beijing)
Solveig Suess, Tom Baxter, Emma Karasz,
Aaron Fox-Lerner, Ceres Ranxi, Kendra Schaefer, Simon Zhou, Yuan Fuca
HONG KONG IN-BETWEEN (Hong Kong)
Géraldine Borio and Caroline Wu?thrich
HOUSE WITH DOORS AND WINDOWS (London / Nijmegen)
Michiel Huijben
INTELLIGENTSIA ZINE (Beijing)
Garcia Frankowski
IN VISIBLE CITIES (Beirut)
Diana Artus
GANKO (Milan)
GANKO
LENS OF AN IDEA (Shanghai)
Hao Chen, Chenchen Hu
10 DAYS IN KRAKOW (Beijing)
Yuanyuan Yang
THE INDIGENUITY PROJECT (Sápmi)
Joar Nango & Silje Figenschou Thoresen
THE STORY OF THE LITTLE GIRL AND THE SUN (Beijing)
Garcia Frankowski
THOSE AREN'T YOUR MEMORIES, THEY'RE SOMEBODY'S ELSE'S (Berlin)
Diana Artus
TIMEKEEPERS (Beijing)
MatjazTancic
NBDBKP – VOLUME ONE (Berlin)
Niels Betori Diehl and Barbara K. Prokop
NIEMANDSRAUME-EINE UTOPISCHE SPURENSUCHE (Graz)
Marleen Leitner, Michael Schitnig
NO ONE HURRY ANYONE (Beijing)
Joe Jo
PINK REPUBLIC (Beijing)
Wang Zheng
POETRY FOR ARCHITECTS (Beijing)
Triantafyllidis Theoklitos
PRODUCT PLACEMENT (Beijing)
Ophelia S. Chan & Aoto Oouchi
PURE HARDCORE ICONS: A MANIFESTO ON PURE FORM IN ARCHITECTURE (London)
Garcia Frankowski
RATIONAL REALITY (Beijing)
Xiao Xiao
SHAPES ISLANDS TEXT (Sevilla)
Garcia Frankowski
SHEEP (Rotterdam)
Esther Kokmeijer & Vera Tollmann
WHAT ABOUT IT? (Beijing)
Garcia Frankowski
X (Mexico City)
Jason Mena
http://waithinktank.com/
>
>
>
>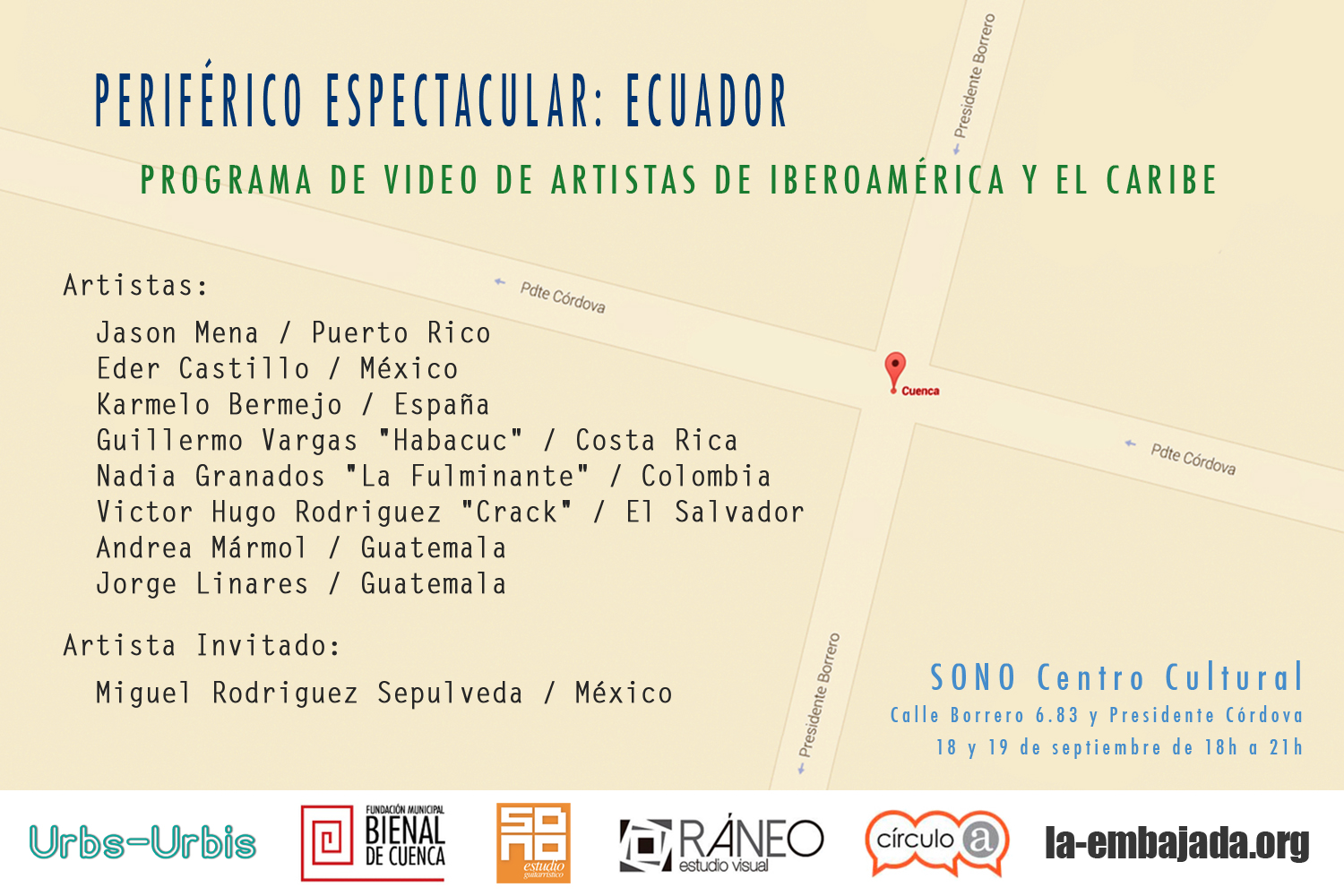 Periférico Espectacular: Programa de video de artistas de iberoamérica y el caribe
18 y 19 de septiembre de 18h a 21h
Sono Centro Cultura
Calle Borrero 6.83 y Presidente Córdova
Cuenca, Ecuador
Artistas:
Jason Mena / Puerto Rico
Eder Castillo / México
Karmelo Bermejo / España
Habacuc Guillermo Vargas / Costa Rica
Nadia Granados "La Fulminante" / Colombia
Victor Hugo Rodriguez "Crack" / El Salvador
Andrea Marmol / Guatemala
Jorge Linares / Guatemala
Artista Invitado:
Miguel Rodriguez Sepulveda / México
http://la-embajada.org/
>
>
>
>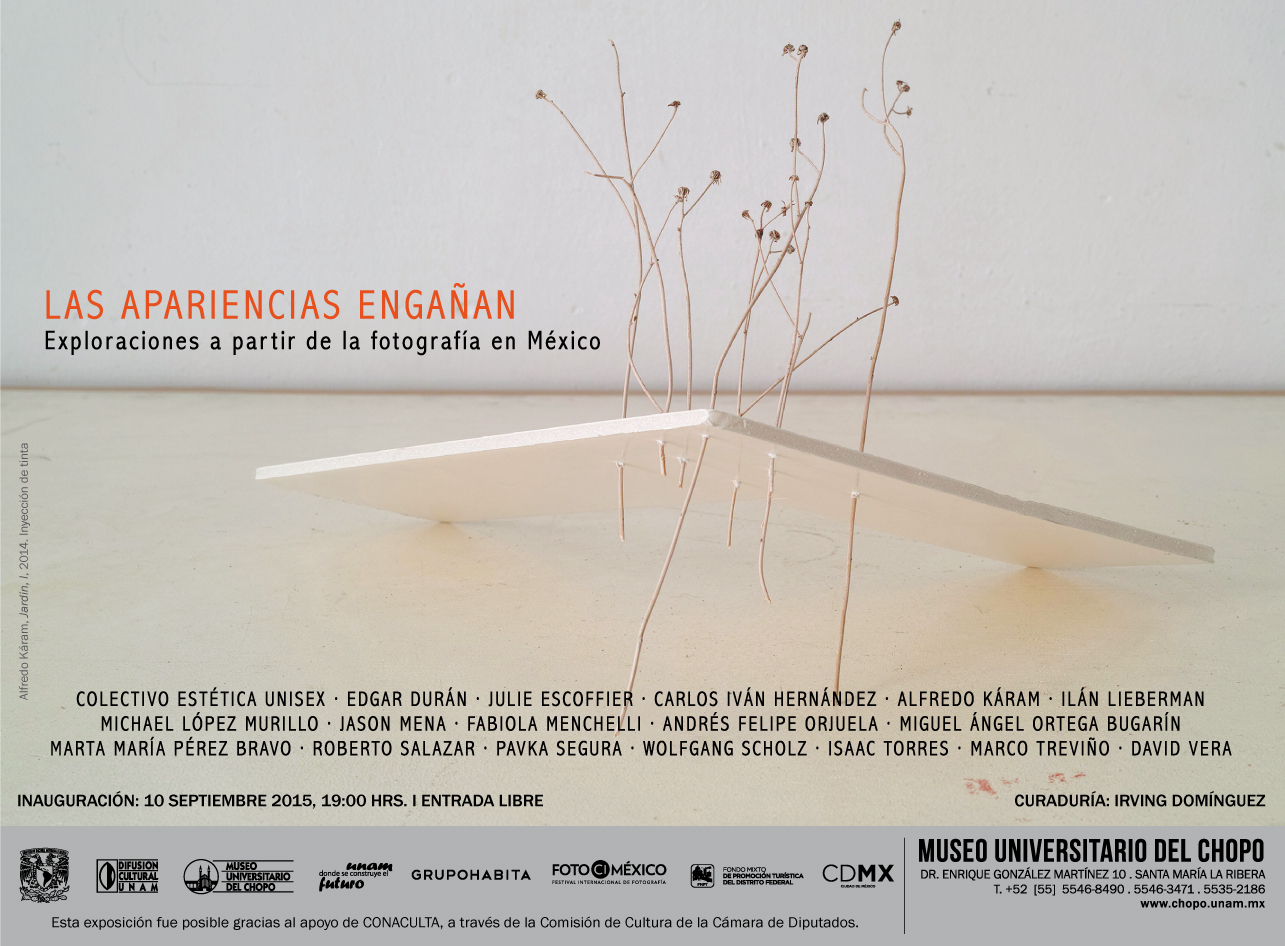 Las apariencias engañan
Exploraciones a partir de la fotografía en México
En el marco de FOTOCIMÉXICO 2015
Museo Universitario del Chopo, Mexico
Curaduría: Irving Domínguez
Selección de obras y artistas para quienes la fotografía es un campo de articulación discursiva, una arena para la construcción de representaciones que interactúan a través de dispositivos bidimensionales, tridimensionales, ausentes de movimiento o inmersos en las convenciones del lenguaje audiovisual. En todo caso, se trata a la fotografía como un espacio de investigación y experimentación, más que mero dispositivo visual.
La intención es proponer un intercambio de interpretaciones, abordajes y conceptualizaciones sobre la imagen que incorporan fotografías o elementos propios de ese medio para ser procesados, resignificados y devueltos como parte de una lectura crítica tanto desde la perspectiva formal como en el ámbito de los signos, sus diversas caracterizaciones (índice, icono o símbolo) y las implicaciones que éstos revelan al espectador a través de los temas que alimentan cada una de las propuestas de los artistas participantes.
La muestra estará conformada por obras de artistas mexicanos y residentes en el país provenientes de diversas generaciones. Hay un énfasis en la producción de creadores del norte de la República, así como en la diversidad de soportes que conforman la selección de piezas.
Participan: Colectivo Estética Unisex (México – Colombia); Edgar Durán (Ciudad de México, 1982); Lorena Estrada Quiroga (Nuevo León, México, 1970) y Futuro Moncada (Colombia, 1971); Julie Escoffier (Francia, 1989); Carlos Iván Hernández (Ciudad de México, 1984); Alfredo Káram (Sonora, México, 1980); Ilán Lieberman (Ciudad de México, 1969); Michael López Murillo (Colombia, 1973); Jason Mena (Puerto Rico, 1974); Fabiola Menchelli (Ciudad de México, 1983); Andrés Felipe Orjuela (Colombia, 1985); Miguel Ángel Ortega Bugarín (Jalisco, México, 1982); Marta María Pérez Bravo (Cuba, 1959); Roberto Salazar (Nuevo León, México, 1978); Pavka Segura (Ciudad de México, 1971); Wolfgang Scholz (Alemania, 1958); Isaac Torres (Ciudad de México, 1982); Marco Treviño (Monterrey, Nuevo León, México, 1986); David Vera (Sonora, México, 1989).
Galería Rampas
Inauguración: 10 de septiembre de 2015, a las 19:00 hrs.
Finaliza: 30 de diciembre de 2015
Texto de presentación
Las apariencias engañan: Exploraciones a partir de la fotografía en México
¿Dónde concluye una imagen fotográfica?, ¿en el margen blanco de la impresión?, ¿por los bordes donde coincide con el soporte rígido?, ¿en todo lo exterior al marco que la contiene? ¿Y por qué discutir sobre un aspecto tan lejano del plano simbólico? ¿Por qué apartarse de esa base teórica que interpreta las relaciones de este medio con las experiencias sensoriales del mundo?, ¿aún necesitamos diferenciarla tanto de los demás soportes de la expresión artística?
La materialidad constitutiva de la fotografía es una característica poco relevante en las lecturas curatoriales sobre la producción mexicana y por ello resultó uno de los ejes principales para articular esta exhibición. Sin embargo, no se trata de ofrecer un catálogo de casos raros o excepcionales, sino un interés por demostrar un uso recurrente, una metodología certera para representar. La misma que permite involucrarse, y fundirse, con otros códigos provenientes de tradiciones artísticas bien cimentadas, a través de los cuales lo fotográfico se continúa, expande y reconfigura.
El carácter híbrido de buena parte de las propuestas aquí reunidas está animado por una postura crítica hacia el avasallamiento de imágenes que saturan nuestras relaciones sociales, políticas, inclusive históricas. De ese torrente se han tomado puñados de imágenes que se cancelan, se reinterpretan, se yuxtaponen a través de sutiles veladuras o literalmente se queman. Otra sección apunta hacia las interconexiones entre la presencia aludida y su manifestación espacial.
Una más juega con la presentación de conglomerados donde las convenciones del audiovisual, y la música, se enlazan con el principio de la toma fija, acercándose a lo contemplativo. También se encontrarán intromisiones en el ámbito editorial, una modalidad de distribución sumamente cotizada ahora entre los fotógrafos emergentes de todas partes del orbe, y un ejercicio congruente con el actual programa curatorial del MUCH.
La presente enunciación de la fotografía realizada en México toma distancia de pautas bien conocidas: Una relacionada con la puesta en escena y su cruce con las referencias autobiográficas. La otra, un pretendido canon donde la vida social y sus conflictos han forjado lo que se considera representativo de la historia de la fotografía mexicana. No es mi interés crear una nueva "trinchera" sino señalar un conjunto de obra, congruente a los intereses de los artistas seleccionados, quienes desde las particularidades de un sistema de representación visual abrazan la diversidad del arte y sus posibilidades de traducción infinita.
Irving Domínguez (Ciudad de México, 1976). Curador y crítico de arte. Realizó sus estudios en el Centro de la Imagen (CONACULTA), en Teratoma, AC., y en la Colección/Fundación JUMEX. Estudió fotografía (teoría e historia) en el Centro de la Imagen y la Escuela Nacional de Antropología e Historia (INAH).
Esta exposición fue posible gracias al apoyo de CONACULTA, a través de la Comisión de Cultura de la Cámara de Diputados.
http://www.chopo.unam.mx/
>
>
>
>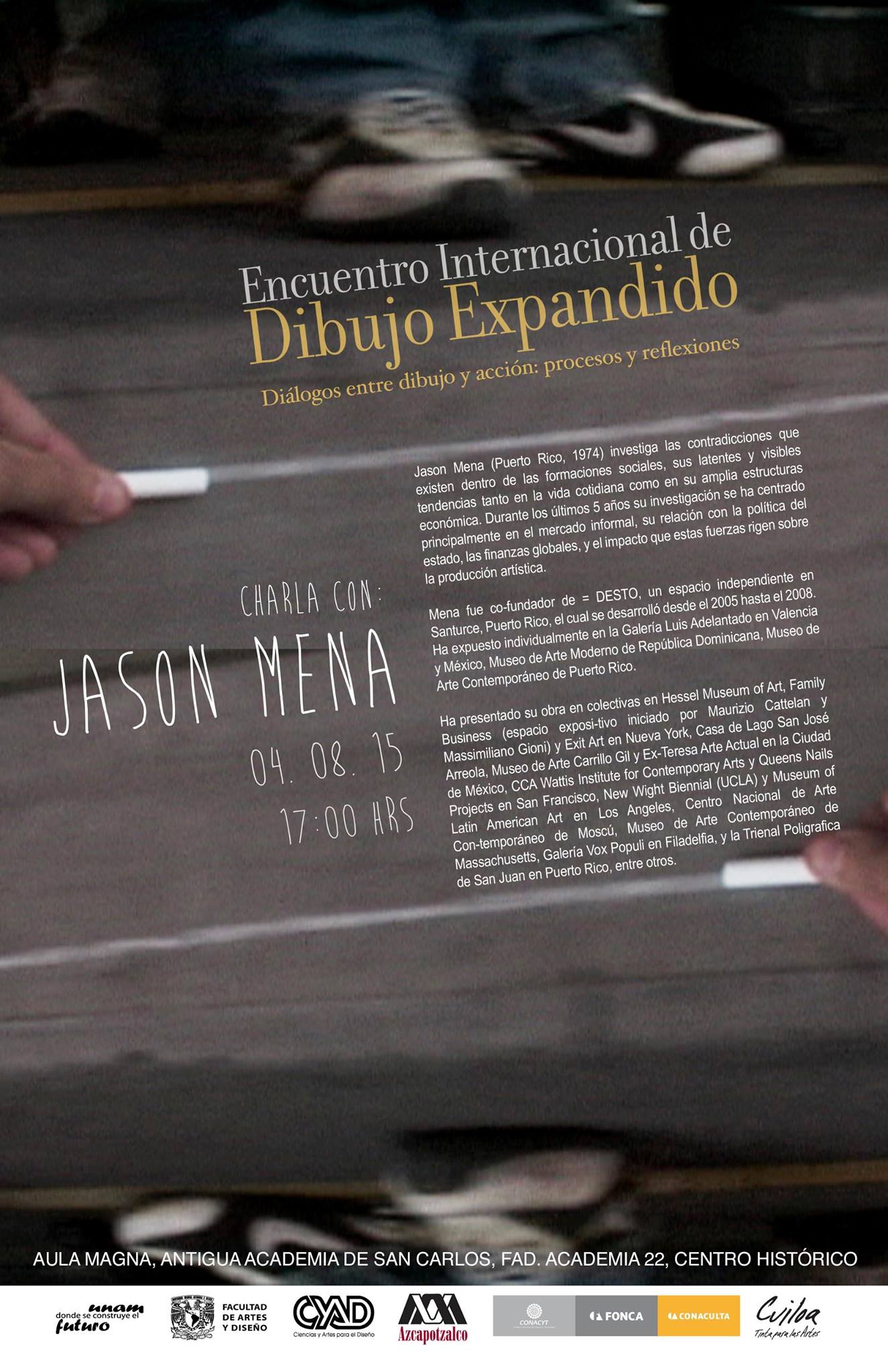 Encuentro Internacional de Dibujo Expandido
Diálogos entre dibujo y acción: procesos y reflexiones
Viernes 4 de septiembre, 17 horas
Aula Magna, Antigua Academia de San Carlos, Facultad de Arte y Diseño (FAD)
Calle Academia 22, Centro Historico, Mexico DF
http://www.artesvisuales.unam.mx/
>
>
>
>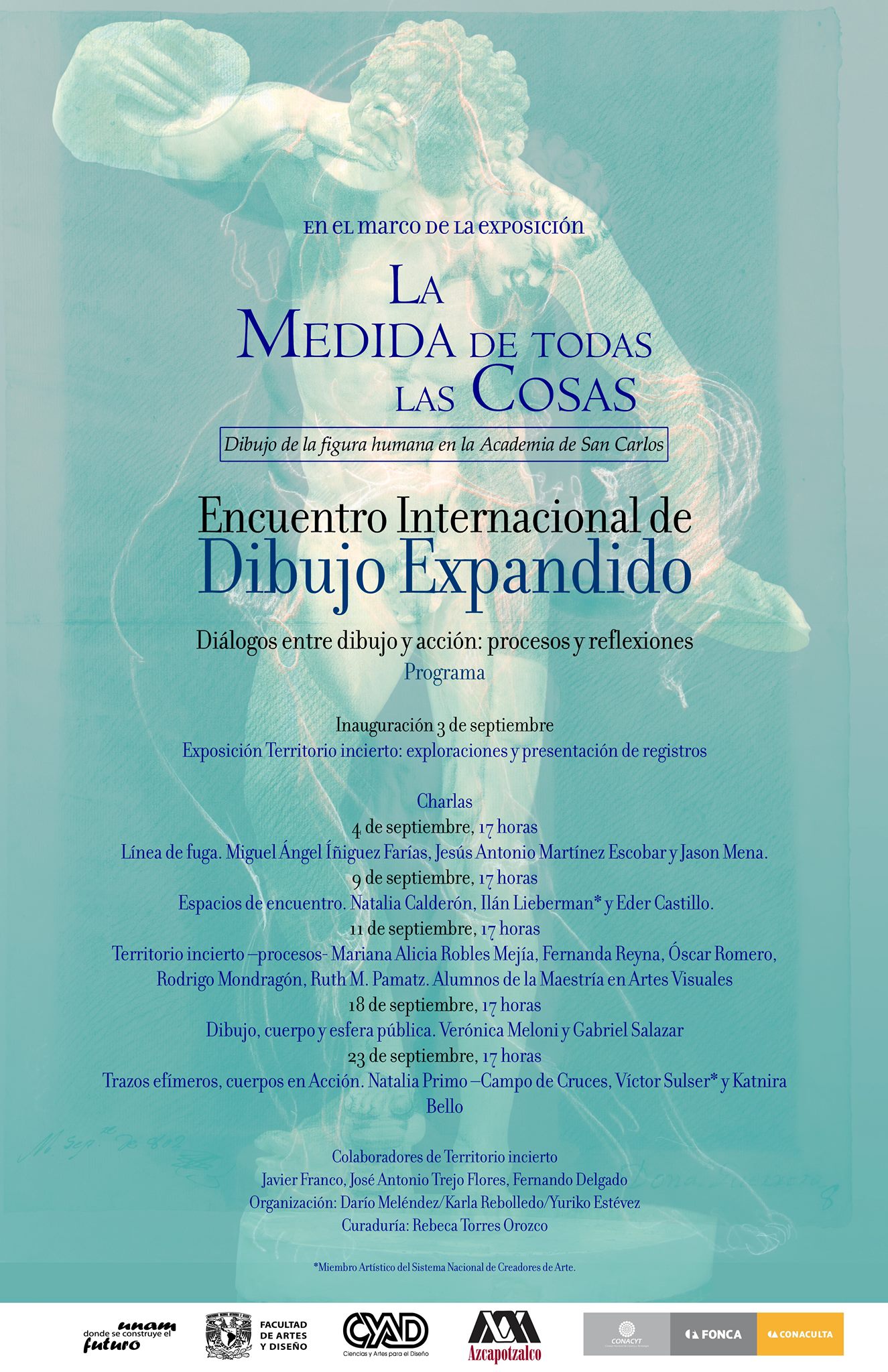 En el marco de la próxima exposición "La Medida de todas las cosas: Dibujo de la figura humana en la Academia de San Carlos", se llevará a cabo el "Encuentro Internacional de Dibujo Expandido", del 03 al 23 de septiembre.
http://www.artesvisuales.unam.mx/
>
>
>
>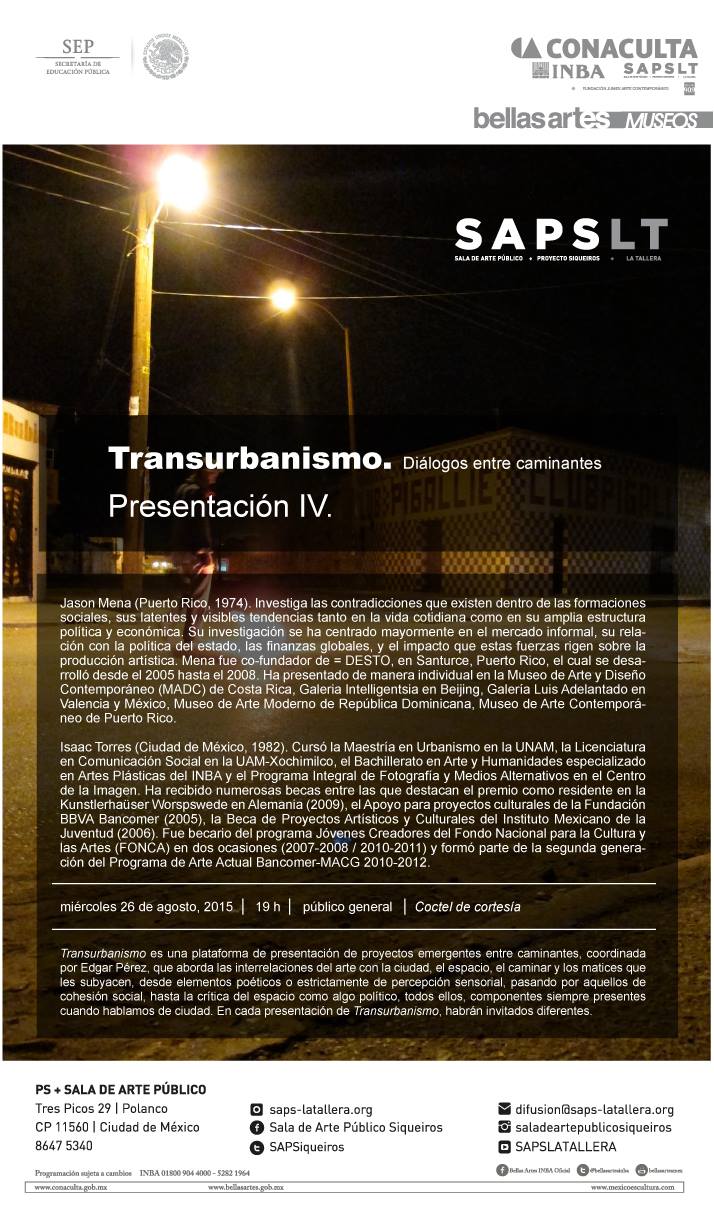 Conversatorio que sostendrán los artistas Jason Mena e Isaac Torres, sobre las interrelaciones entre la práctica artística y la ciudad.
Miércoles 26 de agosto del 2015 de 7:00pm - 9:00pm
Transurbanismo es una plataforma de presentación de proyectos emergentes entre caminantes, coordinada por Edgar Pérez, que abordan las interrelaciones del arte con la ciudad, el espacio, el caminar y los matices que les subyacen, desde elementos poéticos o estrictamente de percepción sensorial, pasando por aquellos de cohesión social, hasta la crítica del espacio como algo político, todos ellos, componentes siempre presentes cuando hablamos de ciudad. En cada presentación de Transurbanismo, habrán invitados diferentes.
La Sala de Arte Público Siqueiros, ubicada en la colonia Polanco de la ciudad de México y La Tallera Casa Estudio de David Alfaro Siqueiros en Cuernavaca, Morelos, fueron legados mediante testamento público por David Alfaro Siqueiros (1896-1974) al "pueblo de México", junto con una importante colección de obra de caballete, gráfica, dibujo, estudios y proyectos murales, así como su archivo personal y biblioteca.
El 12 de diciembre de 1973, 25 días antes de morir, expresó su deseo de que en éstos espacios se preservaran y difundieran sus obras e ideas; que fueran centros de análisis y de experimentación para el "arte público" del porvenir.
Hoy en día, la Sala de Arte Público Siqueiros es un museo, un centro de consulta e investigación, pero también es la sede de innumerables conferencias y mesas de discusión sobre arte contemporáneo. La SAPS ha abierto su espacio al arte contemporáneo para dar continuidad a las inquietudes técnicas y temáticas del muralista.
SAPS: difusion@saps-latallera.org | +52 8647 5340 | Facebook
La Tallera: difusion-latallera@inba.gob.mx | +777 160 11 90 | Facebook
Tres Picos 29 (esquina con Hegel)
Polanco, México D.F. 11560
PROYECTO SIQUEIROS: Sala de Arte Público Siqueiros - La Tallera, pertenece a la red de museos de la SEP, INBA y CONACULTA.
http://www.saps-latallera.org/
>
>
>
>

La casa de mis sueños: Franz Hals 137
15 y 16 de agosto del 2015
Franz Hals 137
Col. Alfonso XIII
Del. Álvaro Obregón
México D.F.
Artistas:
Eduardo Abaroa / María José Alós / Sofía Abreu / Fabián Ávila / Fernando Flores / Paola de Anda / Aníbal Catalán / Ramiro Chaves & Jimena Schlaepfer / José Luis Cortés Santander / Rafael Izquierdo Cuervo / Pedro "El Charro" Medina Guzmán / Jason Mena / David Miranda & Ricardo Rendón / Pavka Segura / Isaac Torres & Doreen Ríos
Mesa Redonda:
Julio García Murillo (Curador) / Alejandro Hernández (Arquitecto y Editor) / Teresa Medina / Amanda de la Garza (Curadora)
Una serie de intervenciones en torno a la casa diseñada y construida por el Arq. Pedro "El Charro" Medina Guzmán. Un proyecto de Isaac Torres y Rafael Izquierdo Cuervo.
Pedro "El Charro" Medina Guzmán fue un arquitecto tapatío, profesor universitario, pintor y apasionado del arte. Maestro por amor, arquitecto de profesión, pintor por vocación y escultor por añadidura, como el mismo se autodenominó, fue un apasion
>
>
>
>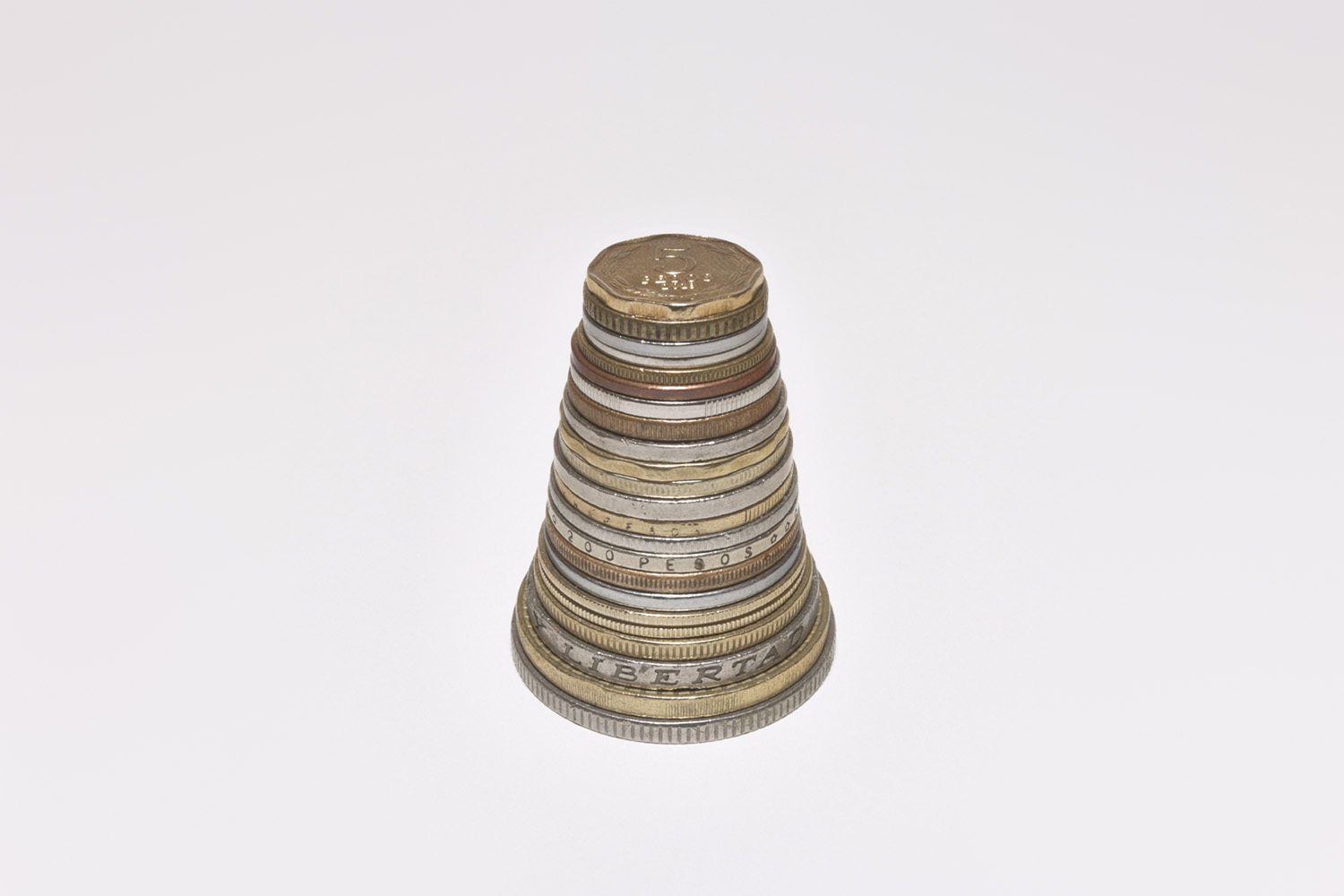 Coste de Oportunidad
Curaduría: María José Chavarría
Inauguración: Jueves 30 de julio, 7:00 p.m.
Del 30 julio al 27 de agosto del 2015
Sala 1.1
Museo de Arte y Diseño Contemporáneo
Costa Rica
Las propuestas de Jason Mena tocan temas vinculados principalmente a la economía. Desde la intervención de objetos, la pintura y distintas acciones, en sus proyectos están presentes reflexiones sobre los valores de cambio, las posibilidades de empleo, la inflación y los salarios mínimos, entre otros.
El artista ha investigado de manera constante el funcionamiento del mercado negro y la vinculación de este con políticas estatales, las finanzas mundiales, y cómo ello tiene algún tipo de sujeción con el circuito del arte. Todo esto buscando una relación con la realidad que se vive en distintos países latinoamericanos, y a las diferencias sociales marcadas dentro de este lado del mapa.
Aunque es proveniente de un país como Puerto Rico, el artista ha trabajado también desde hace varios años y de manera cercana, otros contextos
como el mexicano.
http://madc.cr/
>
>
>
>

Bellos Jueves
Jueves de 19:00hs a 23:30hs
MNBA Museo Nacional de Bellas Artes
Argentina
Bellos Jueves nació en abril de 2014 con el objetivo de entrecruzar el patrimonio del Museo Nacional de Bellas Artes con proyectos de artistas y músicos contemporáneos. El último jueves de cada mes entre las 19 y las 23.30 hs el MNBA abre sus puertas con intervenciones de artistas, música en las salas y terrazas, visitas rapeadas, videos y otras actividades.
Lejos de pensarse como una exhibición, este año el ciclo propone una serie de ensayos en relación a la museografía de la colección permanente y se piensa en vínculo con el numeroso público que visita cada edición. El carácter efímero de Bellos Jueves condiciona cada proyecto y desafía la temporalidad a la que están habituadas las artes visuales.
La importancia del ciclo reside en la invitación a artistas a pensar o problematizar a través de sus intereses y proyectos algún momento de la historia del arte, desde la colección del MNBA, interrumpiendo la linealidad con la que se presentan habitualmente las exhibiciones.
Esta edición de Bellos Jueves, desde las artes visuales, presenta los trabajos de Rosario Zorraquin y Sol Pipkin. Desde la propuesta musical se plantea un recorrido que atraviesa la performance audiovisual de Two Mirrors, la fusión entre rasgos de mu?sica patago?nica folclo?rica y el rock de Shaman, y una terraza con King Coya y la percusión digital de DJ Pato Smink.
Bellos Jueves cuenta con el apoyo Nacional Rock, Bodegas Emilia y Cerveza Schroll.
Programación:
19.00 (sala 19) Visita rapeada por Jhanna
19.00 (sala 3) "El nacimiento del paisaje en los Países Bajos del siglo XVI" a cargo del curador Ángel Navarro
19.30 (sala 29) Shaman Herrera
19.30 (sala 33) Visita a la sala permanente de Antonio Berni por el curador Roberto Amigo
19.30 (sala 11) Lectura del libro "El mes raro" de Valeria Meiller
20.00 (sala 19) Visita Rapeada por Jhanna
20.00 (sala 3) "El tamaño no importa: Bronzetti y paisaje" por Mabel Mayol
20.30 (pabellón) Visita a la exposición Tekoporá por Marcos Krämer
20.30 (sala 29) Two Mirrors
21.00 (sala 19) Visita Rapeada por Jhanna
21.00 "Rutas argentinas": visita a la colección de fotografía del MNBA por Verónica Tell
21.30 Visita guiada a la sala de arte argentino de los años noventa por Natalia Pineau
21.30 (sala 11) Lectura del libro "El mes raro" de Valeria Meiller
21.30 (sala 29) Shaman Herrera
22.00 (terraza) DJ Pato Smink
22.30 (terraza) King Coya
Sala 2, 5, 10, 16
Rosario Zorraquin
Sala 32, 34, 35, 36
Sol Pipkin
Sala 24
Beatriz Santiago Muñoz
Sala 16
Jason Mena
Sala 16
Karlo Andrei Ibarra
flickr
http://www.mnba.gob.ar/
>
>
>
>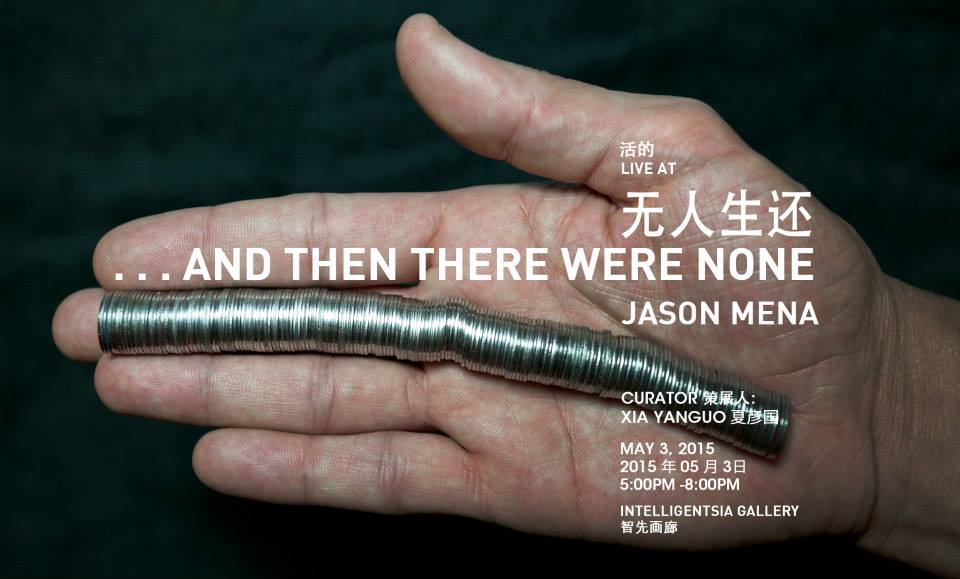 …And Then There Were None
Live At #22
2015. 5. 3
5:00pm-8:00pm
Intelligentsia Gallery
Beijing
Intelligentsia Gallery is excited to present …And Then There Were None, a solo exhibition by Jason Mena. Curated by Xia Yanguo as part of Live At project, the exhibition investigates the relationship of art production and the forces exerted on it by politics, finance and the Shadow market. And Then There Were None, presents an installation with financial paraphernalia in order to dissect the relationship of art and power and the multiple ways they are manifested Live At.
Live At
Curated by Xia Yanguo
Opening April 11-may 11, 2015
30 one-day solo shows by artists and artist collectives
Intelligentsia Gallery
Beijing
Intelligentsia Gallery is thrilled to present Live At, a group project featuring Luan Xueyan, Garcia Frankowski, Zhu Liye, Wang Shuai, Kang Jing, Megumi Shimizu, Oliver Haidutschek , Dai Liang, Chen Xi, Liang Ban, Xin Yunpeng, Luo Wei, Li Meng, Alessandro Rolandi, Geng Xue, Li Binyuan, Shao Yinong, Jia Chun, Yu Bogong, Liu Chengrui, Zhao Xin, Jason Mena, Double Fly Art Center, Jin shan, Ma Yongfeng, Ophelia S. Chan, Hu Qingyan, Charlott Markus, USB Art Group, Niko de la Faye Liu Qiming,Sebastian Alonso Bessonart, Ren Zhitian, Ju Anqi and Patty Chang.
Live At is not a regular exhibition. It is a group project. In Live At to solely show is not the goal. The exhibition will take different forms in order to construct new conditions. Live At aims at exploring the relationship between art and social reality, art and space, art and the audience, art and the commonplace.
Guest curated by Xia Yanguo, the exhibition invites more than thirty international artists to create 24-hour shows. Live At is not a simple objectification of art. Live At aims at engaging with the public establishing new relationships between the artist and the audience.
A series of interviews will take place in different forms as artists engage with the audience, curator, and other artists with the intention of generating a dialogue and exploring the concepts behind the project. The resulting interviews will take form in a documentary about the Live At, using the Internet as a platform for breaking through the limitations of time and space.
Additionally, a Salon will take place every Sunday evening during the duration of the exhibition to discuss the concepts that fuel Live At.
This project wouldn't have been possible without the unconditional support of volunteers and the press. Special Thanks go to Capital M for their continuous support of Intelligentsia Gallery, and ScopeArt Magazine that will be cooperating as media partner using their official WeChat account to promote and inform about ongoing events.
At the end of the exhibition we will entrust ArtJeff (online auction) to auction all the works and the profit will go to artists and future non-profit events and exhibitions.
Live At Exhibition Schedule
2015. 4. 12: Luan Xueyan
2015. 4. 13: Garcia Frankowski
2015. 4. 14: Zhu Liye
2015. 4. 15: Wang Shuai
2015. 4. 16: Kang Jing
2015. 4. 17: Megumi Shimizu
2015. 4. 18: Oliver Haidutschek
2015. 4. 19: Dai Liang
2015. 4. 20: Chen X
2015. 4. 21: Liang Ban
2015. 4. 22: Xin Yunpeng
2015. 4. 23: Luo Wei
2015. 4. 24: Li Meng
2015. 4. 25: Alessandro Rolandi
2015. 4. 26: Geng Xue
2015. 4. 27: Li Binyuan
2015. 4. 28: Shao Yinong
2015. 4. 29: Jia Chun
2015. 4. 30: Yu Bogong
2015. 5. 1: Liu Chengrui
2015. 5. 2: Zhao Xin
2015. 5. 3: Jason Mena
2015. 5. 4: Double Fly Art Center
2015. 5. 5: Jin shan
2015. 5. 6: Ma Yongfeng
2015. 5. 7: Ophelia S. Chan
2015. 5. 8: Hu Qingyan
2015. 5. 9: Charlott Markus
2015. 5. 10: USB Art Group USB
2015. 5. 11: Niko de la Faye
2015. 5. 12: Liu Qiming
2015. 5. 13: Sebastian Alonso Bessonart
2015. 5. 14: Ren Zhitian
2015. 5. 15: Ju Anqi
2015. 5. 16: Patty Chang
http://intelligentsiagallery.com/
>
>
>
>

Rhetorical Materialism
Exhibition Opening April 4, 2015 4:00pm
CCA Gallery
Beijing
CCA in collaboration with Intelligentsia Gallery is thrilled to present its inaugural exhibition Rhetorical Materialism, a group show with works by Pavel Kiselev, Oliver Haidutschek, Ren Zhitian, Xiao Xiao, Wu Ding, Ophelia S. Chan, Jason Mena, Garcia Frankowski.
Taking as a starting point the contemporary state of matter exchange in all its articulations, the exhibition presents works that operate within and against its ideological embodiments.
Rhetorical Materialism avoids the disposable nature of trends, and instead focuses on tools, strategies and methods that articulate the condition of being in a constant struggle with the agents of contemporary materialism, with its all-encompassing channels and networks, and its unbearable superstructures. Manifesto, poem, act, action, process, projection, are all strategies summoned as part of a developing lexicon that deals with the contemporary, with the condition of being-with-time today, as part of history with its rhizomatic implications.
Curated by Garcia Frankowski, the opening international exhibition includes painting, installation, sculpture, video, photography, and mix media in a search for articulating strategies that react, and confront the processes and structures of value, exchange and ideology, as symbols, signs, narratives, assemblages, visual constructs, and material manifestations articulate complex forms of rhetorical materialism.
CCA
1/F CapitaMall Crystal
51 Fuxing Road
Haidian District
Beijing
By Subway:
Line 1
Wanshoulu
Exit B1
http://intelligentsiagallery.com/
>
>
>
>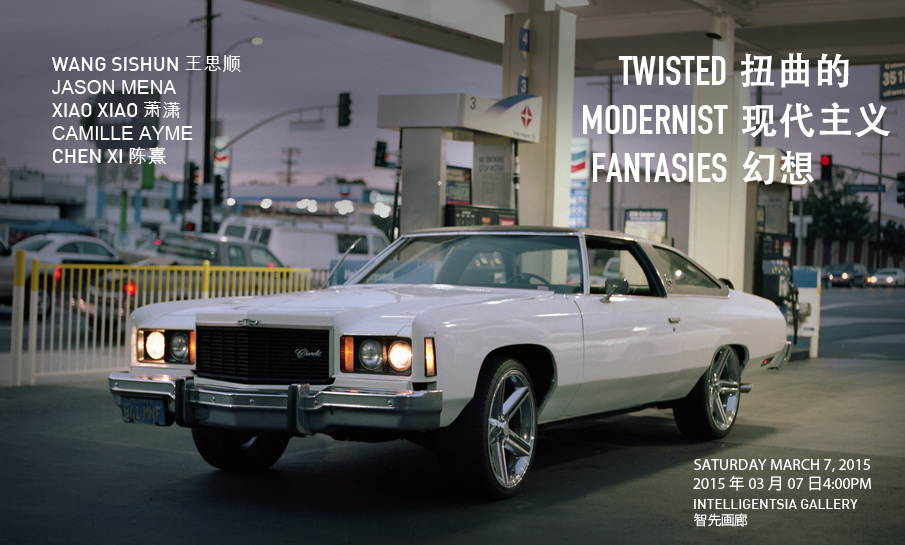 Twisted Modernist Fantasies
Intelligentsia Gallery
Beijing
Group exhibition with works by Wang Sishun (b. 1979 Wuhan, China), Chen Xi(b.1985 Wuhan, China), Xiao Xiao (b. 1984 Hunan, China) Camille Ayme(b. 1985 St Etienne, France) and Jason Mena (b. 1976 Puerto Rico).
Entering a year on what seems a new landscape of global changes and transformations the exhibition invites to reflect on the ungraspable concept of modernization as an inexhaustible process that touches, destroys, transforms and creates.Modernism, looked at as more than a general tendency or movement, but as the territory that ideas, concepts, subjects and objects inhabit.
Curated by Garcia Frankowski, the 10th international group exhibition explores a theoretical framework that casts doubt on the necessity of portraying modernism as an expired image, as a recording of past achievements and failures, as a picture of nostalgic endless creation and of cataclysmic destruction, an instead asks about the possibility of a modernism existing not as material experience but as the spark of twisted desires.
By means of site-specific installations, photography, video and mixed-media the exhibition creates a screen where to project fantastic scenarios that oscillate from metropolitan minimalist dreams, to the machinistic desires of suburban lifestyle, from the material transcendence of the real and imaginary structures of the future, to the critical views of these same structures all while creating a panoramic view of Twisted Modernist Fantasies.
http://intelligentsiagallery.com/
>
>
>
>

Artistas: Jaishri Abichandani (India) / Ricardo Barcellos(Brasil) / Myritza Castillo (Puerto Rico) /Adler Guerrier (Haití) / Emiliano Larizza (Italia) / Jason Mena (Puerto Rico) Juan Pablo Molina (Chile) / Felipe Morozini (Brasil) y Roxana Nagygellér (Costa Rica).
Así como la tierra está dividida en hemisferios, artistas de distintas latitudes conforman esta colectiva que se propone revisar las distintas relaciones que se establecen en los espacios urbanos, ya sean residenciales, industriales o marginales.
Con imágenes que valoran y presentan una cuidada puesta en escena, este conjunto de obras nos hablan de ciudades desbordadas por el desarrollo anómalo que sufren generalmente las grandes urbes. Unas lo abordan de manera directa y cruda, otras a través del sentido figurado y la fantasía.
Edificaciones levantadas muchas veces sin planes de desarrollo urbano, así como la tolerancia ante el incumplimiento de normativas propias del sector de la construcción, provocan significativos daños al medio ambiente. El resultado: contaminación y disturbios ambientales.
Hemisferios propone una reflexión sobre la ocupación de territorios en las distintas ciudades, ya sean metrópolis o pequeños asentamientos urbanos. ¿Están considerando estos conglomerados humanos las acciones directas que producen sobre la naturaleza y los distintos ecosistemas?
Carlos Acero
Presidente de la Asociación Dominicana de Críticos de Arte, ADCA/AICA
Centro de la Imagen continua su programa de actividades que incluyen educación mediante diplomados, talleres, seminarios, exposiciones de fotografías, proyecciones, y este año la Bienal del premio Joven de la Imagen: Fotografía y Video.
http://centrodelaimagen.org/
>
>
>
>

Paisajes Ideológicos
Muestra Individual
2 de septiembre 2014 a las 7:30 P.M.
Museo de Arte Moderno (MAM)
Santo Domingo, República Dominicana
La muestra forma parte de Photoimagen 2014, festival de fotografía en República Dominicana, en su VI edición, con la participación de Graciela Iturbide (Mexico), Marcos López (Argentina), Colectivo MR (España), Quintapata: Jorge Pineda, Raquel Paiewonsky, Belkis Ramírez y Pascal Meccariello (República Dominicana), entre otros.
Museo de Arte Moderno de la República Dominicana
Avenida Pedro Henríquez Ureña,
Plaza de la Cultura Juan Pablo Duarte.
Tel: 809 685 2153 al 56 Ext. 222
Fax: 809 682 8280
Correo Electrónico: museo_de_arte_moderno@yahoo.com
Facebook: Museo de Arte Moderno (MAM) Rep. Dom.
http://www.centrodelaimagen.org
>
>
>
>

Compassion Fatigue
New Wight Biennial 2014
October 2-16, 2014
Opening Reception: Thursday, October 2, 5:00-8:00pm
The UCLA New Wight Biennial, Compassion Fatigue, will present work from 16 international emerging artists using installation, performance, video, photography and sound to enable intimate ways of viewing political crisis.
Artists: Sajjad Abbas, Carolina Caycedo, Jason Mena, Omar Mismar, Noor Abed, Curtis Grahauer, Lee Relvas, Christina Blue, Yaron Guerrero, Daniel Terna, Julien Bonnin, Yuki Kishino, Miloš Trakilovi?, Josephine Callaghan, Ju Hyun Lee, Katja Verheul
Curated by UCLA Department of Art graduate students Damir Avdagic and Abigail Collins.
About the New Wight Biennial:
Founded in 1997 by professor and artist Mary Kelly, then chair of the UCLA Department of Art, the Wight Biennial is curated and produced by a committee of graduate students in the art department. The objective of the show is to exhibit this specific group of emerging artists as well as foster an investigative exchange between graduate programs at UCLA and other institutions.
New Wight Gallery
1100 Broad Art Center
Los Angeles, CA 90095
Directions to Broad Art Center
Gallery Hours:
Monday-Friday, 9:00am-4:30pm
For further information, call (310) 825-0557
To receive announcements about UCLA Department of Art exhibitions and events, please submit the form on our Contact page or visit us on Facebook.
The exhibition program of the New Wight Gallery is made possible by the generous support of Dallas Price-Van Breda.
http://www.art.ucla.edu/
>
>
>
>

Semiotic Preoccupations: Object, Signs and Symbols
Sunday, June 29, 2014, 4:00 p.m.
Intelligentsia Gallery
Beijing, China
Artists: Pascal Meccariello (Santo Domingo, Dominican Republic, 1968), Ren Zhitian (Xishui, China, 1968), Alena Olasyuk (Ukraine, 1988), Céline Lamée (Boxmeer, The Netherlands, 1980), Johan Nijhoff (Veenendaal, The Netherlands, 1979), Jason Mena (Puerto Rico, 1974).
Curated by Garcia Frankowski
The fifth international exhibition dissects the role and function of signs as vehicles of signification, and meaning. Paintings, video, prints and installations invite to scrutinize, review and question art as conveyor of symbols and as a signifying object in itself. Semiotic Preoccupations reveals the inexorable potential of a level of signification that is achieved by our inherent capacity to assimilate qualities, existential facts and conventions transforming them into possible readings of objects, signs and symbols. In this flexible arena of ideas the most basic of forms could induce the most complex of meanings.
Curated by Garcia Frankowski, the exhibition feeds from the dialectical tension of artworks simultaneously specific in their material form and rizhomatic in the multiplicity of layers of their possible readings. Opening the 29th of June, Intelligentsia Gallery would present objects, signs and symbols in a search to answer our Semiotic Preoccupations.
Semiotic Elegy
Garcia Frankowski
What is the meaning of a word? Let us attack this question by asking first; what is an explanation of the meaning of a word? What does the explanation of a word look like?
-Ludwig Wittgentsein, The Blue Book, 1933-34
Semiotic
There is no world without an image of the world. Words, pictures, object are all devices that help us to create a mental image of our environment. For that which is concrete and visible, and also for the abstract and imaginary. While Wittgenstein's aphorism the "limits of your language means the limits of your world" appears to be enough to explain how we come to understand things, we should not forget that language comes in all sorts of forms and mediums, from the spoken word to the moving image.
Preoccupations
This exhibition was born out of the necessity to address a semiotic preoccupation. How to present artworks that speak about the process through which we come to understand meaning? How to curate different mediums in the search of an image of the world that becomes only visible through objects signs and symbols? More specifically, how to present works that deal with the very specific desire to express that which cannot be expressed by any other means except the ones used? How to discuss questions about the ways we communicate ideas? How to present vehicles of inquiry? How to offer visual explanations of meaning?
Object
We start first with the material. Sign as object. Painted paper plates and cups. A ready-made table with painting and collages. Pascal Meccariello's installation invites us to deconstruct the concept of Domesticity. The domestic, recalled by means of a painted ready-made table with patterns printed on the board, by the paper cups, bowls and plates with collages and paint. Domesticity implies order and equilibrium, while all the elements evoke the action of a vertical construction. Here, the word (Domesticity) requires a second look. The process of questioning doesn't start with the object, but with the word used to describe the object. Domesticity has multiple readings when understood with an emphasis on the second part of the word, as if spelling it Domesti-City. The piling of plates, their collocation, their verticality, the fact that they are containers in the same manner that buildings contain space too, make the second reading a possibility. The installation is not anymore about a straightforward idea, but about the multiple readings of an object that acts both as sign and as symbol.
Is this Domesticity about 'inhabitation', or about the city? What do these plates communicate, especially after being stacked in such a composition? Is the work speaking about the life of objects, our life with objects, or objects as life?
Sign
Imagine that you would like to speak and words won't come out. Your face articulates. Your mouth opens. Your eyes point fixedly in the direction where words will be projected. There will be coordination between your facial muscles, your sight, your mouth, but words won't trigger your vocal cords. There is a constant struggle. You keep articulating, moving your facial muscles,your mouth opening and closing. Words just won't come out. Without a doubt there is no sound being emitted. But, would it be wrong to say that because you are lacking words there is no communication? Isn't the artist, in his latent struggle, in his apparent fight to overcome tears of frustration, of exacerbating disappointment, communicating that very same struggle? Is there any way to speak other than what words can communicate?
Ren Zhitian's video is a wordless Elegy. The lack of words, the effort, and the visual struggle compose a psychological paradox. Most is explained by the absence of the vehicle of communication. The message is carried by the lack of message, by the failure to communicate it.
His video of a Wordless Elegy is presented between two of his paintings. In fact between six of them. Machine-embroidered silk, painted with ink and fuel ash residue collected from garages across Beijing stand in stark contrast to the video. The untreated, the delicate strokes of ink and fuel, the shades of gray and black, reveal another story, and perhaps another struggle.
Elegant and Exhausted challenges ink painting as medium, and pattern as ornament. It signals a window that has been opened. And like his video work that displays the objectification of human emotion as sign, it converts the silk patterns, usually in the background, into the object of attention.
Symbol #1
In this show, Jason Mena presents a large scale letter "X". Part of his "Absolute Value" series (a mathematical term, the "X" makes us ponder endless questions. The value of the "X" lies in the meaning—or lack— of it. The "X" has no meaning. "X" is the standard symbol used to represent the unknown. In Mathematics "X" is the constant variable. The value of "X" depends always on its immediate context. It resonates and it is altered by its environment. The "X" alters its meaning whenever it sits between words, numbers, or other symbols. We have to ask, in what language was it written? Greek? English? Mandarin? Should it imply something? Or is it just a visual provocation? Is it a symbol or a sign? Is it an object? If art is an expression, not of mere things or ideas, but of concrete experience with its values, what possible value can expression have when it becomes an end in itself? What happens when the "X" is presented next to a symbol of similar visual strength?
Symbol #2
Alena Olasyuk's ink drawing is the third part of a tryptique of large scale ink drawings. By stripping the piece of its usual context a new dialectic is created. The "O" is not longer a third step, but a symbol on its own. What at first glance seemed obvious when compared to the other three pieces acquires new possible readings when presented in the context of this exhibition.
Usually labor-intensive, the "O" is perhaps the first time that Olaskyuk's work frees itself from the specificity of the small detail and adventures into the unknown terrain of the generic. The circle, omnipresent through the history of pictorial representation wanders in the realm of the unanswered. Both sign, and symbol, the "O" is both mysterious and sublime. And although it may raise more questions than answers, it evidences our search for satisfying the human need to express ideas, feelings, and emotions through images.
Symbol #3
While some symbols whose specificity summons infinite arrays of possible meanings, there is an equally endless amount of symbols that can be used to reference very specific concepts. In other words, while an "X" or an "O" can pose unanswerable questions, very specific (up to a certain point) concepts like female and male can be portrayed in almost infinite variations. Celine Lamee and Johan Nijhoff create a work that mixes serious historic research and humour presenting a series of variations of gender pictograms. Each of the fifty four pictograms reveals simultaneously the possibilities and potentialities. Possibility in the sense that every simple idea could have a least one icon to describe it. And potentialities when it displays how even the most simple of concepts can motivate the creation of endless ways to represent them.
Intelligentsia Gallery
Dong Wang Hutong #11
Dong Cheng District
Beijing, China
Tel. +86 183 1075 4745
intelligentsia.gallery@gmail.com
http://intelligentsiagallery.com/
>
>
>
>

Punto de Quiebre: 16 ensayos latinoamericanos
Curaduría: Lorena González I.
Asistente curatorial: Miguel Rodríguez Sepúlveda (México)
Museografía: Pietro Daprano
Proyecto gráfico: Teresa Mulet
Producción General: Beatriz Gil Galería
Artistas: Joâo Castilho (Brasil), Déborah Castillo (Venezuela), Isabel Cisneros (Venezuela), Pietro Daprano (Venezuela), Rodrigo Echeverri (Colombia), Darío Escobar (Guatemala), Mauricio Esquivel (El Salvador), Silvana Lacarra (Argentina), Pepe López (Venezuela), Cipriano Martínez (Venezuela), Jesús Matheus (Venezuela), Jason Mena (Puerto Rico), Nydia Negromonte (Brasil), Cecilia Paredes (Perú), Bernardita Rakos (Venezuela), Marcos Temoche (Venezuela)
El siglo XXI se ha caracterizado por trazar una nueva geografía en el desempeño actual del arte contemporáneo. Dos ejes de acción, relativos y paralelos han dinamizado un complejo nudo de enlaces, novedades, descubrimientos y fluctuaciones: al alimón de las descollantes aperturas que la tecnología y el mundo web 2.0 ofertaron para todos los participantes de la cultura global se inició un ciclo donde el debate abierto comenzó a revelar nuevas zonas sombrías dentro de esas "supuestas verdades" compartidas por todos. Luego de una antesala plena de rupturas, de postulados teóricos, de conjeturas albergadas en el ejercicio humano y social de la escalada triunfal de la cyber-democracia, la nueva era sembró el desconsuelo de estridentes imposibilidades de conexión: guerras, desmanes, una miseria generalizada y un funesto desarrollo de neo-fundamentalismos reciclados que ya han devastado las lejanas esperanzas del progreso.
Sin embargo, la posibilidad individual ha surgido con empeño en medio de la crisis y el caos mundial que nos envuelve. Desde ese punto de quiebre que transformó las relaciones de lo particular con el entorno entre finales del siglo XX y los inicios del XXI, también se han develado nuevas estrategias de acción: eslabones donde el documento, la memoria, el testimonio y las diversas formas de asentar la fugacidad de la experiencia privada y colectiva anclan el poder de un individuo que ya no observa lugares soñados a dónde debe llegar para ser alguien, o inaccesibles utopías impuestas por otros que deben ser alcanzadas para encontrar algo. Ahora, más que nunca, las ilusiones particulares saben que es solo desde el constructo crítico de sus propias fronteras y desde su capacidad para aglutinar las voluntades que le rodean, el sitio real donde pueden y podrán consolidar un mejor lugar para sí mismo y para los otros.
En este sentido, las perspectivas del arte en general y muy especialmente del arte latinoamericano han transformado una buena parte de sus inquietudes, desviando esa área inicial insertada en la necesidad de colocar el propio discurso dentro de los movimientos legitimadores de la cultura foránea hacia una mirada interior mucho más plural, zona refractada de un arte que se levanta en el punto de quiebre de estas antiguas prácticas territoriales para presentarse como la reedición de una nueva sensibilidad, ahora focalizada en los propios problemas formales, conceptuales, políticos y sociales de los creadores, sin dejar de ser áreas de contenido capaces de albergar un carácter mundial-global.
Este ejercicio entra en conexión directa con varias de las pautas teóricas que para el arte actual ha introducido el crítico Nicolas Bourriaud quien se apropió del vocablo post-producción con la finalidad de concertar las señales de esa ebullición creativa distintiva de nuestro tiempo: empalmes donde la materia manipulada por el artista ha dejado de ser «materia prima» para elaborar «formas» a partir de productos culturales «in-formados» por otros; derivaciones artísticas donde el arte ya no es el aspaviento inédito heredado de la modernidad o la obra única capaz de sostener la verdad y la esencia de un lenguaje oculto. Ahora, son obras a partir de obras, productos de consumo, retazos culturales, trozos de film, objetos varios, material web, sonidos reeditados, estereotipos, reciclaje y apropiación, algunas de las destrezas y mecanismos que determinan el arte más reciente. La consecución de los procesos ya no guarda relación con las famosas rupturas formales de la vanguardia de turno o la necesidad latinoamericana de reinsertarse en las líneas de acción de este perímetro hegemónico. El acontecer que la globalización y la era de internet le han conferido a las relaciones entre autor, medios, lugares de difusión, obra y receptor, ha encaminado los procesos hacia la ilación de retazos donde la memoria, el fragmento, la historia individual y la metáfora serán las claves para una obra que más que asentamiento de verdades es discurso en proceso, periplo del sí mismo, puesta en escena de todas las inquietudes que ese sujeto artístico está tratando de convocar y transmitir.
En Punto de quiebre hemos querido medir y poner en relación las propuestas visuales de dieciséis artistas de generaciones distintas y de contextos latinoamericanos diversos (algunos residentes en países diferentes a su lugar de origen) que se insertan en el desarrollo de estas aristas tan características de nuestra contemporaneidad. A través de tácticas diversas y con la expectativa única de responder y preguntar a través del arte, revisitan y escamotean lugares donde la fotografía, la pintura, el dibujo, la performance, el collage, el video, la instalación y la escultura se enlazan como las bases de una acción en plena resonancia con los tránsitos vitales del contexto y la experiencia particular del yo dentro de los vaivenes virtuales y las huellas materiales del ser social. La investigación se inició sin temas específicos, pero poco a poco, en los intercambios desarrollados durante varios meses, miles de zonas en comunión vinieron a correr la cortina de ese lugar central que le dio el título a la muestra; Punto de quiebre, ruptura con las formas y los medios tradicionales de ejecución formal y conceptual que vienen a levantar una sucesión de crónicas visuales cercanas entre sí: desde los gestos efímeros, la permanencia de lo visual y las alegorías trashumantes de una presencia humana a contrapunto de la imagen (Joâo Castilho, Bernardita Rakos, Isabel Cisneros, Mauricio Esquivel); en las resonancias de un presente que reposiciona la historiografía latinoamericana, generando disposiciones fracturadas, residuos ancestrales y compendios críticos de una gran fuerza visual (Jesús Matheus, Silvana Lacarra, Darío Escobar, Cipriano Martínez); en los vínculos de la presencia, la acción del cuerpo físico y su relación con los elementos como foco que reinstala el ciclo vital de una memoria subterránea desprendida desde la referencia local hacia los vericuetos de la memoria colectiva (Nydia Negromonte, Cecilia Paredes, Pietro Daprano, Pepe López); hasta las señales de lo urbano, los olvidos de la historia oficial y sus contradicciones, así como las prácticas, movimientos y manipulaciones de un poder transfigurado y suscrito por relaciones ocultas y golpes ambivalentes en el día a día del ciudadano común (Jason Mena, Rodrigo Echeverri, Déborah Castillo y Marcos Temoche).
En Punto de quiebre todos los artistas dispusieron sus proyectos como una jugada verbal, un enunciado iconográfico alrededor de las distintas temáticas generales que los agrupan y que también podrían conectarlos transversalmente. Es por ello que se ha usado la figura del "ensayo" como núcleo central de descripción y reunión de los distintos entramados formales que cada uno ha aplicado para este primer encuentro; una apuesta curatorial que también funciona como un proceso abierto en el diálogo sostenido con ellos y que en ambos casos trabaja como un campo de investigación compartido, dando como resultado una cartografía amplia, plena de evidencias e incertidumbres, de discursos visuales transitivos, de engranajes implícitos y elementos fugaces que van tras esa imagen plural que está intentando narrar y narrarse frente a las fracturas individuales y colectivas- que inundan las mudables verdades de nuestra cultura contemporánea.
Lorena González I.
http://www.beatrizgilgaleria.com/
>
>
>
>

Panel Discussion & Various Formats Are Appropriate
Silvershed, artist-run project space
Sunday, May 25th 5 - 8 pm
Artists: Daisy Atterbury, James Kelly, Jason Mena, Matthew Schrader, Ezra Tessler, Johanna Tiedtke, Kyle Zynda
How to Proceed:
1. Identify, or help participants identify, an issue or topic that involves an important conflict in values and/or an examination of complicity. The issue or topic may be set forth as a topical question, a hypothetical incident, a case study or a projection of fantasy.
2. Select panelists who are well informed about and have specific points of view regarding the issue or topic. Select a leader or moderator. Select a form of affective labor. A panel discussion that includes three to five panelists is usually most workable.
3. Indicate to the panelists the objectives the panel discussion is designed to promote and allow time for panelists to prepare for the discussion. In some situations ten or fifteen minutes may be sufficient time for preparation while in other situations, panelists may need to prepare several weeks in advance of the scheduled discussion.
4. Decide upon the format the panel discussion will follow. Various formats are appropriate.
Silvershed is an artist-run project space in Chelsea that works collaboratively between New York and Los Angeles and organizes exhibitions, events, and special projects by or with other artists. Exploring the increasingly lateral flow of information, ideas and resources, we aim to generate discussions about contemporary art values, ethics and aesthetics.
Established in 2008 by Patrick Meagher, Yunhee Min and Oliver Lanz, Silvershed works through lateral discussion among a core team of organizers and advisors: Alexander Dawson, Kerry Hassler, Emily Lenz, Pat Lian, Nicolas Linnert, Patrick Meagher, Yunhee Min, Melinda Wang
Silvershed
119 West 25th St, PH
New York, NY 10001
info@thesilvershed.org
http://www.thesilvershed.org/
>
>
>
>

Turn on the bright lights
April 13, 2014 - May 25, 2014
CCS Bard / Hessel Museum of Art
Opening Reception : Sunday, April 13, 2014, 1pm -4pm
Free chartered bus to and from New York City for the opening. For reservations, call 845.758.7598, or write ccs@bard.edu
Artists: Kajsa Dahlberg, Felix Gonzalez-Torres, David Lamelas, Jason Mena, Trevor Paglen
Curated by Carla Acevedo-Yates
Depending on how bright it is, a light in the dark can either help us see or completely blind us. And if darkness is conventionally understood to obscure vision, it also makes manifest spaces that cannot otherwise be represented. Drawing on these contradictions in the intricacies of seeing and not seeing, Turn on the bright lights examines how artists use abstraction as a conceptual device to materialize that which remains elusive, indeterminate, and invisible. The exhibition has two parts, emphasizing first an embodied experience of forms, where sculpture, photography, video, and painting speak to the complexities of seeing counter-spaces. It then leads to an increasingly dematerialized environment in which the perceptual limits of meaning are themselves rendered opaque, difficult, and abstract.
Abstraction in the visual arts has often been understood through the lens of the historical avant-garde and high modernism, whose utopian ideals of universality and humanism were intertwined with the totalizing ambitions of the social and political projects of Western modernity. By contrast, the artists in this exhibition deploy abstractions—such as indeterminate geographies, image negation, and the monochrome—as a formal strategy for advancing a nuanced understanding of power relations, a strategy of localized resistance.
Propositions for an Abstract Region
Abstract regions are complex spatializations that are socially and politically produced.
Abstract regions are everywhere. They operate as spaces of resistance, catalyzing collective possibilities, but also construct their own oppressive power structures.
Geographies are irreducible to cartographic representations.
Depending on our subjective position, we see what we are allowed to see.
The boundary line has extended. The fault line has collapsed.
The invisible has arisen as a cautionary tale. The visible obstructs our vision. We are only left with traces of the real.
The politics of visibility operate everywhere, everyday, on everyone.
Our senses have been compromised.
http://www.bard.edu/ccs/
>
>
>
>

Suprema Felicidad
Del 30 de enero hasta el 27 de abril | Sala 5
Curaduría: Brenda Caro
Artistas: Edgardo Aragón, Katrina Bello, Eder Castillo, Emilio Chapela, Omar Gámez, Terence Gower, Jason Mena, Chantal Peñalosa, Sebastián Romo, Pilar Villela, Víctor Sánchez.
Esta exposición colectiva reúne el trabajo de artistas que centran su atención sobre una serie de discursos que acompañan a una noción tan escurridiza como la de bienestar y las políticas de la felicidad que están en su base. Si el progreso y la utopía se han propuesto en algún momento como respuesta, si se es capaz de minimizar la desigualdad y la precariedad bajo la afirmación de que pese a todo somos felices, ¿por qué ese "estar bien" nos sabe tan agridulce?
http://www.casadellago.unam.mx/sitio/
>
>
>
>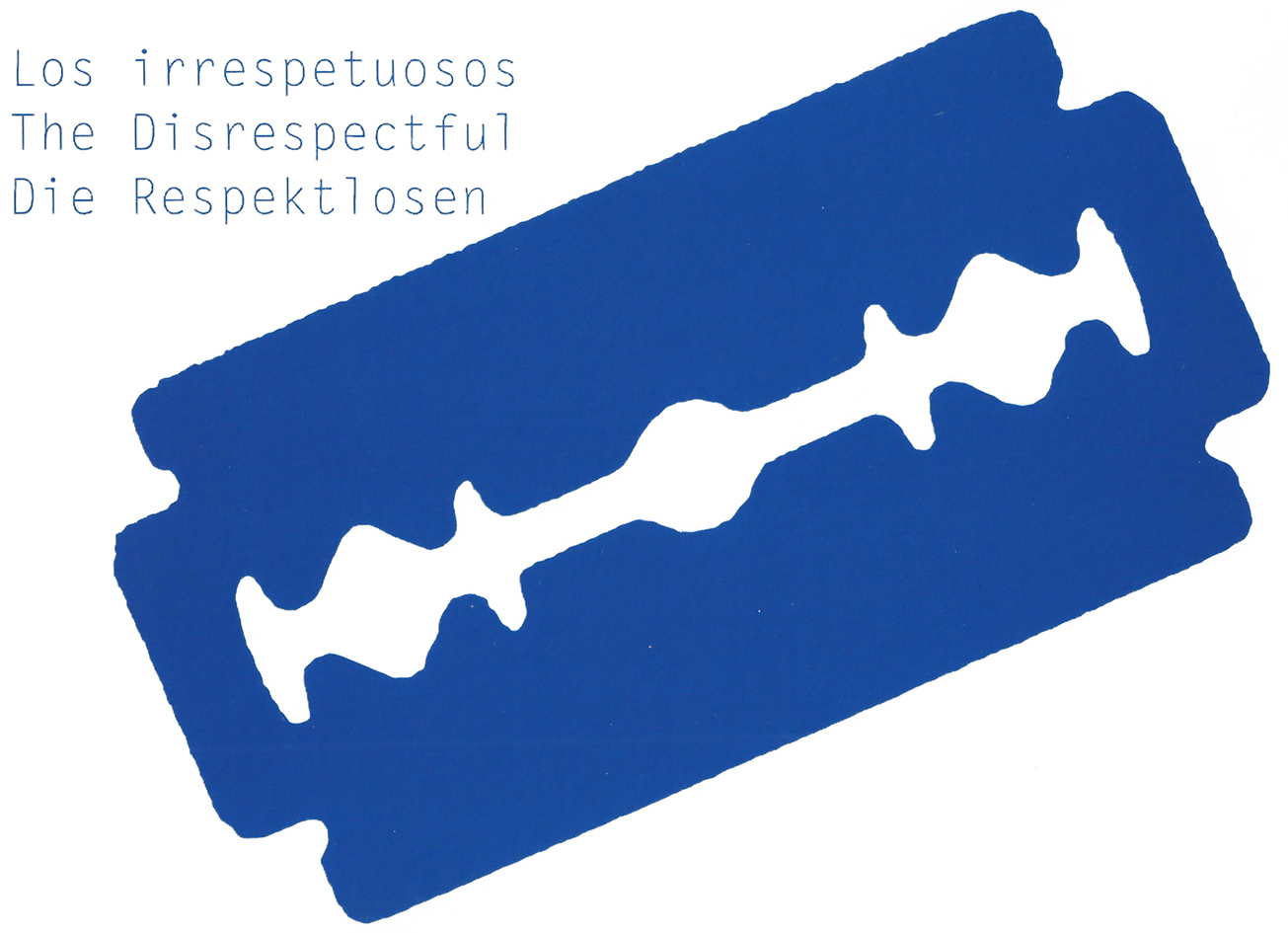 Los irrespetuosos / The Disrespectful / Die Respektlosen
Curador: Carlos Palacios
30 de noviembre al 17 de marzo 2013
Museo de Arte Carrillo Gill
Mexico D.F.
En la muestra participan 18 artistas de América y Europa reuniendo pinturas, instalaciones, videoarte y propuestas encaminadas al happening y el arte conceptual.
Este proyecto expondrá en el marco de una instalación de carácter museográfico de Pablo Rasgado (MX) específicamente concebida para el segundo nivel del Museo de Arte Carrillo Gil obras de los artistas Maria Anwander (AT), Eugenio Ampudia (ES), Ivan Argote (CO), Ivan Candeo (VE), Oscar Cueto (MX), Natalia Ibañez Lario (ES), Bernd Krauss (DE), Colectivo Metapong (MX), Diego Piñeros (CO), Oscar Santillán (EC), Cristian Segura (AR), el colectivo Texto Poético (ES) y Jason Mena (PR)
Estos artistas registran acciones específicas en video, pinturas, textos e instalaciones cuyos resultados pueden definirse más como gestos que como obras en sí mismas. Sus proposiciones denotan influencias relacionadas con tendencias culturales como el cine de acción o el video musical y sobretodo con prácticas ligadas al arte como el performance, el happening y el arte conceptual. Sin embargo, el tratamiento que estos artistas le confieren a este tipo de influencias dista de la reapropiación o la cita: Su inserción en estas obras es radicalmente irónica y cargada de cuestionamientos y sarcasmos hacia el mundo del arte a través de la figura del artista, el curador, el museo y la historia del arte.
De este modo las propuestas seleccionadas en Los Irrespetuosos / The Disrespectful / die Respektlosen reflejan una actitud mas condicionada por unas maneras cargadas de insolencia y sátira. De tal manera que aquello que en otro tipo de propuestas queda velado por la auto-reflexividad alegórica en estos videos, pinturas e instalaciones adquiere una direccionalidad muy determinante, gracias al impulso de un evidente ejercicio crítico hacia las instituciones artísticas. Sin ningún tipo de ambigüedades formales o conceptuales, estos creadores exageran sus discursos hasta convertir sus propias acciones en eventos de una radicalidad extrema y en gestos de una concreción directamente proporcional a la eficacia de su contundente discurso.
En este sentido, una de las imágenes más frecuentes en los videos y pinturas seleccionadas para este proyecto es la desacralización extrema a la obra de arte y del museo. Imágenes donde el propio artista arruina y se burla de pinturas canónicas de la modernidad histórica, como se puede ver en los videos de Ivan Argote o en la fetichización irónica del libro de arte como sucede en las pinturas, el video y el performance dirigido de Oscar Cueto o en la cita paródica al célebre Salto al Vacío de Yves Klein de 1960 que emprende de manera colectiva Natalia Ibañez Lario. El museo es también un tema para la desmitificación como una estrategia artística común a las obras de Eugenio Ampudia con la recreación de una carrera de motos de alta cilindrada a lo largo de las solemnes galerías del Museo del Prado o el lanzamiento desde la NASA del célebre Museo Guggenheim de Nueva York, criticando desde un doble registro tanto su notoriedad –donde sólo exhiben "estrellas" del sistema del arte- como su estratosférico "status" dentro de las más prestigiosas instituciones del arte en el mundo. Igualmente, las inserciones textuales de naturaleza conceptual del colectivo literario Texto Poético (conformado por David Pérez y Bartomeu Ferrando) apuntan a una desmitificación desde el ámbito editorial de la institución museística. Bajo similares argumentos críticos pero dirigidos hacia la naturaleza pedagógica del museo, los artistas del colectivo Metapong (Leonardo Marz e Isaac Muñoz) atacan a partir de una acción de repulsa inspirada en la película El Ángel Exterminador de Luis Buñuel, la obligatoriedad del Museo como un espacio para la educación artística. Por su parte, Maria Anwander añade de manera clandestina una obra a la colección del mítico Museo de Arte Moderno de Nueva York, MoMA: un performance donde besa apasionadamente las paredes del museo y añade una réplica de las tradicionales cédulas del Museo a su furtiva intervención. En otra obra que viene realizando desde 2004, Anwander se roba literalmente las cédulas de aquellas obras que más le gusta y las colecciona en una propuesta que se llama Mis obras de arte favoritas.
Por su parte el artista y el curador son a su vez temas de crítica e ironía. Ivan Candeo cuestiona desde el sarcasmo la supuesta "globalidad" del arte contemporáneo, burlándose del ejercicio de traducción que los artistas emprenden a partir de referentes ajenos a su cultura. Por su parte Jason Mena propone una "lectura" performática de un breve ensayo de Walter de Maria, Meaningless Work (1960) donde ejecuta acciones absurdas y "sin sentido", de acuerdo al texto "Boxes for Meaningless Work": "Cajas para el trabajo sin sentido. Transfiera cosas de una caja a la caja al lado, adelante y atrás, adelante y atrás, etc. Tenga en cuenta que lo que estás haciendo no tiene sentido" (Walter de Maria, Boxes for Meaningless Work, 1961). Bernd Krauss y Oscar Santillán cuestionan desde sus particulares puntos de vista a la figura del curador. Krauss convierte un acceso posterior del Centro de Estudios Curatoriales de Bard College en una rampa para lanzar al aire y de manera violenta, la única novela de un célebre curador iraní, casualmente un profesor de dicho instituto. Oscar Santillán realiza una sesión de espiritismo al curador de esta exposición, proyectando los últimos cinco minutos de la vida de éste. Por su parte Diego Piñeros entona una canción pop hacia su cámara de video mientras en la pantalla aparecen sentencias alusivas al éxito y el fracaso en relación a la propia figura del artista.
http://www.museodeartecarrillogil.com/
>
>
>
>

Wherever You Roam
Curated by María Elena Ortiz
NOVEMBER 3, 2012 - JANUARY 13, 2013
At The Collaborative
A project of The Arts Council for Long Beach and the Museum of Latin American Art (MOLAA)
California
Since the Arab Spring of 2010, the international community has witnessed numerous demonstrations and upheaval against the economic social structures of globalized society. Movements, like Occupy Wall Street and the Indignados in Spain, demand ethical solutions for unemployment and growing debt; yet neither of these groups has significantly impacted the complex network of state and international corporate power. Recently in Mexico City, a group of university students occupied the streets calling for clean elections. #YoSoy132 raised awareness on how the two main broadcasting companies in the country favored one presidential candidate. But, the student movement was unable to influence the outcome of the vote. Wherever You Roam is an exhibition that investigates the strategies used to demand democratic alternatives in current social events. The art works address protests, while promoting a reflection on the current mechanism of political engagement. With support to an opposing voice, the exhibition is interested on alternative means for emancipation.
Participants:
José Carlos Martinat's (Peru, b. 1974) Power Abstraction is composed of buildings and logos such as the Lehman Brothers building and the JPMorgan Chase logo. The public can interact directly on the piece. While Martinat offers a democratic space, the artist encourages graffiti and points to the current abstraction of social power in a globalized society.
Joaquín Segura (Mexico, b. 1980) affirms the ordinary aspects of the demonstrations that occur in Mexico City. In Exercise of Mutism, Segura takes a hand-made banner from a recent protest and paints white. The intervention re-signifies its original content to allude to a futile strategy of resistance.
With an ethnographic edge, Juan Caloca (Mexico, b. 1985) investigates the social implications of the disintegration of an electric company, Luz y Fuerza del Centro. A Government of Desks is composed of materials from the artist's archive of the national company. Founded in 1898, Luz y Fuerza was closed by the government in 2009. To this day, its union workers protest on the streets.
Jason Mena (Puerto Rico, b. 1974) documented the remnants of political demonstrations across Latin America and the Caribbean to capture the aesthetics of contemporary slogans. Making it Public is a series of photographs that narrate the semantics of a widespread discontent. Ironically, the photographs share a systematic resemblance that suggests the documentation of a single protest.
http://www.molaa.com/
>
>
>
>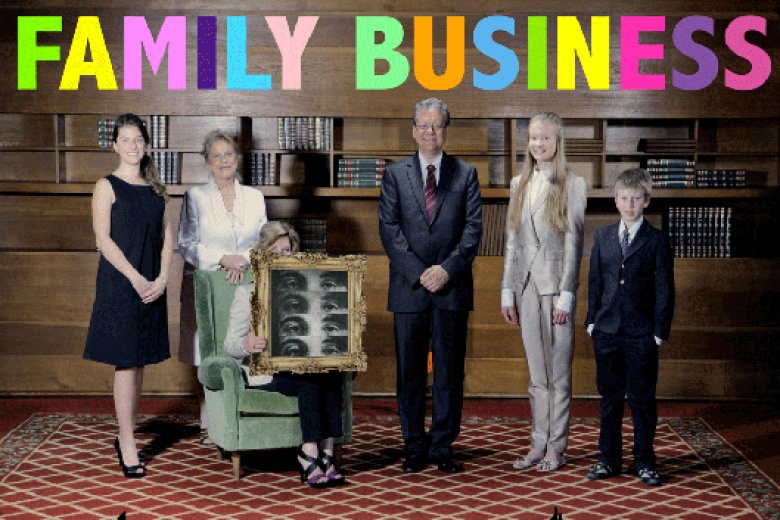 West 21st Street Drive-In (Leave Your Car at Home)
Family Business
New York
On October 26 at 7pm, CCS Bard students present a reconfigured drive-in at Family Business. As a response to a very particular set of institutional and practical parameters, a cargo van will project work sourced from Bard MFA graduates on West 21st street, displacing the gallery framework and repurposing the function of the vehicle as a presentational device. The content stems from the decision to bring together the BardMFA and CCS Bard programs, in a forced but perhaps fruitful collaboration.
Featuring:
Irina Arnaut
Jake Davidson
Ragnheidur Gestsdottir
Anton Ginzburg
Dani Leventhal
Jason Mena
Boru O'Brien O'Connell
Elizabeth Orr
About Family Business:
FAMILY BUSINESS is a new exhibition space initiated by Maurizio Cattelan and Massimiliano Gioni. Located in Chelsea, on 21st street and 10th avenue, FAMILY BUSINESS is a guest house – a place where friends, enemies, people we admire and respect are invited to present the works of artists they support and projects they believe in. FAMILY BUSINESS is the big brother of the Wrong Gallery, a minuscule space that Maurizio Cattelan, Massimiliano Gioni and Ali Subotnick ran in New York from 2002 to 2005. Just like the Wrong Gallery, FAMILY BUSINESS is a non-for-profit space open to experimentation and irreverent exhibition formats, right in the heart of Chelsea.
About the Center for Curatorial Studies:
The Center for Curatorial Studies at Bard College (CCS Bard) is an exhibition, education, and research center dedicated to the study of art and curatorial practices from the 1960s to the present day.
In addition to the CCS Bard Galleries and Hessel Museum of Art, the Center houses the Marieluise Hessel Collection, as well as an extensive library and curatorial archives that are accessible to the public. The Center's two-year M.A. program in curatorial studies is specifically designed to deepen students' understanding of the intellectual and practical tasks of curating contemporary art. Exhibitions are presented year-round in the CCS Bard Galleries and Hessel Museum of Art, providing students with the opportunity to work with world-renowned artists and curators. The exhibition program and the Hessel Collection also serve as the basis for a wide range of public programs and activities exploring art and its role in contemporary society.
The Center for Curatorial Studies at Bard College opened its doors in 1992. Celebrating its 20th Anniversary in 2012, CCS Bard presents a series of exhibitions by students, as well as a roster of international artists, working in a range of practices.
Center for Curatorial Studies and
Hessel Museum of Art
Bard College, PO Box 5000
Annandale-on-Hudson, NY 12504-5000
Tel: 845 758 7598
Email: ccs@bard.edu
http://bard.edu/ccs/
http://familybusiness.us/
>
>
>
>

Microarchivos
Curaduría : Eder Castillo
Exhibición colectiva
Medios Multiples
Inauguración: 3 de mayo 2012
Museo Ex Teresa Arte Actual
México DF
Microarchivos es un proyecto de exhibición colectiva que concentra el trabajo y los procesos de distintos artistas de la región centroamericana del caribe. Los proyectos seleccionados en su conjunto toman como punto de partido el archivo y su concepto como un espacio múltiple , allí donde el indicio, la prueba o el testimonio se concentran para conformar una propuesta artística, sea ya esta como documento, registro, archivo, u otro similar.
La intención es presentar proyectos que en si mismos puedan amplificar este concepto de "archivo" en una propuesta artística, ya sean estas como registro de acciones, video performance, documento u algún otro cuerpo que permita encapsularle como obra.
Las propuestas de los artistas contemplan obras en formatos diversos, que por si mismos no se presentan como la obra original, sin embargo es en el vestigio donde se encapsula la experiencia y desde donde se plantea esta exhibición en pequeño formato.
http://www.exteresa.bellasartes.gob.mx/
>
>
>
>

Tercera edición: Trienal Poli/Gráfica de San Juan, El Panal
Antiguo Arsenal de la Marina Española
Curadora en jefe: Deborah Cullen, PhD (Estados Unidos)
Equipo curatorial: Antonio Sergio Bessa (Brasil), Úrsula Dávila-Villa (México) y Rebeca Noriega (Puerto Rico)
Abril 2012
La tercera edición de la Trienal Poli/Gráfica de San Juan: El Panal/The Hive, explorará cómo la noción de la práctica gráfica descansa esencialmente en su espíritu colaborativo, enfatizando las redes sociales, reales y virtuales, en las cuales gente clave y prácticas convergen. Focalizándose en historias vinculadas y conexiones forjadas, sugerirá que el legado del espíritu del tradicional taller, sobrevive hoy a través de empresas compartidas que unen a la gente en espacios reales y virtuales, más que a través del aislamiento.
Esta edición de la Trienal examinará y enfatizará la importancia de la colaboración participativa en proyectos con una intención esencialmente gráfica. El Panal/The Hive presentará trabajos de reconocidos artistas y talleres del Caribe, Latinoamérica y Norteamérica y comisionará selectos artistas o grupos para desarrollar nuevos proyectos, creando eventualmente intercambios con talleres.
Artists: CJA/Contrafuertes, Vargas-Suarez Universal, Camel Collective, Beta-Local, SOMA, Ana Gallardo, Tomás Espina, Sebastian Gordin, Paul Ramírez Jonas, Pablo Vargas Lugo, Matheus Rocha Pitta, Jaime Ruiz Otis, Jorge de León Sanchez, Carla Zaccagnini, Benito Eugenio Laren, Antonio Vega Macotela, Antonio Dias, Sérvulo Esmeraldo, Mestre Nosa, André Komatsu, Ida Applebroog, Waly Salomão, Alan Ruppersberg, Tim Rollins, Décio Pignatari, Ernesto Neto, Antonio Manuel, Dulce Gómez, Öyvind Fahlstrom, Lenora de Barros, Francisco de Almeida, Raymundo Colares, Alex Cerveny, Paulo Bruscky, Augusto de Campos, BIUTIFULCORBEJA, Mariana Yampolsky, Nemesio Antúnez, Siluetazo, Julio Valdez, Projecto GRÁFICA (Iliana Emilia García, Moses Ros-Suárez, Pepe Coronado, Scherezade García), Corita Kent, Diógenes Ballester, Myrna Báez, Tony Cruz, René Santos, Omar ObdulioPeña Forty, Miguel Luciano, Michelle Gratacós Arill, La Pandilla (Alexis Díaz, Juan Fernández), Frances Gallardo, Equis, Conboca, Coco de Oro, Chemi Rosado Seijo, Carlos Motta, BIP (Stefan Benchoam, Christian Ochaita), Beatriz Santiago Muñoz, Atarraya Cartonera, Antonio Martorell, Hatuey Ramos-Fermín, Omar Velázquez, Michael Linares, =DESTO (Raquel Quijano, Jason Mena, Omar Obdulio Peña Forty), Lorenzo Homar, Reuben Kadish, Harold Lehman, Marcos Dimas, Ester Hernández, Charles White, Lotty Rosenfeld, Rafael Ferrer, Asco (Harry Gamboa Jr., Gronk, Willie Herrón, Patssi Valdez), Bullet Space, Border Arts Workshop, Lasar Segall, Colectivo de Acciones de Arte (Lotty Rosenfeld, Juan Castillo, Fernando Balcells, Raúl Zurita, Diamela Eltit), Luis Arenal, Juan Sánchez, Nayda Collazo-Llorens, Papo Colo, Jan Henle, Guido Llinás, Robert Blackburn
http://www.trienalsanjuan.org/
>
>
>
>

The Dialectic City [Document | Context]
Curated by Carla Acevedo-Yates
November 17, 2011 – December 15, 2011
Laboratorio de Artes Binarios
Puerto Rico
"The urban phenomenon and urban space are not only a projection of social relationships but also a terrain on which various strategies clash"
-Henri Lefebvre, The Urban Revolution
"To capture a city in an image really means following its movement"
-Nicolas Bourriaud, The Radicant
The city is comprised of colliding elements; conflicting mechanisms that through movement create situations and actions. In constant flux and development, these dialectical relationships1 or strategies can be interpreted and reconsidered in spatial or temporal terms. Any given building in a city, measured through its façade and structural components, undergoes constant shifts in perspective defined by social, political or economic changes in the urban fabric. Insofar as social relations are concerned, we can sense a city's identity, culture and problematics through its streets, collected debris, people, and things. The city is not a place of permanent encounters or exchanges, but a site of temporal conversations, actions and situations. It is always changing, constantly moving. To deny movement in the city would be to deny its very substance and subsistence; movement itself being nearly impossible to imagine without space and time.
Taking as a point of departure this idea of movement and spatial/temporal transformation, "The Dialectic City [Document | Context]" gathers a group of works from 11 artists who seize the city as site and catalyst for artistic manifestations. Directly referencing the conceptual artistic strategy of documentation2, the works on display are documents implying very specific contexts, suggesting either explicitly or implicitly an action or situation that occurred in the city. They are context specific as well as time specific (Bourriaud), remnants and documents of the city, real or fabricated, continuously connoting motion, sign, and activity.
Artists: Francis Alÿs, Alexander Apóstol, Ivan Argote, Adriana Bustos, José Luis Cortés, David Lamelas, Jason Mena, Juan Alberto Negroni, Victor Sosa, Omar Velázquez, Norma Vila Rivero
Sponsors: Contempo Art Foundation Corp., Yellowmedia Group, Trápaga-Fonalledas Collection, GoPrint Puerto Rico, American Paper, Osviarte, Dsnotipo, AREA, Museo de Arte de Ponce
___________________________
1 When speaking of the dialectic, I am referring to Heraclitus' idea of dialectical movement, reintroduced and reworked years later by Hegel. Although Heraclitus never wrote directly about the dialectic, he is known for stating that "all is in a state of flux" referring to dynamic principles of contrasting and conflicting opposites.
2 Conceptual art includes practices where the final work can only be evidenced through notes, photographs or maps.
http://carlaacevedo.com/
>
>
>
>

Muestra Nacional de Arte
Arte en el medio: 35 Años de Fotografia en Puerto Rico
Curadora: Mercedes Trelles Hernández
Jueves 15 de septiembre de 2011 / 7:00 p.m.
Instituto de Cultura Puertorriqueña
Antiguo Arsenal de la Marina Española
La Puntilla, Viejo San Juan
Puerto Rico
T. 787 725 8320 / 787 724 1877
http://www.icp.gobierno.pr/
>
>
>
>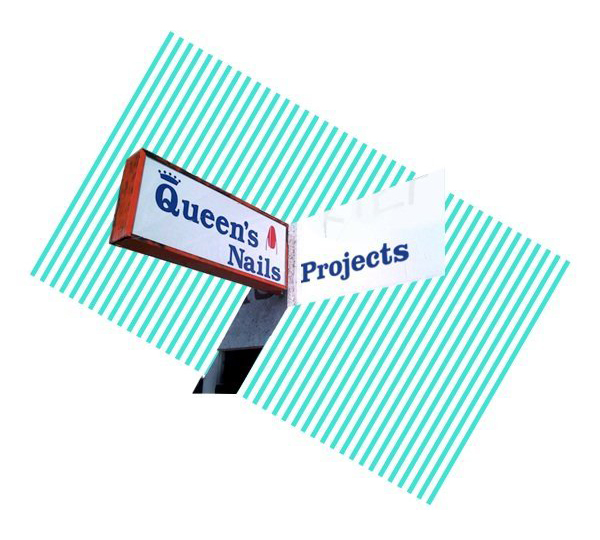 SF Tropical Part II
August 13 - September 3, 2011
Opening Reception, Saturday August 13, 8-11pm
Queens Nails Project
San Francisco
As fog hovers over the bay, we lament the loss of summer. Naturally, we physiologically expect warm sunny days, and why not? A tropical San Francisco summer might be nice. By default the tropics are a construction, both by geography and by culture, equally defined by authentic characteristics as well by fantasy, commerce and desire. The tropical, as adjective, sets itself to the constant challenge of balancing its multiple realities and the expectations placed upon its self. Like many other contradictions it faces the very fact that in every cliché there is always some truth close to the stereotype.
The exhibition SF Tropical attempts to explore these realities and work as a hub while playing off stereotypes that will produce two group exhibitions and a series of one-off events during the summer in San Francisco at Queens Nails Projects.
Artists: Facundo Argañaraz, Sofía Cordoba, George Kuchar, Eamon Ore-Giron (DJ Lengua), Tim Sullivan and Chris Corrente, Jason Mena, Haden Nicholl and Jenifer K Wofford
Special Music Performance: Juan Luna-Avin and Josh Pieper on Opening Reception, Sat Aug 13 ChuCha Santamaría y Usted on Closing Reception, Sat Sep 3
http://queensnailsgallery.com/
>
>
>
>

Hotel Charleroi Artist Residency
From July 4 to July 24, 2011
B.P.S. 22
Hainaut Province's Museum of Art
Charleroi, Brussels
Charleroi (French pronunciation: ?[?a?l??wa], Walloon: Tchålerwè) is a city and a municipality of Wallonia, located in the province of Hainaut, Belgium. By January 1, 2008, the total population of Charleroi was 201,593.[2] The metropolitan area, including the outer commuter zone, covers an area of 1,462 square kilometres (564 sq mi) with a total population of 522,522 by January 1, 2008, ranking it as the 5th most populous in Belgium after Brussels, Antwerp, Liège and Ghent.[2][3] The inhabitants are called Carolorégiens or simply Carolos.
Hotel Charleroi is a flexible structure initiated by three European artists who would like to live and work in Charleroi. Located 60 km south from Brussels, Charleroi is a decaying industrial town with all associated symptoms - high unemployment rate, raising criminality, corruption affairs, etc. Its surrealistic urban landscape, reminiscences from an intense industrial past (slag heaps, steel factories) along with numerous irrational public infrastructures planned in the sixties (metro, ring road on viaduct), doesn't fit at all with its relatively small scale (pop. 400 000).
In fact, Charleroi offers a very condensed overview of how Modernity developed in Europe and which social and economical problems resulted from it. The city nearly didn't change since 30 years, and this makes it a very interesting investigation field for us, as it leaves everything open for a new generation of artists to position itself on its modern -and postmodern- heritage.
We share our interest in the city by organising sleeping facilities in Charleroi and inviting contemporary artists from all over Europe for short or long term residencies. We propose the residents to use the city as a studio or laboratory for interventions of all kinds. We can organise a place to stay and to work, but are not able to provide any financial support as we finance everything ourselves. However, we count on the enthusiasm of local institutions and establishments to create networks and opportunities in Charleroi. We understand our non-institutional status as an advantage to create a dynamic platform, able to adapt itself to every occasion it encounters.
The BPS22, the Hainaut Province's Museum of Art in Charleroi, is an exhibition space especially dedicated to art forms focusing on current social issues (cf. PHILOSOPHY).
http://hotelcharleroi.com/
http://bps22.be/
>
>
>
>

Lights Out for the Territory
April 09-30, 2011
ADM Galeria
Avenida Monterrey 215
Col. Roma Norte
Mexico D.F.
Graffiti is and has always been an overt political act. It's purpose: to claim ownership of the public sphere by denouncing social and political inequalities. Considered by many as a form of defacement, graffiti is perhaps one of the only true democratic mediums, at times sacrificing aesthetic formalism for ideological substance. But its invasion into the urban landscape is also plagued by another type of subversive act; its erasement, which is as much of a political act as the writing on city walls. The graffiti's erasement at times makes it even more conspicuous. In any case, both are acts that stand for transgressions on our urban landscape. As pedestrians of the city, we are inevitably forced to take in this visual psychogeography. But without a doubt, what is in the public domain, so to speak, is for the public to dispose of as it pleases. So then, who is really staking a claim in the public sphere?
The photographic series Lights out for the territory, title taken from the book by Iain Sinclair,is comprised of photographs of erased graffiti of political messages on the streets of a couple of cities visited in the past few years. These images rebel against themselves and make us question the true nature of the political.
http://centroadm.com/
>
>
>
>

An Exchange with Sol LeWitt
Curated by Regine Basha
A two-part exhibition presented by Cabinet and MASS MoCA
Massachusetts Museum of Contemporary Art
Prints and Drawings Gallery
North Adams, Massachusetts
The story of Sol LeWitt's exchanges with other artists is widely known. Though most artists engage in this process at one point or another, LeWitt seemed fully committed to it as an artistic code of conduct, a way of life. Eva Hesse, Robert Mangold, Hanna Darboven, and Robert Ryman are just a few of LeWitt's celebrated contemporaries with whom the artist exchanged works. Such exchanges were not limited to well-known artists — LeWitt consistently traded works with admirers whom he did not know but who had nevertheless sent their work to him, as well as amateur artists with whom he interacted in his daily life. LeWitt's exchanges —- he responded to every work he received by sending back one of his own -— fostered an ongoing form of artistic communion and, in some cases, a source of support and patronage. The Sol LeWitt Private Collection retains all of the works he received, as well as a record of what he offered in return.
For LeWitt, the act of exchange seemed to be not only a personal gesture, but also an integral part of his conceptual practice. In addition to encouraging the circulation of artworks through a gift economy that challenged the art world's dominant economic model, LeWitt's exchanges with strangers have the same qualities of generosity, and risk, that characterized his work in general. This kind of exchange was designed to stage an encounter between two minds, outside the familiar confines of friendship.
If we consider the process of exchange as another of Sol LeWitt's instructional pieces, then the rational (or irrational) thing to do is to continue to exchange work and ideas, if only symbolically, with him.
This exhibition, a curatorial project by Regine Basha, springs from a call to those who share an affinity with Sol LeWitt's legacy as a conceptual artist, to those who knew him and those who did not—to anyone who has ever wondered, "What would Sol LeWitt like?"
Cabinet: January 21, 2011 – March 5, 2011
Opening reception: Thursday, January 20, 7–9 pm
http://www.cabinetmagazine.org/
MASS MoCA: January 23, 2011 – March 31, 2011
Opening reception: Saturday, January 22, 4:30–6:30 pm
http://www.massmoca.org/
>
>
>
>

Zaritsky Artist House
01.06.2011 - 01.30.2011
Tel Aviv
The Artist and Sculptures Association was founded in August 1934 in Tel Aviv. The association is a non profit organization whose objective is helping artist and taking care of their professional and social needs. Over the years it has grown and developed its own programs: painting ,drawing an printing workshops as well as lectures, symposia, and gallery spaces.
http://artisthouse.co.il/
>
>
>
>

We all shall play in the ruins
12.11.2010 - 15.01.2011
Luis Adelantado Gallery
Valencia, Spain
"The space of our physics, like the space of our daily lives, is thus a mere construction; an architecture thrown up by perception of the phenomena that surround us and thereby shape, for all of us, this 'landscape of events' that makes philosophers and scientists mere humble landscape artists."
-Paul Virilio, The University of Disaster
We all shall play in the ruins comprises photography, installation, video and drawing. Informed by Paul Virilio's take on the speed of post-modern society, Mena seemingly creates a 'landscape of events' where motion and velocity translate to both destruction and construction. Throughout the exhibition objects and images suggest movement in various explicit and even subtle ways. A central part of the exhibition is the photographic series Points of View, where Mena uses architecture to challenge the viewer's perception. By focusing on the malleability of perception, these images not only delineate the fragility of contemporaneity but also the apparent imperceptibility of our urban reality. Letting Go of Conceptual Approaches, a series of abstract monochromatic images, shows the effect of a photochemical reaction of sunlight with hydrocarbons and nitrogen oxides that has been released into the atmosphere mostly by automotive emissions and industrial plants. A paradoxical image as we find beauty in polluted skyscapes.
Jason Mena's work entails a multi-faceted approach to contemporaneity that, drawn from conceptualism and minimalism, reveals the complexities and contradictions of the ever increasing urbanization of space. The City and its architecture becomes the main protagonist and consequently witness of the post-modern condition. Reality and fiction converge, they appear and disappear in the urban landscape, provoking multiple reactions and interpretations. Working with different media, mainly photography, video and installations, Mena reacts to his surroundings and eerily reminds us that appearances can ultimately be deceiving. His work leads to a profound criticism of the constant simulation of culture, the speed of urbanization and the accelerated decay of our social and political climate.
http://www.luisadelantado.com/
>
>
>
>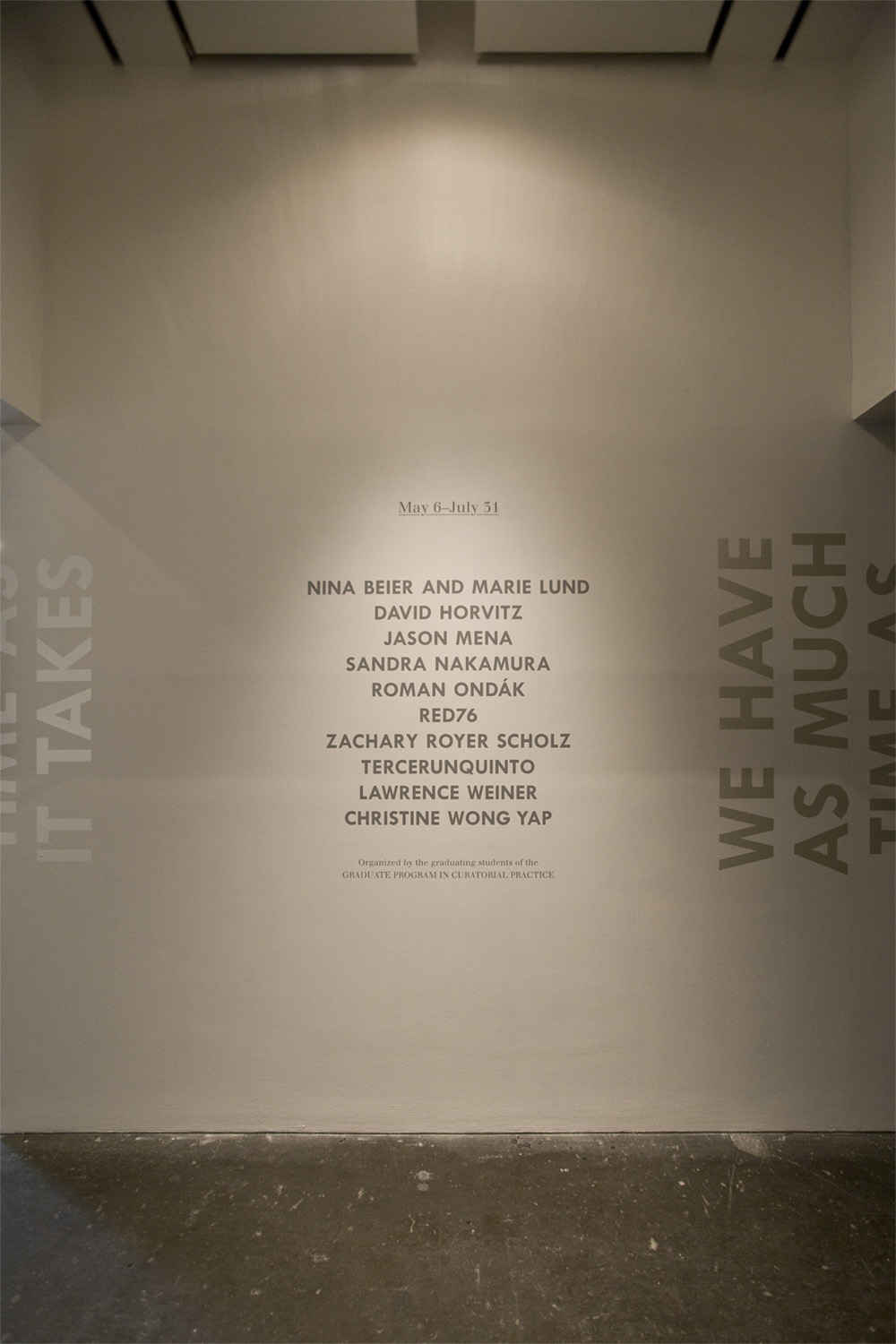 We have as much time as it takes
05.06.2010 - 07.31.2010
CCA Wattis Institute for Contemporary Arts
San Francisco, California
We have as much time as it takes calls attention to the multiple conditions that determine artistic display in the CCA Wattis Institute for Contemporary Arts. As an art gallery located within an educational institution, the Wattis Institute requires the steady production of tangible, professional results. Responding to this situation, We have as much time as it takes presents practices that directly or symbolically, the often unquestioned and overlooked systems and economies related to such a situation. The show features 10 international artists and collectives working in a variety of media, including sculpture, installation, performance, and video. Many of the works are new, site-responsive commissions created especially for this exhibition.
Participating Artists:
Nina Beier and Marie Lund, David Horvitz, Jason Mena, Sandra Nakamura, Roman Ondák, Red76, Zachary Royer Scholz, Tercerunquinto, Lawrence Weiner, Christine Wong Yap
We have as much time as it takes questions and highlights expectations of achievement, productivity, and established systems of management that make up the programs and academic mission of the Wattis Institute and CCA. The artworks converge and intersect in ways that confront exhibition-making's usual emphasis on visibility and timeliness, not to mention academic and institutional deadlines. The works embody circular processes, resist completion, welcome change, and refute demands for definable results and resolution. They challenge the conventional form of the art object and the traditional parameters of exhibitions.
The title comes from the 1957 film 12 Angry Men, a dramatic play that takes place entirely in a jury room where 12 men must agree on a verdict. At one point, juror number eight argues with his fellows for more time in order to adequately review the case. The exhibition's themes emphasize careful deliberation, cooperation, and consideration, and the title points out the complex processes behind the organization of an exhibition, especially given our added challenge of 12 curators needing to come to agreement. The title is indeed also a wry, tongue-in-cheek commentary on the finality of a graduate degree.
Lawrence Weiner's architectural intervention quite literally exposes the inner structure of the gallery while addressing issues of authorship and instruction. Nina Beier and Marie Lund, as well as Sandra Nakamura, expose the often-unquestioned systems underlying art, academic institutions, and their relative economies. Roman Ondák's work suggests a utopian no-time, a dream in which the calendar's demands are never met. Christine Wong Yap's shadowy statement satirically points to its own unobtainability. Jason Mena's constant movement and reorganization of common classroom objects refers to the human drive to create systems and questions the productivity of such behavior, thus resonating directly with the context of an educational space. David Horvitz's projects utilize existing systems of distribution and publication established by institutions and exhibitions. Zachary Royer Scholz engages with the detritus of the gallery and the materials of exhibition making to create temporary, conditional sculptures.
Two collectives will present newly commissioned pieces that engage directly with the venue. In an effort to define and call attention to the physical circumstances of CCA and the Wattis Institute, Tercerunquinto's work will involve changing existing spatial dynamics by manipulating the architectural elements of public and private spaces. Red76's central concern is to come to terms with the world and to redefine those terms—to imagine "what would happen if … ?"
We have as much time as it takes is curated by second-year students about to receive their master's degrees from CCA's Graduate Program in Curatorial Practice. The students are Jacqueline Clay, Nicole Cromartie, Courtney Dailey, Emily Gonzalez, Jacqueline Im, Kristin Korolowicz, Sharon Lerner, Katie Hood Morgan, Maria Elena Ortiz, Arden Sherman, Joanna Szupinska, and Josephine Zarkovich. The show has been developed with the support of Magali Arriola, adjunct professor; Julian Myers, assistant professor; and Claire Fitzsimmons, Wattis Institute deputy director. This is the first time that the program's thesis exhibition has been presented in the Wattis galleries, and its opening is timed to coincide with the openings of CCA's collegewide graduate thesis exhibitions. We hope in this way to deepen the relationship between our program, the Wattis's programming, and CCA's academic life, and to generate interdisciplinary discourses. Our status as students and curators-in-training within an educational institution and professional environment is underscored by the show's ambition to explore the possibilities, and the limitations, of its very specific setting.
Designed by Jon Sueda / Stripe, the exhibition catalog features interviews with each of the artists; a project by Matthew Rana, a student in the Graduate Program in Visual and Critical Studies; and texts by the local poet Jasper Bernes and the writers Erica Levin and Daniel Marcus. The publication is available as a downloadable PDF.
A dynamic series of public programs will take place over the exhibition's three-month duration, both inside and outside the gallery. On May 18 from 7–10 p.m. there will be a one-night-only screening of James Benning's 2005 film One Way Boogie Woogie / 27 Years Later accompanied by a reception and other events. There will also be workshops with participating artists Sandra Nakamura and Red76. Check the Wattis calendar for upcoming events.
Many thanks to the Getty Foundation for its support of Magali Arriola's participation in the Exhibition Project course.
Founding support for CCA Wattis Institute for Contemporary Arts programs has been provided by Phyllis C. Wattis and Judy and Bill Timken. Generous support provided by the Phyllis C. Wattis Foundation, Grants for the Arts / San Francisco Hotel Tax Fund, Ann Hatch and Paul Discoe, and the CCA Curator's Forum.
http://www.wattis.org/
>
>
>
>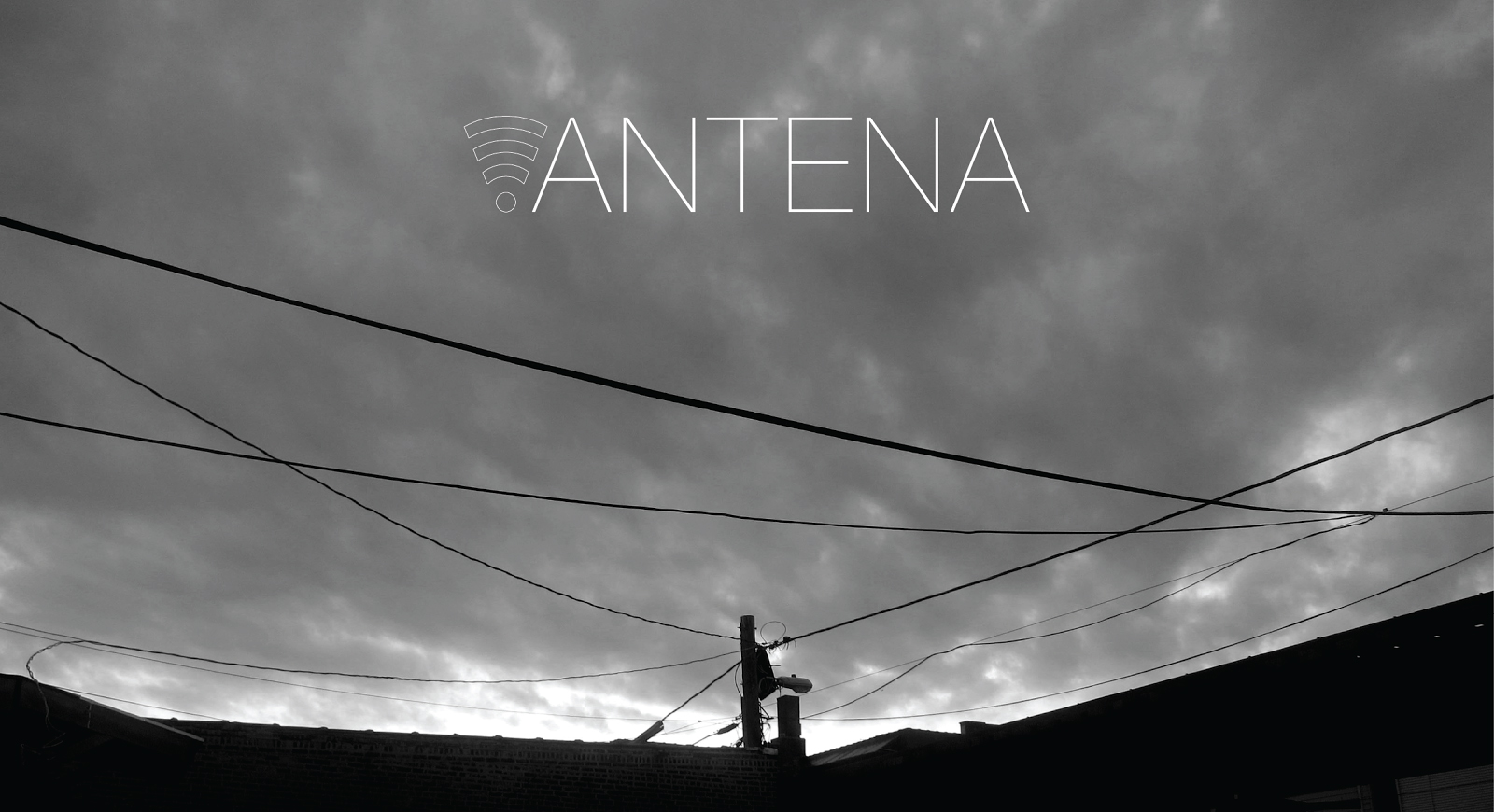 Zombie: A Mindless Affair
Curated by: Edra Soto
Opening Friday October 23 from 6pm-10pm
Antena Pilsen
Chicago
Artists: C Through Outfit (Erik Brown, Catie Olsen, Carl Warnik and Dawn Reed), Deborah Boardman, Nate Lee, Jason Mena, Mindy Rose Schwartz, Amanda Browder, Derek Chan, Christopher Simkins, Chris Smith, Ann Toebbe, Harold Mendez, Paul Nudd, Noah Berlatsky, Vladimir Kharitonsky, Dana Peters, Gretel Garcia, Susannah Kite Strang, Rachel Hewitt, Corinne Halbert, Bert Stabler, Beatriz Monteavaro, Miguel Cortez, Edra Soto, Candace Briceno, Death by Design Co. (Teena McClelland and Michelle Maynard), The Wiener Girls (Sydney Croskery and Katey Rafanello), Betsy Odum, Jen Thomas and Bobby Lively, Jacob C. Hammes, Andrea Jablonski, Jeff Libersher, Aide Martinez
Project Wall Space: Irene Perez
Zombie: A Mindless Affair: Celebrations that invite us to observe a historical occurrence are still strongly practiced in contemporary culture. Halloween, as celebrated in America, profoundly depicts the strongest features from gothic and horror literature, film, TV, and graphic arts. Among the repertoire of traditional characters, the zombie distinguishes itself for possessing the biology and behavior of a normal human being, yet lacks consciousness. This exhibition uses the vernacular of the mythological zombie as a starting point to engage in ideas of death, mindlessness and symbolisms for the occult and inexplicable. The term zombie also intends to address issues referring to the mindless self in a social spectrum: leading and following; acts of automatism and fanatic behaviors.
Opening: Friday October 23 from 6pm-10pm / October 23 - November 21, 2009
From 6:30-7:00pm on opening night: Join author Scott Kenemore, artist Mindy Rose Schuartz and collaborators Teena McClelland and Michelle Maynard from Death by Design Co. in conversation. They will talk about the darkness that enlightens their work. Screening of the film made by Death by Design Co. immediately after the conversation. Moderated by Edra Soto
Antena Pilsen
1765 S. Laflin St.
Chicago IL 60608
(773) 257-3534
antenapilsen@gmail.com
Hours: by appointment only
http://www.antenapilsen.com/
http://antenapilsen.blogspot.mx/
>
>
>
>

VOXUMENTA: Group Show at Vox Populi
Opening reception: Friday, May 5, 2006 from 6-10 PM
Gallery Talk: Friday, May 5, 6:30 PM, with guest speaker Emily Hage
Vox Populi Gallery
Philadelphia
Curated by Emily Hage, Andrew W. Mellon Curatorial Fellow, Modern and Contemporary Art, at the Philadelphia Museum of Art and Pepon Osorio, Philadelphia-based artist whose exhibitions include the Whitney Biennial, the ICA and the Smithsonian American Art Museum.
Founded in 1988, Vox Populi is a nonprofit artist collective that supports the work of under-represented artists with exhibitions, gallery talks, peformances, and lectures. Gallery hours are Wednesday - Sunday from 12-6 pm.
Vox Populi's programs are possible through the generous support of individual contributors, our audience and Board of Directors, and the following funders: Philadelphia Cultural Fund, Pennsylvania Council on the Arts, The William Penn Foundation, Philadelphia Exhibitions Initiative, The John S. and James L. Knight Foundation, Samuel P. Mandell Foundation, Samuel S. Fels Fund, Dolfinger McMahon Foundation, The Barra Foundation, and Google.
Artists: Julianne Ahn, Meaghan Bates, David Bowen, Adele Crawford, Kip Deeds, Marc Fagan, Christina Gundersen, Sinae Lee, Jen McCleary, Kate McCory, Jason Mena, Jason Scuilla, Rachel Sussman
Vox Populi Gallery
319 N 11th. 3rd Floor
Philadelphia, PA 19107
http://www.voxpopuligallery.org/
>
>
>
>