News 2020
>
>
>

The Studios (Postponed)
In residence from May 20 - June 16, 2020
MASS MoCA Massachusetts Museum of Contemporary Art
Massachusetts
The Studios is MASS MoCA's artist and writer residency program situated within the museum's factory campus and surrounded by the beautiful Berkshire Mountains. Operated by MASS MoCA's Assets for Artists program, the residency runs year-round and hosts up to 12 artists at a time. Artists of any nationality can apply for stays of 1-8 weeks, though most offered stays are 2-5 weeks.
The Studios at MASS MoCA's Puerto Rico Artist Fellowship has selected its third cohort of Puerto Rico-based artists to receive funded residencies of up to four weeks, including housing, studio space, daily meals, museum access, plus travel and living costs, for artists of all disciplines.
MASS MoCA's Assets for Artists program, selected artists receive private studio space on MASS MoCA's campus, newly renovated housing, free access to the museum's galleries throughout the residency, shared use of printmaking and weaving equipment, optional financial and business coaching from Assets for Artists staff, and a daily group meal.
The 2020 Puerto Rico Fellowship program is supported by the Dorothea L. Leonhardt Foundation, John & Janie Strachan, the Sustainable Arts Foundation, the Benjamin family and several anonymous donors.
https://www.assetsforartists.org/studios-at-mass-moca/
>
>
>
>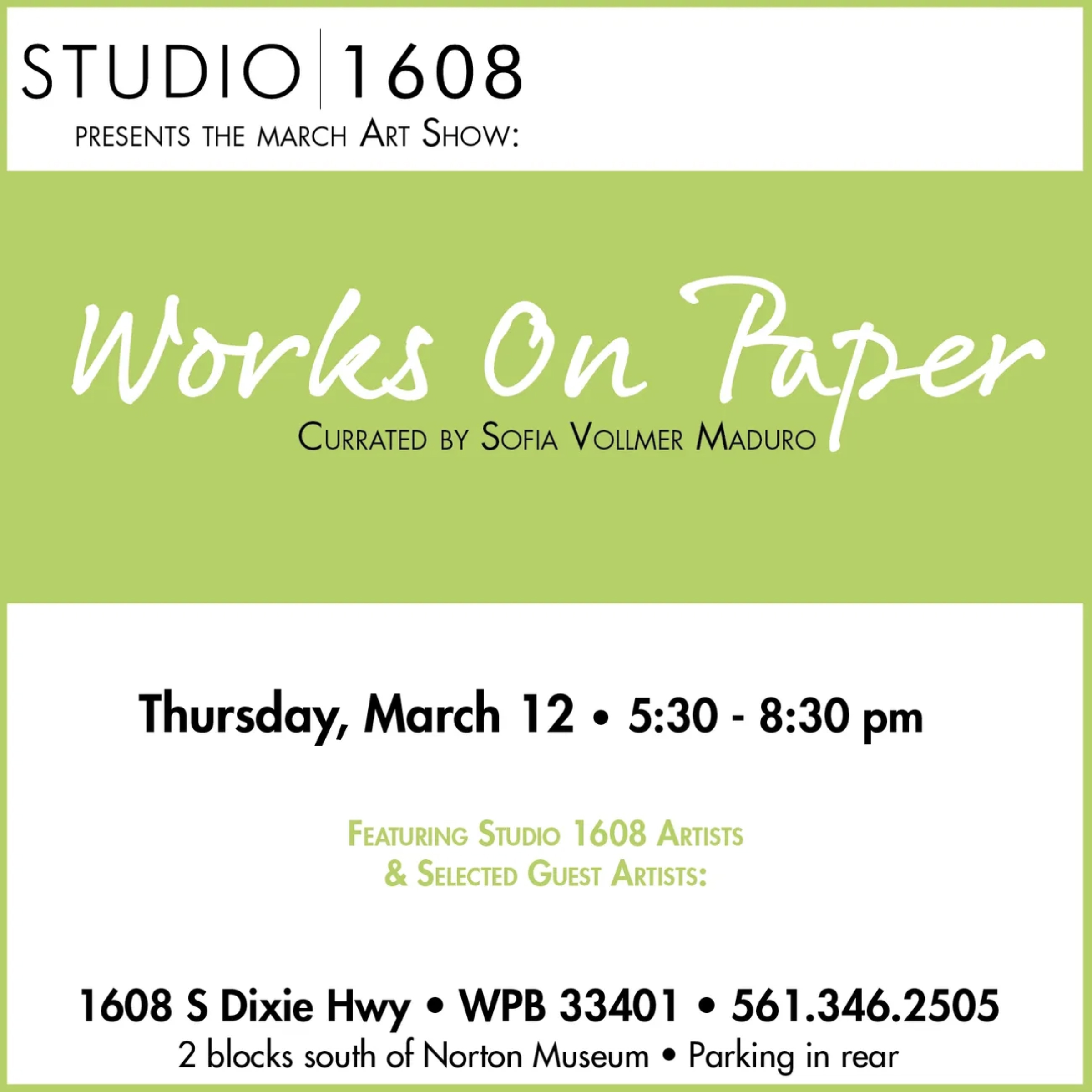 Works on Paper (Canceled)
Curated by Sofia Vollmer Maduro
Opening March 12, 2020 5:30pm - 8:30pm
Closing April 4, 2020
Studio 1608
West Palm Beach, Florida
"Works on Paper" is an art show exploring art on paper, highlighting differences in technique, style, and presentation. In addition to our wonderfully talented Resident Studio Artists, we have selected guest artists to show their incredible works on paper as well.
Sofia Vollmer Maduro is an internationally recognized art and photography expert and lecturer, who currently serves as Director of Education at the Society of the Four Arts in Palm Beach.
Artists: Bruce Helander, Adam Dolle, Maureen Fulgenzi, Camilla Webster, Clemente, Stephen Johnson, Ellen Liman, Mary Ourisman, Ezra Hubbard, Weatherly Stroh, Cloe Gibson, Charles Bane III, StrosbergMandel, Pamela Acheson Myers, Ann Friedlander, Paul Gervais, Jacqueline Benyes, Nuné Asatryan, Elle Schorr, Annette Colon, Jason Mena, Cara Arlette, Giulia Mangoni, Dan Leahy, Alexander Shundi, Alyssa Shuey, Erica Elliott, Sammi McLean, Leora Armstrong, Ingrid Schindall, Nita Miller, Fransisco Prettell.
https://studio1608.com/
>
>
>
>
>
>
>
>
>
>
>
>
>
>
>
>
>
>
>
>