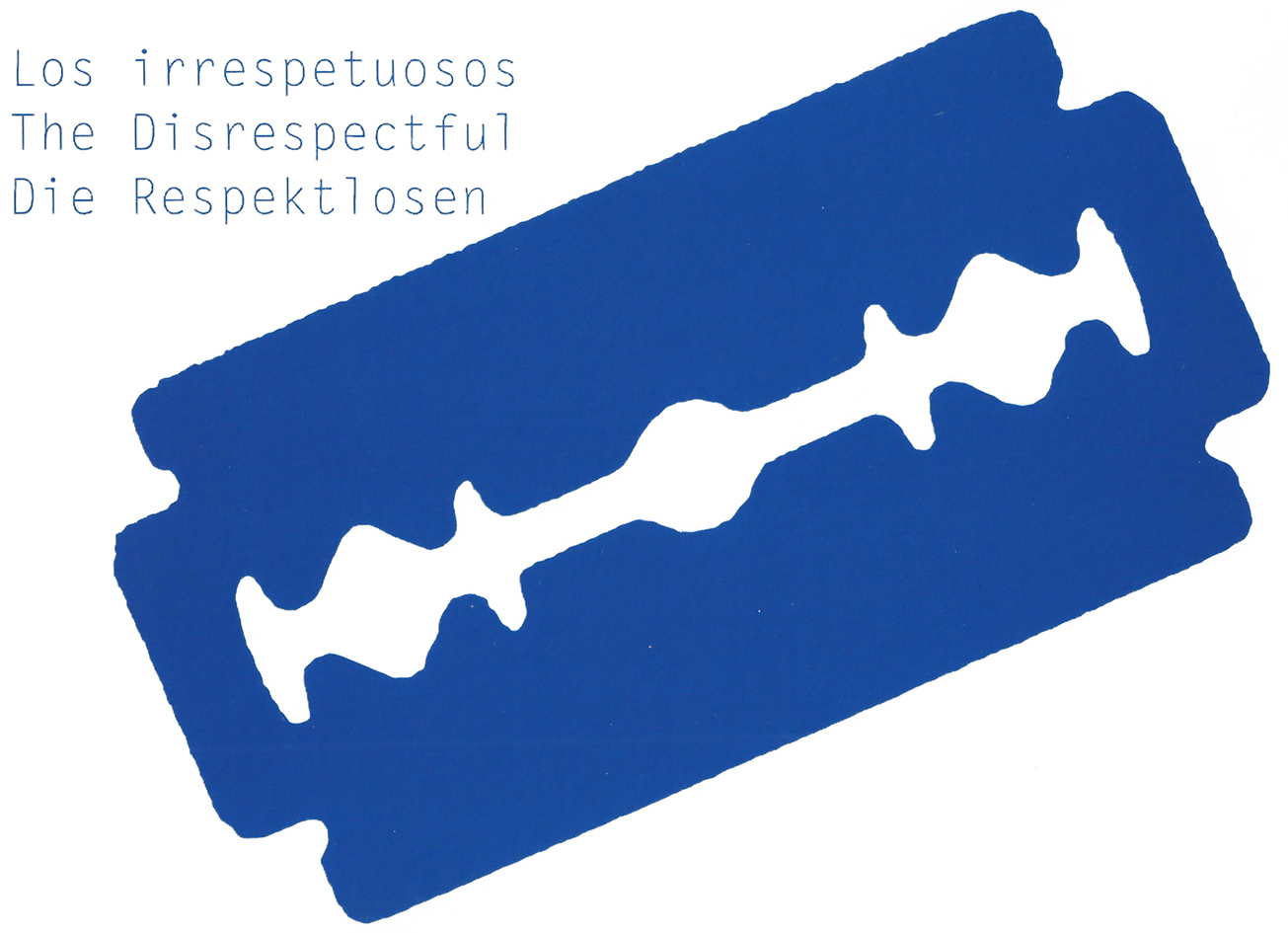 Los irrespetuosos / The Disrespectful / Die Respektlosen
Curador: Carlos Palacios
30 de noviembre del 2012 al 17 de marzo del 2013
Museo de Arte Carrillo Gill
Mexico D.F.
En la muestra participan 18 artistas de América y Europa reuniendo pinturas, instalaciones, videoarte y propuestas encaminadas al happening y el arte conceptual.
Este proyecto expondrá en el marco de una instalación de carácter museográfico de Pablo Rasgado (MX) específicamente concebida para el segundo nivel del Museo de Arte Carrillo Gil obras de los artistas Maria Anwander (AT), Eugenio Ampudia (ES), Ivan Argote (CO), Ivan Candeo (VE), Oscar Cueto (MX), Natalia Ibañez Lario (ES), Bernd Krauss (DE), Colectivo Metapong (MX), Diego Piñeros (CO), Oscar Santillán (EC), Cristian Segura (AR), el colectivo Texto Poético (ES) y Jason Mena (PR)
Estos artistas registran acciones específicas en video, pinturas, textos e instalaciones cuyos resultados pueden definirse más como gestos que como obras en sí mismas. Sus proposiciones denotan influencias relacionadas con tendencias culturales como el cine de acción o el video musical y sobretodo con prácticas ligadas al arte como el performance, el happening y el arte conceptual. Sin embargo, el tratamiento que estos artistas le confieren a este tipo de influencias dista de la reapropiación o la cita: Su inserción en estas obras es radicalmente irónica y cargada de cuestionamientos y sarcasmos hacia el mundo del arte a través de la figura del artista, el curador, el museo y la historia del arte.
De este modo las propuestas seleccionadas en Los Irrespetuosos / The Disrespectful / die Respektlosen reflejan una actitud mas condicionada por unas maneras cargadas de insolencia y sátira. De tal manera que aquello que en otro tipo de propuestas queda velado por la auto-reflexividad alegórica en estos videos, pinturas e instalaciones adquiere una direccionalidad muy determinante, gracias al impulso de un evidente ejercicio crítico hacia las instituciones artísticas. Sin ningún tipo de ambigüedades formales o conceptuales, estos creadores exageran sus discursos hasta convertir sus propias acciones en eventos de una radicalidad extrema y en gestos de una concreción directamente proporcional a la eficacia de su contundente discurso.
En este sentido, una de las imágenes más frecuentes en los videos y pinturas seleccionadas para este proyecto es la desacralización extrema a la obra de arte y del museo. Imágenes donde el propio artista arruina y se burla de pinturas canónicas de la modernidad histórica, como se puede ver en los videos de Ivan Argote o en la fetichización irónica del libro de arte como sucede en las pinturas, el video y el performance dirigido de Oscar Cueto o en la cita paródica al célebre Salto al Vacío de Yves Klein de 1960 que emprende de manera colectiva Natalia Ibañez Lario. El museo es también un tema para la desmitificación como una estrategia artística común a las obras de Eugenio Ampudia con la recreación de una carrera de motos de alta cilindrada a lo largo de las solemnes galerías del Museo del Prado o el lanzamiento desde la NASA del célebre Museo Guggenheim de Nueva York, criticando desde un doble registro tanto su notoriedad –donde sólo exhiben "estrellas" del sistema del arte- como su estratosférico "status" dentro de las más prestigiosas instituciones del arte en el mundo. Igualmente, las inserciones textuales de naturaleza conceptual del colectivo literario Texto Poético (conformado por David Pérez y Bartomeu Ferrando) apuntan a una desmitificación desde el ámbito editorial de la institución museística. Bajo similares argumentos críticos pero dirigidos hacia la naturaleza pedagógica del museo, los artistas del colectivo Metapong (Leonardo Marz e Isaac Muñoz) atacan a partir de una acción de repulsa inspirada en la película El Ángel Exterminador de Luis Buñuel, la obligatoriedad del Museo como un espacio para la educación artística. Por su parte, Maria Anwander añade de manera clandestina una obra a la colección del mítico Museo de Arte Moderno de Nueva York, MoMA: un performance donde besa apasionadamente las paredes del museo y añade una réplica de las tradicionales cédulas del Museo a su furtiva intervención. En otra obra que viene realizando desde 2004, Anwander se roba literalmente las cédulas de aquellas obras que más le gusta y las colecciona en una propuesta que se llama Mis obras de arte favoritas.
Por su parte el artista y el curador son a su vez temas de crítica e ironía. Ivan Candeo cuestiona desde el sarcasmo la supuesta "globalidad" del arte contemporáneo, burlándose del ejercicio de traducción que los artistas emprenden a partir de referentes ajenos a su cultura. Por su parte Jason Mena propone una "lectura" performática de un breve ensayo de Walter de Maria, Meaningless Work (1960) donde ejecuta acciones absurdas y "sin sentido", de acuerdo al texto "Boxes for Meaningless Work": "Cajas para el trabajo sin sentido. Transfiera cosas de una caja a la caja al lado, adelante y atrás, adelante y atrás, etc. Tenga en cuenta que lo que estás haciendo no tiene sentido" (Walter de Maria, Boxes for Meaningless Work, 1961). Bernd Krauss y Oscar Santillán cuestionan desde sus particulares puntos de vista a la figura del curador. Krauss convierte un acceso posterior del Centro de Estudios Curatoriales de Bard College en una rampa para lanzar al aire y de manera violenta, la única novela de un célebre curador iraní, casualmente un profesor de dicho instituto. Oscar Santillán realiza una sesión de espiritismo al curador de esta exposición, proyectando los últimos cinco minutos de la vida de éste. Por su parte Diego Piñeros entona una canción pop hacia su cámara de video mientras en la pantalla aparecen sentencias alusivas al éxito y el fracaso en relación a la propia figura del artista.
http://www.museodeartecarrillogil.com/
>
>
>
>

Wherever You Roam
Curated by María Elena Ortiz
NOVEMBER 3, 2012 - JANUARY 13, 2013
At The Collaborative
A project of The Arts Council for Long Beach and the Museum of Latin American Art (MOLAA)
California
Since the Arab Spring of 2010, the international community has witnessed numerous demonstrations and upheaval against the economic social structures of globalized society. Movements, like Occupy Wall Street and the Indignados in Spain, demand ethical solutions for unemployment and growing debt; yet neither of these groups has significantly impacted the complex network of state and international corporate power. Recently in Mexico City, a group of university students occupied the streets calling for clean elections. #YoSoy132 raised awareness on how the two main broadcasting companies in the country favored one presidential candidate. But, the student movement was unable to influence the outcome of the vote. Wherever You Roam is an exhibition that investigates the strategies used to demand democratic alternatives in current social events. The art works address protests, while promoting a reflection on the current mechanism of political engagement. With support to an opposing voice, the exhibition is interested on alternative means for emancipation.
Participants:
José Carlos Martinat's (Peru, b. 1974) Power Abstraction is composed of buildings and logos such as the Lehman Brothers building and the JPMorgan Chase logo. The public can interact directly on the piece. While Martinat offers a democratic space, the artist encourages graffiti and points to the current abstraction of social power in a globalized society.
Joaquín Segura (Mexico, b. 1980) affirms the ordinary aspects of the demonstrations that occur in Mexico City. In Exercise of Mutism, Segura takes a hand-made banner from a recent protest and paints white. The intervention re-signifies its original content to allude to a futile strategy of resistance.
With an ethnographic edge, Juan Caloca (Mexico, b. 1985) investigates the social implications of the disintegration of an electric company, Luz y Fuerza del Centro. A Government of Desks is composed of materials from the artist's archive of the national company. Founded in 1898, Luz y Fuerza was closed by the government in 2009. To this day, its union workers protest on the streets.
Jason Mena (Puerto Rico, b. 1974) documented the remnants of political demonstrations across Latin America and the Caribbean to capture the aesthetics of contemporary slogans. Making it Public is a series of photographs that narrate the semantics of a widespread discontent. Ironically, the photographs share a systematic resemblance that suggests the documentation of a single protest.
http://www.molaa.com/
>
>
>
>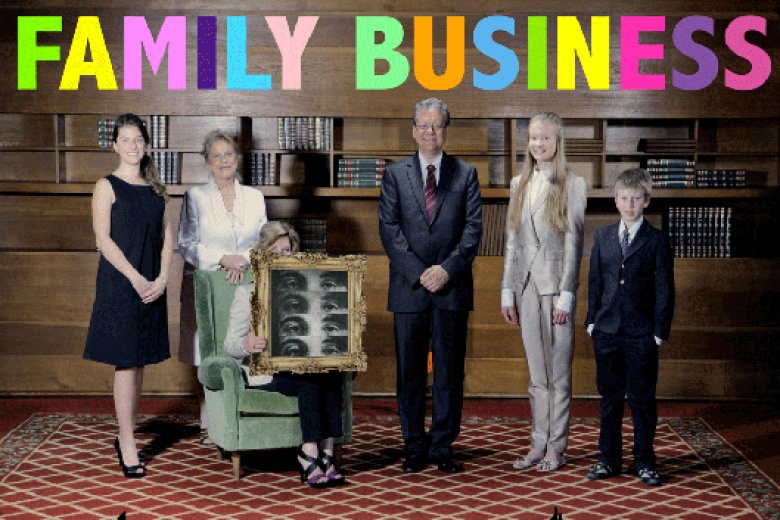 West 21st Street Drive-In (Leave Your Car at Home)
Family Business
New York
On October 26 at 7 pm, CCS Bard students present a reconfigured drive-in at Family Business. As a response to a very particular set of institutional and practical parameters, a cargo van will project work sourced from Bard MFA graduates on West 21st Street, displacing the gallery framework and repurposing the function of the vehicle as a presentational device. The content stems from the decision to bring together the BardMFA and CCS Bard programs, in a forced but perhaps fruitful collaboration.
Featuring:
Irina Arnaut
Jake Davidson
Ragnheidur Gestsdottir
Anton Ginzburg
Dani Leventhal
Jason Mena
Boru O'Brien O'Connell
Elizabeth Orr
About Family Business:
FAMILY BUSINESS is a new exhibition space initiated by Maurizio Cattelan and Massimiliano Gioni. Located in Chelsea, on 21st street and 10th avenue, FAMILY BUSINESS is a guest house – a place where friends, enemies, people we admire and respect are invited to present the works of artists they support and projects they believe in. FAMILY BUSINESS is the big brother of the Wrong Gallery, a minuscule space that Maurizio Cattelan, Massimiliano Gioni and Ali Subotnick ran in New York from 2002 to 2005. Just like the Wrong Gallery, FAMILY BUSINESS is a non-for-profit space open to experimentation and irreverent exhibition formats, right in the heart of Chelsea.
About the Center for Curatorial Studies:
The Center for Curatorial Studies at Bard College (CCS Bard) is an exhibition, education, and research center dedicated to the study of art and curatorial practices from the 1960s to the present day.
In addition to the CCS Bard Galleries and Hessel Museum of Art, the Center houses the Marieluise Hessel Collection, as well as an extensive library and curatorial archives that are accessible to the public. The Center's two-year M.A. program in curatorial studies is specifically designed to deepen students' understanding of the intellectual and practical tasks of curating contemporary art. Exhibitions are presented year-round in the CCS Bard Galleries and Hessel Museum of Art, providing students with the opportunity to work with world-renowned artists and curators. The exhibition program and the Hessel Collection also serve as the basis for a wide range of public programs and activities exploring art and its role in contemporary society.
The Center for Curatorial Studies at Bard College opened its doors in 1992. Celebrating its 20th Anniversary in 2012, CCS Bard presents a series of exhibitions by students, as well as a roster of international artists, working in a range of practices.
Center for Curatorial Studies and
Hessel Museum of Art
Bard College, PO Box 5000
Annandale-on-Hudson, NY 12504-5000
Tel: 845 758 7598
Email: ccs@bard.edu
http://familybusinessblog.tumblr.com/
>
>
>
>

Microarchivos
Curaduría : Eder Castillo
Exhibición colectiva
Medios Multiples
Inauguración: 3 de mayo 2012
Museo Ex Teresa Arte Actual
México DF
Microarchivos es un proyecto de exhibición colectiva que concentra el trabajo y los procesos de distintos artistas de la región centroamericana del caribe. Los proyectos seleccionados en su conjunto toman como punto de partido el archivo y su concepto como un espacio múltiple , allí donde el indicio, la prueba o el testimonio se concentran para conformar una propuesta artística, sea ya esta como documento, registro, archivo, u otro similar.
La intención es presentar proyectos que en si mismos puedan amplificar este concepto de "archivo" en una propuesta artística, ya sean estas como registro de acciones, video performance, documento u algún otro cuerpo que permita encapsularle como obra.
Las propuestas de los artistas contemplan obras en formatos diversos, que por si mismos no se presentan como la obra original, sin embargo es en el vestigio donde se encapsula la experiencia y desde donde se plantea esta exhibición en pequeño formato.
http://www.exteresa.bellasartes.gob.mx/
>
>
>
>

Tercera edición: Trienal Poli/Gráfica de San Juan, El Panal
Curadora en jefe: Deborah Cullen, PhD (Estados Unidos)
Equipo curatorial: Antonio Sergio Bessa (Brasil), Úrsula Dávila-Villa (México) y Rebeca Noriega (Puerto Rico)
Abril 2012
Antiguo Arsenal de la Marina Española
Puerto Rico
La tercera edición de la Trienal Poli/Gráfica de San Juan: El Panal/The Hive, explorará cómo la noción de la práctica gráfica descansa esencialmente en su espíritu colaborativo, enfatizando las redes sociales, reales y virtuales, en las cuales gente clave y prácticas convergen. Focalizándose en historias vinculadas y conexiones forjadas, sugerirá que el legado del espíritu del tradicional taller, sobrevive hoy a través de empresas compartidas que unen a la gente en espacios reales y virtuales, más que a través del aislamiento.
Esta edición de la Trienal examinará y enfatizará la importancia de la colaboración participativa en proyectos con una intención esencialmente gráfica. El Panal/The Hive presentará trabajos de reconocidos artistas y talleres del Caribe, Latinoamérica y Norteamérica y comisionará selectos artistas o grupos para desarrollar nuevos proyectos, creando eventualmente intercambios con talleres.
Artistas: CJA/Contrafuertes, Vargas-Suarez Universal, Camel Collective, Beta-Local, SOMA, Ana Gallardo, Tomás Espina, Sebastian Gordin, Paul Ramírez Jonas, Pablo Vargas Lugo, Matheus Rocha Pitta, Jaime Ruiz Otis, Jorge de León Sanchez, Carla Zaccagnini, Benito Eugenio Laren, Antonio Vega Macotela, Antonio Dias, Sérvulo Esmeraldo, Mestre Nosa, André Komatsu, Ida Applebroog, Waly Salomão, Alan Ruppersberg, Tim Rollins, Décio Pignatari, Ernesto Neto, Antonio Manuel, Dulce Gómez, Öyvind Fahlstrom, Lenora de Barros, Francisco de Almeida, Raymundo Colares, Alex Cerveny, Paulo Bruscky, Augusto de Campos, BIUTIFULCORBEJA, Mariana Yampolsky, Nemesio Antúnez, Siluetazo, Julio Valdez, Projecto GRÁFICA (Iliana Emilia García, Moses Ros-Suárez, Pepe Coronado, Scherezade García), Corita Kent, Diógenes Ballester, Myrna Báez, Tony Cruz, René Santos, Omar ObdulioPeña Forty, Miguel Luciano, Michelle Gratacós Arill, La Pandilla (Alexis Díaz, Juan Fernández), Frances Gallardo, Equis, Conboca, Coco de Oro, Chemi Rosado Seijo, Carlos Motta, BIP (Stefan Benchoam, Christian Ochaita), Beatriz Santiago Muñoz, Atarraya Cartonera, Antonio Martorell, Hatuey Ramos-Fermín, Omar Velázquez, Michael Linares, =DESTO (Raquel Quijano, Jason Mena, Omar Obdulio Peña Forty), Lorenzo Homar, Reuben Kadish, Harold Lehman, Marcos Dimas, Ester Hernández, Charles White, Lotty Rosenfeld, Rafael Ferrer, Asco (Harry Gamboa Jr., Gronk, Willie Herrón, Patssi Valdez), Bullet Space, Border Arts Workshop, Lasar Segall, Colectivo de Acciones de Arte (Lotty Rosenfeld, Juan Castillo, Fernando Balcells, Raúl Zurita, Diamela Eltit), Luis Arenal, Juan Sánchez, Nayda Collazo-Llorens, Papo Colo, Jan Henle, Guido Llinás, Robert Blackburn
http://www.trienalsanjuan.org/
>
>
>
>

The Dialectic City [Document | Context]
Curated by Carla Acevedo-Yates
November 17, 2011 – December 15, 2011
Laboratorio de Artes Binarios
Puerto Rico
"The urban phenomenon and urban space are not only a projection of social relationships but also a terrain on which various strategies clash"
-Henri Lefebvre, The Urban Revolution
"To capture a city in an image really means following its movement"
-Nicolas Bourriaud, The Radicant
The city is comprised of colliding elements; conflicting mechanisms that through movement create situations and actions. In constant flux and development, these dialectical relationships1 or strategies can be interpreted and reconsidered in spatial or temporal terms. Any given building in a city, measured through its façade and structural components, undergoes constant shifts in perspective defined by social, political or economic changes in the urban fabric. Insofar as social relations are concerned, we can sense a city's identity, culture and problematics through its streets, collected debris, people, and things. The city is not a place of permanent encounters or exchanges, but a site of temporal conversations, actions and situations. It is always changing, constantly moving. To deny movement in the city would be to deny its very substance and subsistence; movement itself being nearly impossible to imagine without space and time.
Taking as a point of departure this idea of movement and spatial/temporal transformation, "The Dialectic City [Document | Context]" gathers a group of works from 11 artists who seize the city as site and catalyst for artistic manifestations. Directly referencing the conceptual artistic strategy of documentation2, the works on display are documents implying very specific contexts, suggesting either explicitly or implicitly an action or situation that occurred in the city. They are context specific as well as time specific (Bourriaud), remnants and documents of the city, real or fabricated, continuously connoting motion, sign, and activity.
Artists: Francis Alÿs, Alexander Apóstol, Ivan Argote, Adriana Bustos, José Luis Cortés, David Lamelas, Jason Mena, Juan Alberto Negroni, Victor Sosa, Omar Velázquez, Norma Vila Rivero
Sponsors: Contempo Art Foundation Corp., Yellowmedia Group, Trápaga-Fonalledas Collection, GoPrint Puerto Rico, American Paper, Osviarte, Dsnotipo, AREA, Museo de Arte de Ponce
___________________________
1 When speaking of the dialectic, I am referring to Heraclitus' idea of dialectical movement, reintroduced and reworked years later by Hegel. Although Heraclitus never wrote directly about the dialectic, he is known for stating that "all is in a state of flux" referring to dynamic principles of contrasting and conflicting opposites.
2 Conceptual art includes practices where the final work can only be evidenced through notes, photographs or maps.
http://carlaacevedo.com/
>
>
>
>

Muestra Nacional de Arte
Arte en el medio: 35 Años de Fotografia en Puerto Rico
Curadora: Mercedes Trelles Hernández
Jueves 15 de septiembre de 2011 / 7:00 p.m.
Instituto de Cultura Puertorriqueña
Antiguo Arsenal de la Marina Española
La Puntilla, Viejo San Juan
Puerto Rico
T. 787 725 8320 / 787 724 1877
http://www.icp.gobierno.pr/
>
>
>
>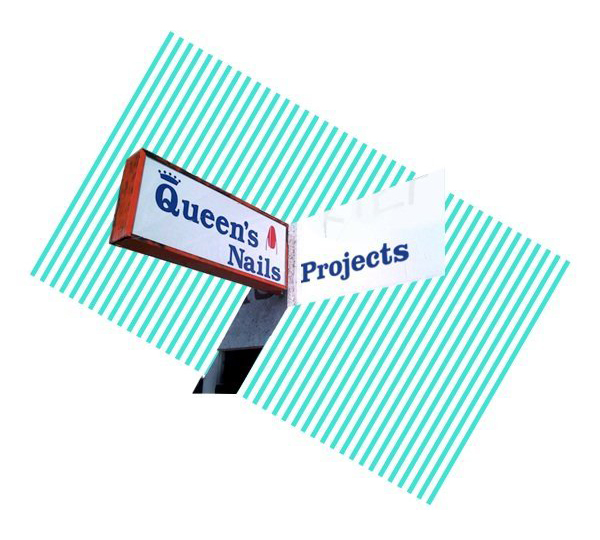 SF Tropical Part II
August 13 - September 3, 2011
Opening Reception, Saturday August 13, 8-11pm
Queens Nails Project
San Francisco
As fog hovers over the bay, we lament the loss of summer. Naturally, we physiologically expect warm sunny days, and why not? A tropical San Francisco summer might be nice. By default the tropics are a construction, both by geography and by culture, equally defined by authentic characteristics as well by fantasy, commerce and desire. The tropical, as adjective, sets itself to the constant challenge of balancing its multiple realities and the expectations placed upon its self. Like many other contradictions it faces the very fact that in every cliché there is always some truth close to the stereotype.
The exhibition SF Tropical attempts to explore these realities and work as a hub while playing off stereotypes that will produce two group exhibitions and a series of one-off events during the summer in San Francisco at Queens Nails Projects.
Artists: Facundo Argañaraz, Sofía Cordoba, George Kuchar, Eamon Ore-Giron (DJ Lengua), Tim Sullivan and Chris Corrente, Jason Mena, Haden Nicholl and Jenifer K Wofford
Special Music Performance: Juan Luna-Avin and Josh Pieper on Opening Reception, Sat Aug 13 ChuCha Santamaría y Usted on Closing Reception, Sat Sep 3
http://queensnailsgallery.com/
>
>
>
>

Hotel Charleroi Artist Residency
From July 4 to July 24, 2011
Hainaut Province's Museum of Art
B.P.S. 22
Charleroi, Brussels
Charleroi is a city and a municipality of Wallonia, located in the province of Hainaut, Belgium. By January 1, 2008, the total population of Charleroi was 201,593.[2] The metropolitan area, including the outer commuter zone, covers an area of 1,462 square kilometers (564 sq mi) with a total population of 522,522 by January 1, 2008, ranking it as the 5th most populous in Belgium after Brussels, Antwerp, Liège, and Ghent.[2][3] The inhabitants are called Carolorégiens or simply Carolos.
Hotel Charleroi is a flexible structure initiated by three European artists who would like to live and work in Charleroi. Located 60 km south from Brussels, Charleroi is a decaying industrial town with all associated symptoms - high unemployment rate, rising criminality, corruption affairs, etc. Its surrealistic urban landscape, reminiscences from an intense industrial past (slag heaps, steel factories) along with numerous irrational public infrastructures planned in the sixties (metro, ring road on viaduct), doesn't fit at all with its relatively small scale (pop. 400 000).
In fact, Charleroi offers a very condensed overview of how Modernity developed in Europe and which social and economic problems resulted from it. The city nearly didn't change since 30 years, and this makes it a very interesting investigation field for us, as it leaves everything open for a new generation of artists to position itself on its modern -and postmodern- heritage.
We share our interest in the city by organizing sleeping facilities in Charleroi and inviting contemporary artists from all over Europe for short or long-term residencies. We propose the residents to use the city as a studio or laboratory for interventions of all kinds. We can organize a place to stay and to work, but are not able to provide any financial support as we finance everything ourselves. However, we count on the enthusiasm of local institutions and establishments to create networks and opportunities in Charleroi. We understand our non-institutional status as an advantage to create a dynamic platform, able to adapt itself to every occasion it encounters.
The BPS22, the Hainaut Province's Museum of Art in Charleroi, is an exhibition space especially dedicated to art forms focusing on current social issues (cf. PHILOSOPHY).
http://bps22.be/
>
>
>
>

Lights Out for the Territory
April 09-30, 2011
ADM Galeria
Avenida Monterrey 215
Col. Roma Norte
Mexico D.F.
Graffiti is and has always been an overt political act. It's purpose: to claim ownership of the public sphere by denouncing social and political inequalities. Considered by many as a form of defacement, graffiti is perhaps one of the only true democratic mediums, at times sacrificing aesthetic formalism for ideological substance. But its invasion into the urban landscape is also plagued by another type of subversive act; its erasement, which is as much of a political act as the writing on city walls. The graffiti's erasement at times makes it even more conspicuous. In any case, both are acts that stand for transgressions on our urban landscape. As pedestrians of the city, we are inevitably forced to take in this visual psychogeography. But without a doubt, what is in the public domain, so to speak, is for the public to dispose of as it pleases. So then, who is really staking a claim in the public sphere?
The photographic series Lights out for the territory, a title taken from the book by Iain Sinclair, is comprised of photographs of erased graffiti of political messages on the streets of a couple of cities visited in the past few years. These images rebel against themselves and make us question the true nature of the political.
http://centroadm.com/
>
>
>
>

An Exchange with Sol LeWitt
A two-part exhibition presented by Cabinet and MASS MoCA
Curated by Regine Basha
Massachusetts Museum of Contemporary Art
Prints and Drawings Gallery
North Adams, Massachusetts
The story of Sol LeWitt's exchanges with other artists is widely known. Though most artists engage in this process at one point or another, LeWitt seemed fully committed to it as an artistic code of conduct, a way of life. Eva Hesse, Robert Mangold, Hanna Darboven, and Robert Ryman are just a few of LeWitt's celebrated contemporaries with whom the artist exchanged works. Such exchanges were not limited to well-known artists — LeWitt consistently traded works with admirers whom he did not know but who had nevertheless sent their work to him, as well as amateur artists with whom he interacted in his daily life. LeWitt's exchanges —- he responded to every work he received by sending back one of his own -— fostered an ongoing form of artistic communion and, in some cases, a source of support and patronage. The Sol LeWitt Private Collection retains all of the works he received, as well as a record of what he offered in return.
For LeWitt, the act of exchange seemed to be not only a personal gesture but also an integral part of his conceptual practice. In addition to encouraging the circulation of artworks through a gift economy that challenged the art world's dominant economic model, LeWitt's exchanges with strangers have the same qualities of generosity, and risk, that characterized his work in general. This kind of exchange was designed to stage an encounter between two minds, outside the familiar confines of friendship.
If we consider the process of exchange as another of Sol LeWitt's instructional pieces, then the rational (or irrational) thing to do is to continue to exchange work and ideas, if only symbolically, with him.
This exhibition, a curatorial project by Regine Basha, springs from a call to those who share an affinity with Sol LeWitt's legacy as a conceptual artist to those who knew him and those who did not—to anyone who has ever wondered, "What would Sol LeWitt like?"
List of all participating artists and their work: PDF
Book "An Exchange with Sol LeWitt": PDF
Cabinet: January 21, 2011 – March 5, 2011
Opening reception: Thursday, January 20, 7–9 pm
http://www.cabinetmagazine.org/
MASS MoCA: January 23, 2011 – March 31, 2011
Opening reception: Saturday, January 22, 4:30–6:30 pm
http://www.massmoca.org/
>
>
>
>

A Piece of Cake
Curated by Ruth Baler Lubin
Opening Thursday, January 6 at 19:30
January 6, 2011 - January 30, 2011
Zaritsky Artist House
Tel Aviv, Israel
The Artist and Sculptures Association was founded in August 1934 in Tel Aviv. The association is a non-profit organization whose objective is helping artists and taking care of their professional and social needs. Over the years it has grown and developed its own programs: painting, drawing an printing workshops as well as lectures, symposia, and gallery spaces.
Founded in 1945, predating the country's independence by three years, the Artist's House was conceived by the Artist's association as a publicly funded space for education, community activity, and exhibitions. It was posthumously named after the artist Joseph Zaritsky, a central figure in creating an authentic Israeli voice in representational art.
The venue features seven autonomous exhibition spaces whose contents change on a monthly basis, offering a stage for both retrospectives and debuts of local talent. The center caters to various mediums of art, and the exhibited works are usually not thematically or contextually related.
Spanning two buildings and several open spaces, the Artist's House is a labyrinthine complex that can simultaneously host sculpture classes and free-form jazz performances. The leafy, suburban atmosphere of this North Tel Aviv district is disrupted on a monthly basis when the center hosts its openings.
Artists: Uri Gershuni, Jason Mena, Avital Yogev, Jenifer Bar Lev, Gil & Moti, Dean Baler, Amit Cabessa
http://artisthouse.co.il/
>
>
>
>

We all shall play in the ruins
November 12, 2010 – January 14, 2011
Luis Adelantado Gallery
Valencia, Spain
"The space of our physics, like the space of our daily lives, is thus a mere construction; an architecture thrown up by perception of the phenomena that surround us and thereby shape, for all of us, this "landscape of events" that makes philosophers and scientists mere humble landscape artists."
-Paul Virilio, The University of Disaster
We all shall play in the ruins comprises photography, installation, video, and drawing. Informed by Paul Virilio's take on the speed of post-modern society, Mena seemingly creates a 'landscape of events' where motion and velocity translate to both destruction and construction. Throughout the exhibition objects and images suggest movement in various explicit and even subtle ways. A central part of the exhibition is the photographic series Points of View, where Mena uses architecture to challenge the viewer's perception. By focusing on the malleability of perception, these images not only delineate the fragility of contemporaneity but also the apparent imperceptibility of our urban reality. Letting Go of Conceptual Approaches, a series of abstract monochromatic images shows the effect of a photochemical reaction of sunlight with hydrocarbons and nitrogen oxides that have been released into the atmosphere mostly by automotive emissions and industrial plants. A paradoxical image as we find beauty in polluted skyscapes.
Jason Mena's work entails a multi-faceted approach to contemporaneity that, drawn from conceptualism and minimalism, reveals the complexities and contradictions of the ever-increasing urbanization of space. The City and its architecture become the main protagonist and consequently witness of the post-modern condition. Reality and fiction converge, they appear and disappear in the urban landscape, provoking multiple reactions and interpretations. Working with different media, mainly photography, video, and installations, Mena reacts to his surroundings and eerily reminds us that appearances can ultimately be deceiving. His work leads to a profound criticism of the constant simulation of culture, the speed of urbanization and the accelerated decay of our social and political climate.
http://www.luisadelantado.com/
>
>
>
>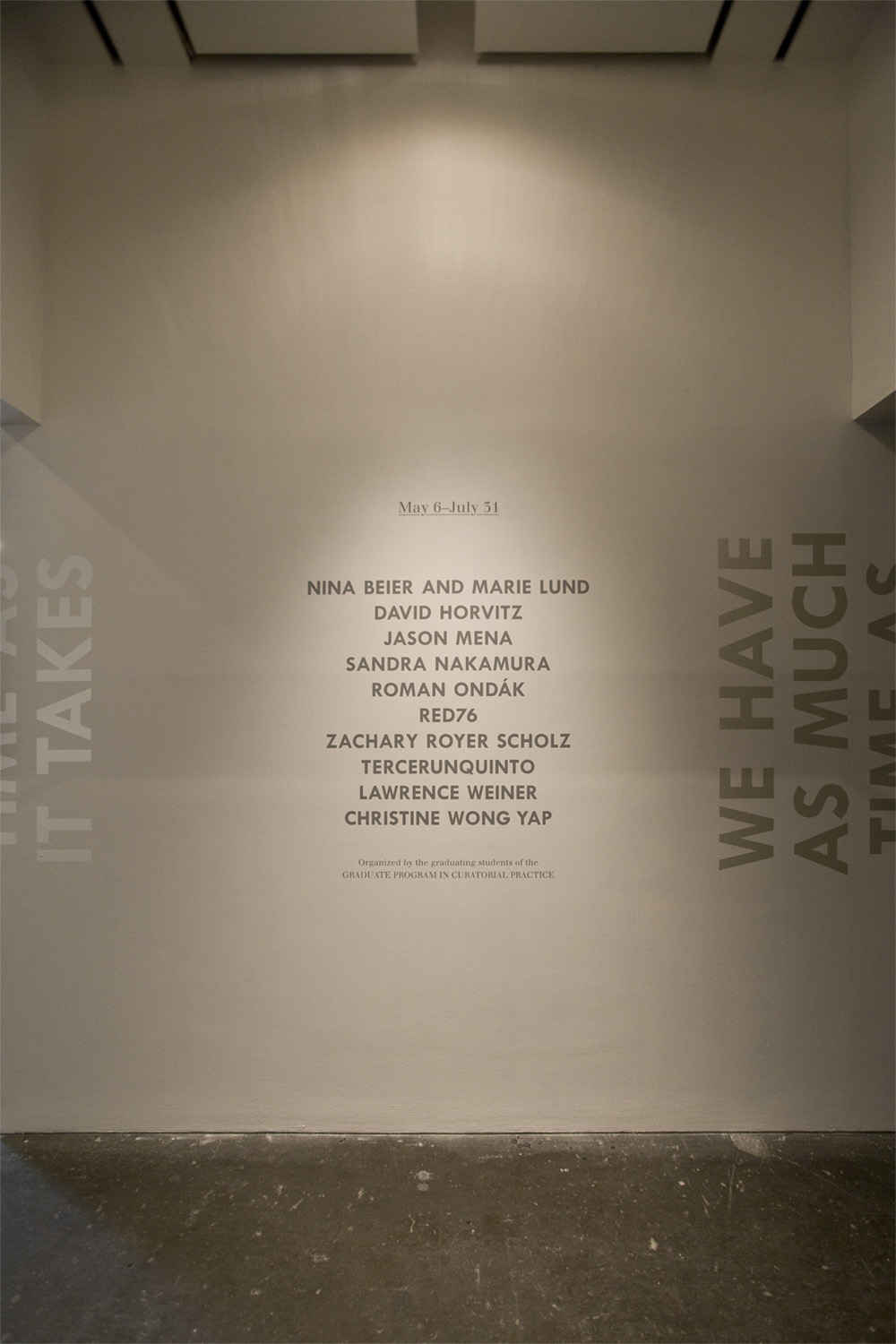 We have as much time as it takes
05.06.2010 - 07.31.2010
CCA Wattis Institute for Contemporary Arts
San Francisco, California
We have as much time as it takes calls attention to the multiple conditions that determine artistic display in the CCA Wattis Institute for Contemporary Arts. As an art gallery located within an educational institution, the Wattis Institute requires the steady production of tangible, professional results. Responding to this situation, We have as much time as it takes presents practices that directly or symbolically, the often unquestioned and overlooked systems and economies related to such a situation. The show features 10 international artists and collectives working in a variety of media, including sculpture, installation, performance, and video. Many of the works are new, site-responsive commissions created especially for this exhibition.
Participating Artists:
Nina Beier and Marie Lund, David Horvitz, Jason Mena, Sandra Nakamura, Roman Ondák, Red76, Zachary Royer Scholz, Tercerunquinto, Lawrence Weiner, Christine Wong Yap
We have as much time as it takes questions and highlights expectations of achievement, productivity, and established systems of management that make up the programs and academic mission of the Wattis Institute and CCA. The artworks converge and intersect in ways that confront exhibition-making's usual emphasis on visibility and timeliness, not to mention academic and institutional deadlines. The works embody circular processes, resist completion, welcome change, and refute demands for definable results and resolution. They challenge the conventional form of the art object and the traditional parameters of exhibitions.
The title comes from the 1957 film 12 Angry Men, a dramatic play that takes place entirely in a jury room where 12 men must agree on a verdict. At one point, juror number eight argues with his fellows for more time in order to adequately review the case. The exhibition's themes emphasize careful deliberation, cooperation, and consideration, and the title points out the complex processes behind the organization of an exhibition, especially given our added challenge of 12 curators needing to come to agreement. The title is indeed also a wry, tongue-in-cheek commentary on the finality of a graduate degree.
Lawrence Weiner's architectural intervention quite literally exposes the inner structure of the gallery while addressing issues of authorship and instruction. Nina Beier and Marie Lund, as well as Sandra Nakamura, expose the often-unquestioned systems underlying art, academic institutions, and their relative economies. Roman Ondák's work suggests a utopian no-time, a dream in which the calendar's demands are never met. Christine Wong Yap's shadowy statement satirically points to its own unobtainability. Jason Mena's constant movement and reorganization of common classroom objects refers to the human drive to create systems and questions the productivity of such behavior, thus resonating directly with the context of an educational space. David Horvitz's projects utilize existing systems of distribution and publication established by institutions and exhibitions. Zachary Royer Scholz engages with the detritus of the gallery and the materials of exhibition making to create temporary, conditional sculptures.
Two collectives will present newly commissioned pieces that engage directly with the venue. In an effort to define and call attention to the physical circumstances of CCA and the Wattis Institute, Tercerunquinto's work will involve changing existing spatial dynamics by manipulating the architectural elements of public and private spaces. Red76's central concern is to come to terms with the world and to redefine those terms—to imagine "what would happen if … ?"
We have as much time as it takes is curated by second-year students about to receive their master's degrees from CCA's Graduate Program in Curatorial Practice. The students are Jacqueline Clay, Nicole Cromartie, Courtney Dailey, Emily Gonzalez, Jacqueline Im, Kristin Korolowicz, Sharon Lerner, Katie Hood Morgan, Maria Elena Ortiz, Arden Sherman, Joanna Szupinska, and Josephine Zarkovich. The show has been developed with the support of Magali Arriola, adjunct professor; Julian Myers, assistant professor; and Claire Fitzsimmons, Wattis Institute deputy director. This is the first time that the program's thesis exhibition has been presented in the Wattis galleries, and its opening is timed to coincide with the openings of CCA's collegewide graduate thesis exhibitions. We hope in this way to deepen the relationship between our program, the Wattis's programming, and CCA's academic life, and to generate interdisciplinary discourses. Our status as students and curators-in-training within an educational institution and professional environment is underscored by the show's ambition to explore the possibilities, and the limitations, of its very specific setting.
Designed by Jon Sueda / Stripe, the exhibition catalog features interviews with each of the artists; a project by Matthew Rana, a student in the Graduate Program in Visual and Critical Studies; and texts by the local poet Jasper Bernes and the writers Erica Levin and Daniel Marcus. The publication is available as a downloadable PDF.
A dynamic series of public programs will take place over the exhibition's three-month duration, both inside and outside the gallery. On May 18 from 7–10 p.m. there will be a one-night-only screening of James Benning's 2005 film One Way Boogie Woogie / 27 Years Later accompanied by a reception and other events. There will also be workshops with participating artists Sandra Nakamura and Red76. Check the Wattis calendar for upcoming events.
Many thanks to the Getty Foundation for its support of Magali Arriola's participation in the Exhibition Project course.
Founding support for CCA Wattis Institute for Contemporary Arts programs has been provided by Phyllis C. Wattis and Judy and Bill Timken. Generous support provided by the Phyllis C. Wattis Foundation, Grants for the Arts / San Francisco Hotel Tax Fund, Ann Hatch and Paul Discoe, and the CCA Curator's Forum.
http://www.wattis.org/
>
>
>
>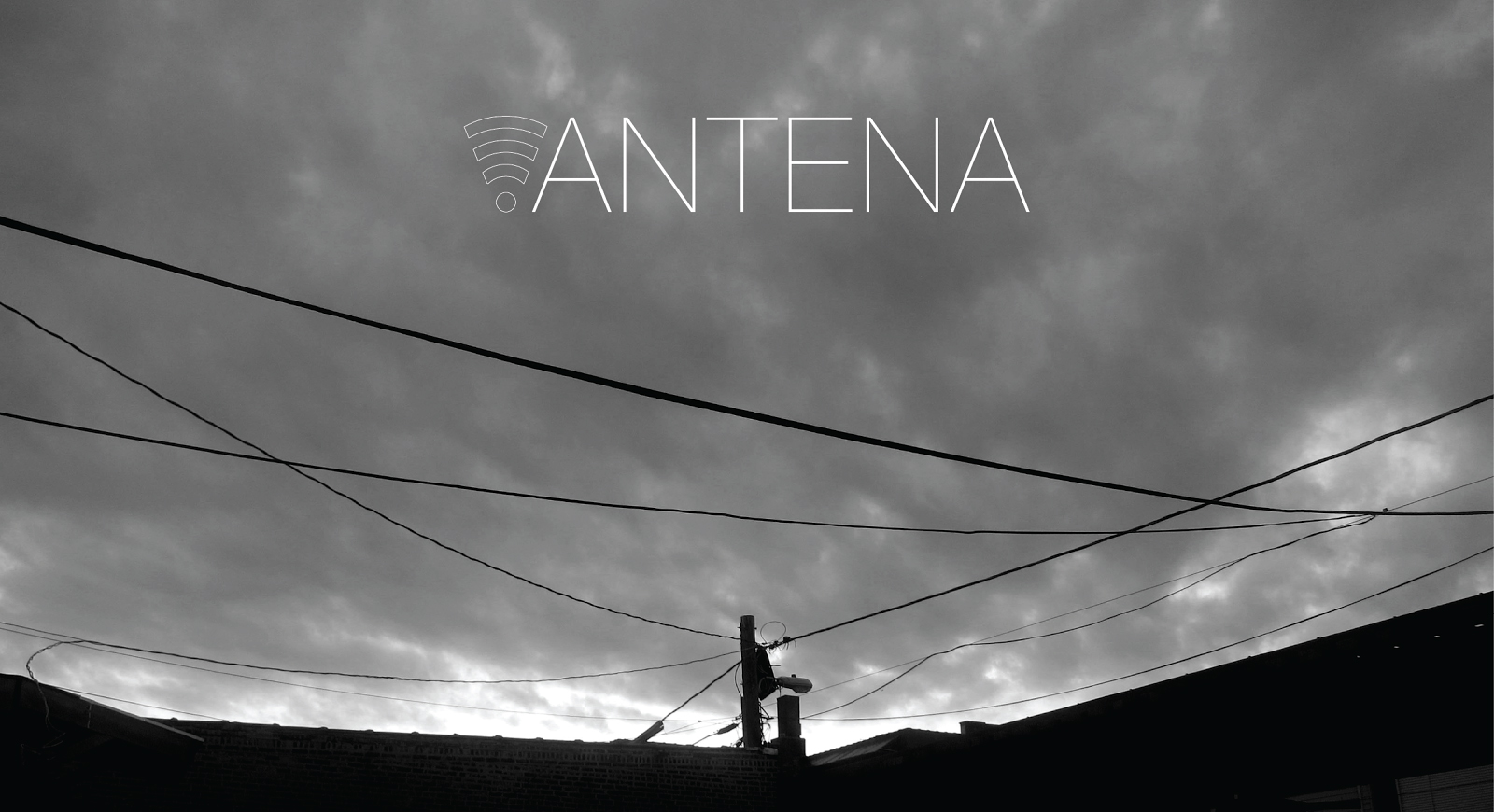 Zombie: A Mindless Affair
Curated by: Edra Soto
Opening Friday, October 23 - November 21, 2009, from 6pm-10pm
Antena Pilsen
Chicago
Artists: C Through Outfit (Erik Brown, Catie Olsen, Carl Warnik and Dawn Reed), Deborah Boardman, Nate Lee, Jason Mena, Mindy Rose Schwartz, Amanda Browder, Derek Chan, Christopher Simkins, Chris Smith, Ann Toebbe, Harold Mendez, Paul Nudd, Noah Berlatsky, Vladimir Kharitonsky, Dana Peters, Gretel Garcia, Susannah Kite Strang, Rachel Hewitt, Corinne Halbert, Bert Stabler, Beatriz Monteavaro, Miguel Cortez, Edra Soto, Candace Briceno, Death by Design Co. (Teena McClelland and Michelle Maynard), The Wiener Girls (Sydney Croskery and Katey Rafanello), Betsy Odum, Jen Thomas and Bobby Lively, Jacob C. Hammes, Andrea Jablonski, Jeff Libersher, Aide Martinez
Project Wall Space: Irene Perez
Zombie: A Mindless Affair: Celebrations that invite us to observe a historical occurrence are still strongly practiced in contemporary culture. Halloween, as celebrated in America, profoundly depicts the strongest features from gothic and horror literature, film, TV, and graphic arts. Among the repertoire of traditional characters, the zombie distinguishes itself for possessing the biology and behavior of a normal human being, yet lacks consciousness. This exhibition uses the vernacular of the mythological zombie as a starting point to engage in ideas of death, mindlessness and symbolism for the occult and inexplicable. The term zombie also intends to address issues referring to the mindless self in a social spectrum: leading and following; acts of automatism and fanatic behaviors.
Opening: Friday October 23 from 6pm-10pm / October 23 - November 21, 2009
From 6:30 - 7:00 pm on opening night: Join author Scott Kenemore, artist Mindy Rose Schuartz and collaborators Teena McClelland and Michelle Maynard from Death by Design Co. in conversation. They will talk about the darkness that enlightens their work. Screening of the film made by Death by Design Co. immediately after the conversation. Moderated by Edra Soto
Antena Pilsen
1765 S. Laflin St.
Chicago IL 60608
(773) 257-3534
antenapilsen@gmail.com
Hours: by appointment only
http://www.antenapilsen.com/
>
>
>
>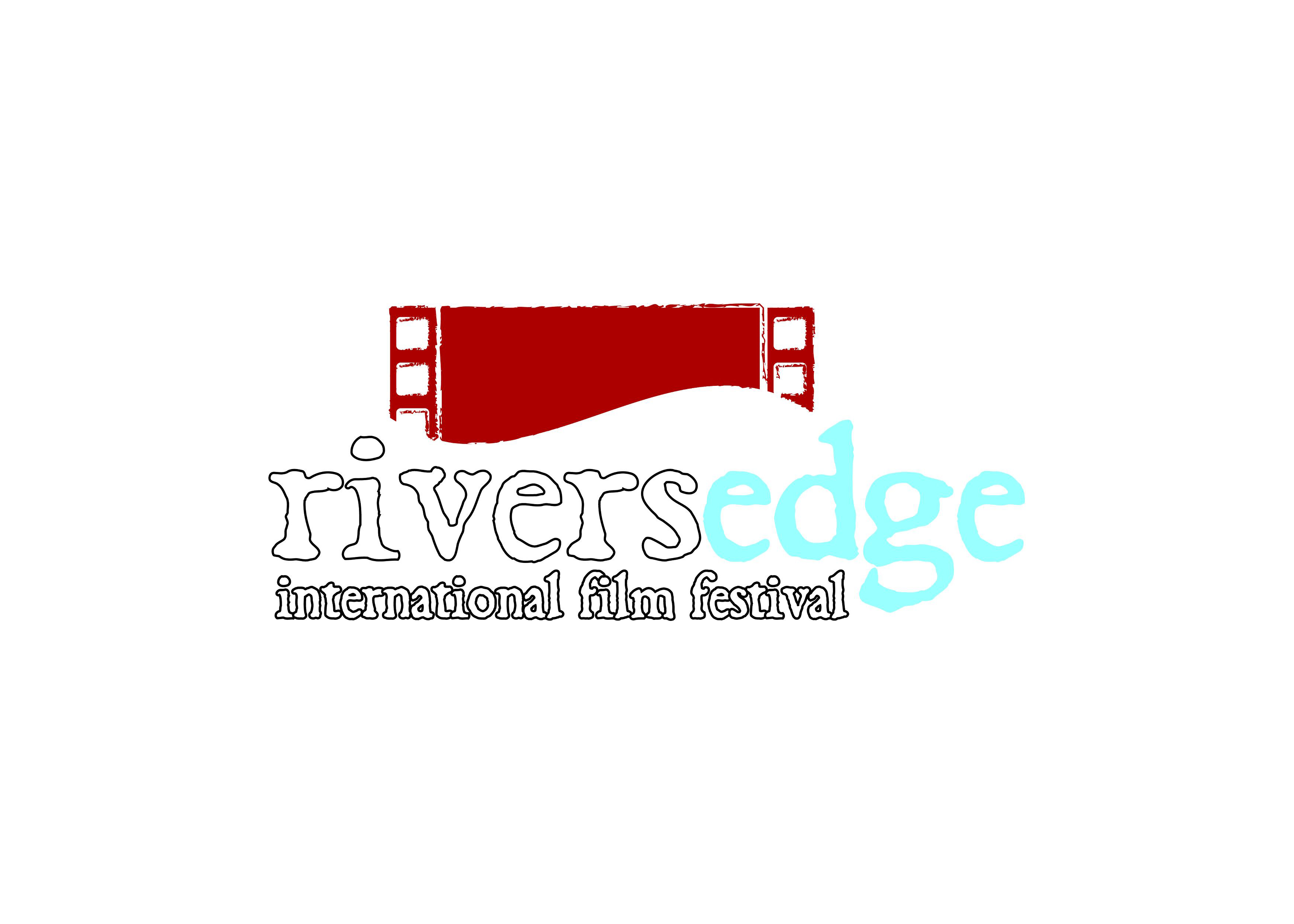 Temporary Cities
International ArtExpo Collection
River's Edge Film Festival
August 16-19, 2007
Maiden Alley Cinema, Market House Theatre & Yeiser Art Center
Paducah, Kentucky
The River's Edge Film Festival is a four-day event built around the showing of quality independent film from around the world. Our focus is both on the film lover, providing multiple venues in which to experience the best the world of cinema has to offer, and on the filmmaker, offering opportunities for exhibition, education, and networking with contemporaries. There will be four screening venues, and International ArtExpo Collection will be screened twice during the festival. Festival staff will introduce each film or film series before the screening and a question and answer period will follow each film if the filmmaker is present.
The festival will be held in multiple venues, including Maiden Alley Cinema, Market House Theatre and Yeiser Art Center, which are all within walking distance of one another.
Artists
Pui Lee
Sarah Tremlett
Roberto Testori
Yousuf Saeed
Andrea Abbatangelo
Liu Chuanping
Nicola Evangelisti & Richard Journo
Giusy Lauriola
Stefano Fanara
Anders Bojen & Kristoffer Orum
Hubert Dobler
Ariane Maugery
Lisa Yachia
Jason Mena
Enrico Ferrari Ardicini
David Etxeberria
Ellen McAuslan
Luca Curci
Wendelin Buechler
Alessandra Eramo
Miguel Ribeiro
Trish Scott
Ye Leen Lee
Rui Mourao
Eva Angelo
Joclecio Azevedo
Xavier Gavin
Marta Alvim Marinho
Patricia Alex
Marcela Pavia
Richard del Rosso
http://www.riversedgefilmfestival.com/
>
>
>
>

MadridFoto
Feria Internacional de Fotografía
Del 7 al 10 de mayo, 3009
Galería Luis Adelantado
Pabellón 6
Madrid
Artistas Representados:
Aggtelek
Sophie Calle
Andes Carretero
Oscar Carrasco
Marco Castro
Anthony Goicolea
Jason Mena
Priscilla Monge
Jose Noguero
Miguel Rael
Monserrat Soto
Eduardo Sourrouille
Carles Congost
Alex France?s
Susy Gomez
Omar Uren?a
Richard Orjis
Dario Villalba
http://www.luisadelantado.com/>
>
>
>

X International Call for Young Artists
Tuesday, August 5 - September 15, 2008, from 8 - 11 pm
Galeria Luis Adelantado
Valencia
As is becoming a habit at the Gallery during the month of August, we will be presenting the exhibition with the artists selected for the X International Call.
The call is born with the firm commitment to promote and to support the artistic creation, as well as to promote all those new media that shape our contemporaneousness.
Like every year, the level of participation has been quite high, with a total of 630 portfolios, many being from Latin-America and Europe. The selection has like always, been based on the criteria of internationality, quality, professionalism and above all originality that has nothing to do with nationality, gender or style. This year being the tenth anniversary, we wanted to make a small change in the selection, that in past edition has been more numerous in the order of 30-35 artists. So the number of artists in this edition has been reduced to 12, in order to give room to more spacious projects and to give the artists the possibility to develop their individual creations to a larger extent.
Through this call, our intention is to get in touch with the new generation of artists and to give them the opportunity to develop their work in a professional environment. At the same time, this is an opportunity for the gallery to know by first hand, what is going on in the area of the most contemporary art. As a result, creating a line of collaboration with new artists, that can end up forming part of the group of the artists of the gallery. We would like to thank all those that throughout the years have presented their interest in the gallery and to express our satisfaction with the quality of the presented works and portfolios. Finally and although we have to admit that it has been very difficult to leave out proposals that we found interesting, encouraging those to try again in future calls, we can say that the result is very varied and of very high standards.
The Gallery Luis Adelantado, a five-story building located in the historical center of Valencia, is dedicated to the promotion and diffusion of contemporary artists of international relevance. The galleries activity is particularly focused on the support of young artists whose work is guided by the latest trends within the panorama of today's plastic and visual arts.
http://www.luisadelantado.com/
>
>
>
>

Attitude Festival: Video / Short & Experimental Film / Photography
December 28, 2006 – January 28, 2007
Magaza Cultural Center
Gallery Magaza
Bitola, Macedonia
In collaboration with: International Art Expo, Italy, Italy/ The One Minutes Foundation, Amsterdam/ Jovan Balov-Prima Center Berlin-Skopje/ Zoran Petrovski-Museum of Contemporary Art-Skopje/ Melentie Pandilovski-Experimental Art Foundation, Addelaide-Australia/ Skip Blumberg,New York USA/ Anna Tsouloufi-Lagiou,Athens-Greece and with the support from USA Embassy in Skopje,Macedonia and media support from TERA television
Festival ATTITUDE which is going to live through its third realization this year, will be opened on 28th of December 2006 at 20.00 with the exhibition of photographs by 17 artists: Dominique Panhuysen (Netherlands) / Yane Calovski (Macedonia) / Charles Citron (Netherlands/USA) Jana Kunovska (Macedonia) / Orit Ishay (Israel) / Aleksandar Grozdanovski (Macedonia) / Marina Gertsovskaya (Russia/Germany) /Tim Deussen (Germany) / Chris de Lutz (USA/Germany) / Darko Moraitov(Macedonia) / Vladimir Knezevic (Macedonia) / Iwona Borkovska & Lucina Viale (Poland/Germany) / Beti Avramovska (Macedonia) / Valentin Dimanovski (Macedonia) / Marina Lyubaskina (Russia/Germany) / Ljupco Temelkovski (Macedonia) and the projection of videos and short films at Cultural Center "Magaza" starting from 20.30. The next day (29th December) the projections will start at 12.30 and at 20.30. On 30th of December, they will start at 12.30 and at 21.00 with the experimental feature "The Judge" by Macedonian artist Zaneta Vangeli. The exhibition of photography will be opened until 28.01.2007.
All selected works are focused on the problem which as a concept (and a question) of this project has been posed: The artist's attitude is the most authentic expression of what is going on in the society. In a world where the individual is rejected because of the power of any kind and in a world in which all spheres of interest are focused on globalization, the power of the artist could be the strongest weapon against it. Can the artist be identified through his (her) own act of creating (as the most important one) considering the fact that the new visions and attitudes are changing the image of the future world?
Artists:
Tracy Cornish, Australia
Tim Deussen, Germany
Mamta B.Herland, Norway
Damir Niksic, Bosnia and Herzegovina
Jovan Balov, Macedonia/Germany
Shahram Entekhabi (Iran/Germany)
Gerasimos Kyriakopoulos, Greece
Luna Park, Greece
Lisa Yachia, Italy
Mirna Arsovska, Macedonia
Sofia Simaki, Greece
Claudia Kappenberg, United Kingdom
Magda Matwiejev, Australia
Yi-Li-Yeh, Taiwan
Willehed Elliers, Germany
Nils Muhlenbruch, Netherlands
Brunel Wester, Netherlands
Jan Gryczan, Germany
Frans Hofmester, Netherlands
Tom Estlack, USA
Karen Tzina Georgudis, Greece
Hop La, France/Germany
Dionysios Kavaleiratos & Sifis Likakis , Greece
Georgia Kotretsos, Greece
Jason Mena, Puerto Rico
Grecoteam, Greece
Nicky Zwaan, Netherlands
Florian Goettke, Germany
Michael Butink, Netherlands
Vedran Samanovic, Croatia
Borjan Zafirovski, Macedonia
Michaela Strumberger, Austria/Germany
Georgia Kotretsos, Greece
Cliff Caines, Canada
Dragan Zivancevic, Serbia/Germany
Mary Zygouri,Greece
Pui Lee, United Kingdom
Cheng Shin-Chun, Taiwan
Etta Safve, Netherlands
Velimir Zernovski, Macedonia
Mandy Albani, Greece
Maria Sarri & Yanis Stamatiou, Greece
Kostas Tzimoulis, Greece
Tina Kotsi, Greece
Heiko Daxl, USA
Eleni Tzirtzilaki, Greece
Yota Ioannidou, Greece
Arthur Neve, Netherlands
Vasilis Patmios-Karouk, Greece
ATHSL group, Greece
Guido van der Werve, Netherlands
Sanny Overbeeke, Netherlands
Tony Hofman, Netherlands
Michael Oven & Carole Ann Klonarides, USA
Kristin Lucas, USA
Karolina Sobecka, USA
Jacqueline Goss, USA
Bryan Doyle, USA
Mauricio Mayorga, Colombia
Gregory Steel, USA
Gianluca Bianchino, USA
Hubert Dobler, Austria
Lino Cairo (Italy)
Alberto Nacci (Italy)
Aleksandar Grozdanovski, Macedonia
Gerben kruk, Netherlands
OPA, Macedonia
Nuno Godinho, Portugal
Sarah Tremlett, United Kingdom
Matthew Bradley, Australia
Luca Curci & Fabiana Rosciolli,Italy
Zaneta Vangeli, Macedonia
Dominique Panhuysen, Netherlands
Yane Calovski, Macedonia
Charles Citron, Netherlands
Jana Kunovska, Macedonia
Orit Ishay, Israel
Marina Gertsovskaya, Russia
Chris de Lutz , USA
Darko Moraitov, Macedonia
Vladimir Knezevic, Macedonia
Iwona Borkovska & Lucina Viale, Poland
Beti Avramovska, Macedonia
Valentin Dimanovski, Macedonia
Marina Lyubaskina, Russia
Ljupco Temelkovski, Macedonia
Skip Blumberg USA
Marina Gertsovskaya
http://muzejbitola.mk
>
>
>
>

VOXUMENTA: Group Show at Vox Populi
Opening reception: Friday, May 5, 2006, from 6-10 PM
Gallery Talk: Friday, May 5, 6:30 PM, with guest speaker Emily Hage
Vox Populi Gallery
Philadelphia
Curated by Emily Hage, Andrew W. Mellon Curatorial Fellow, Modern and Contemporary Art, at the Philadelphia Museum of Art and Pepon Osorio, Philadelphia-based artist whose exhibitions include the Whitney Biennial, the ICA and the Smithsonian American Art Museum.
Founded in 1988, Vox Populi is a nonprofit artist collective that supports the work of under-represented artists with exhibitions, gallery talks, performances, and lectures. Gallery hours are Wednesday - Sunday from 12-6 pm.
Vox Populi's programs are possible through the generous support of individual contributors, our audience and Board of Directors, and the following funders: Philadelphia Cultural Fund, Pennsylvania Council on the Arts, The William Penn Foundation, Philadelphia Exhibitions Initiative, The John S. and James L. Knight Foundation, Samuel P. Mandell Foundation, Samuel S. Fels Fund, Dolfinger McMahon Foundation, The Barra Foundation, and Google.
Artists: Julianne Ahn, Meaghan Bates, David Bowen, Adele Crawford, Kip Deeds, Marc Fagan, Christina Gundersen, Sinae Lee, Jen McCleary, Kate McCory, Jason Mena, Jason Scuilla, Rachel Sussman
Vox Populi Gallery
319 N 11th. 3rd Floor
Philadelphia, PA 19107
http://www.voxpopuligallery.org/
>
>
>
>
>
>
>
>
>
>
>
>
>
>
>
>
>
>
>
>